NIDDK Director's Update
Fall 2011
News Around NIDDK
NIH celebrates 50 years of the NIDDK Laboratory of Molecular Biology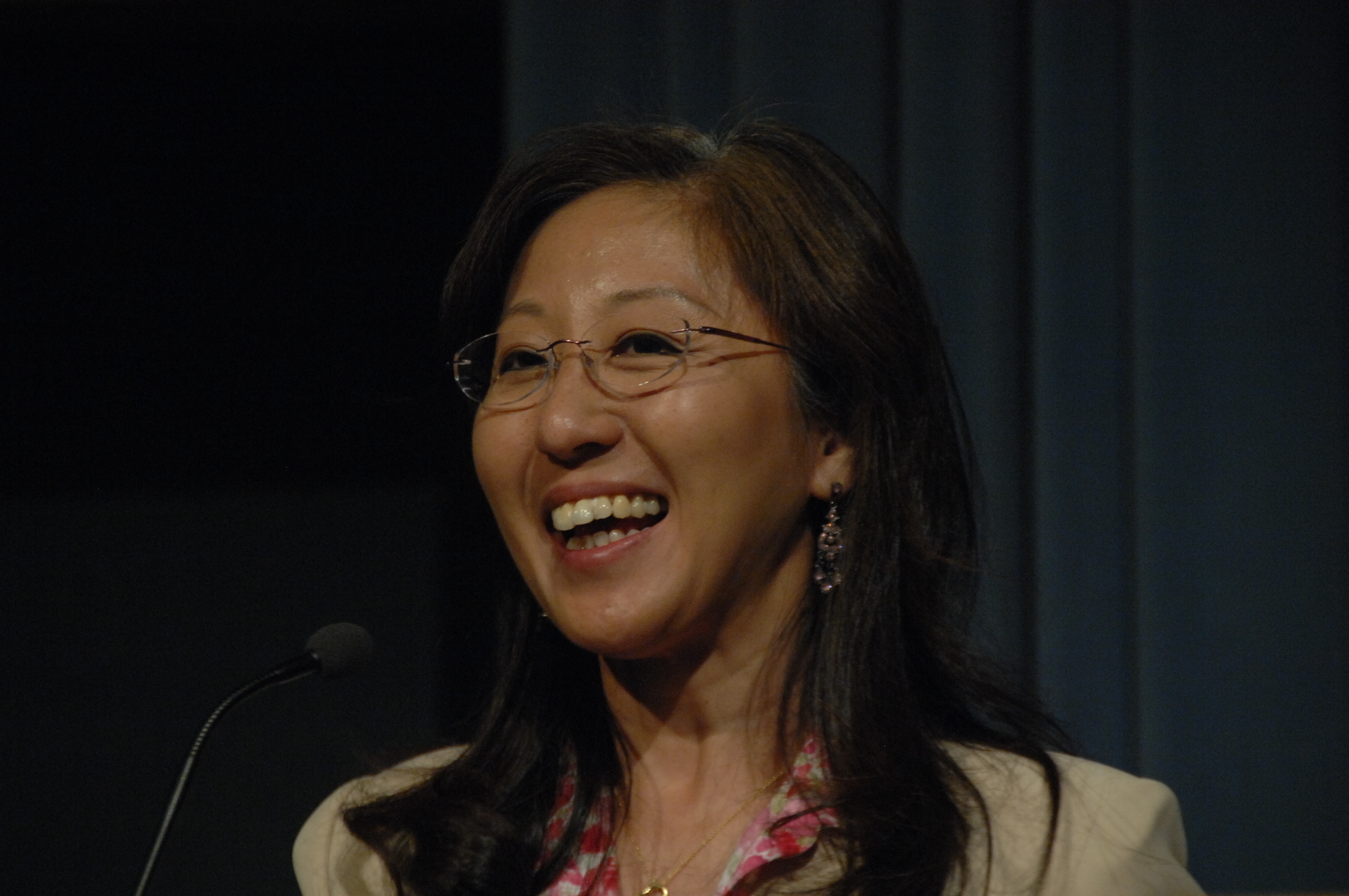 On June 3, the NIDDK intramural Laboratory of Molecular Biology celebrated its 50th anniversary by highlighting research successes of its past and present with a daylong scientific symposium that laboratory chief Dr. Michael Krause called "an outstanding program of speakers with a lot of fun science to talk about."
Speakers included both current staff and alumni of the lab, as well as Nobel laureate Dr. Tom Steitz of Yale University, a friend and associate of several lab members. Dr. Gary Felsenfeld, a physical chemist who has been doing research in the lab since its inception in 1961, along with his colleagues Dr. David Davies and Dr. Martin Gellert, delivered a brief history of the lab, complete with old photos and front pages of landmark papers, like one that discussed the discovery of DNA ligase, and another that examined the crystallization of human immunoglobulin.
Felsenfeld fondly remembered the lab's founder, biochemist Dr. Gordon Tomkins. "Anyone who went in to talk to him came out certain that what they were doing was brilliant," Felsenfeld said. He remembered Dr. Harvey Itano, the co-discoverer of sickle cell hemoglobin. Microbial geneticist Dr. Bruce Ames and organic chemist Dr. Todd Miles rounded out the lab's first group of investigators.
The event celebrated not only the past, but the present and future of the laboratory as well, through presentations by newer arrivals, including Dr. James Hurley and Dr. Wei Yang, and current tenure-track investigator Dr. Yihong Ye.
NIH Director of Intramural Research Dr. Michael Gottesman worked as a postdoc in the laboratory a few decades back and celebrated the collaborative atmosphere the lab has sustained. "Having the opportunity to talk to scientists who were really interested in learning about what was going on, not only in their labs, but in all labs, was really something amazing," he said in the day's opening comments.
Gottesman also praised the lab for giving early career scientists independence to develop skills and ideas. "That's how you really grow a scientist," he said. "LMB really discovered this formula."
Felsenfeld concurred. "We all collaborated a lot. The boundaries between our disciplines were very loose," he said. "We had the most exhilarating lab meetings, because everyone could think of something to suggest."
The LMB, said Gottesman, is a "landmark laboratory, both in the NIH and in the entire world."
NIH Launches Bowel Control Awareness Campaign

On June 1, NIH launched the Bowel Control Awareness Campaign to raise awareness of bowel control problems, also known as fecal incontinence. The campaign stems from the recommendations of an independent panel of experts convened by the NIH to assess the current prevalence, risk factors, diagnosis, treatment, and management of the condition.
"Our findings indicate that fecal incontinence is a significant public health burden in the U.S.—affecting close to 10 percent of the adult population over 40 years old," said NIDDK Director Dr. Griffin P. Rodgers. NIDDK is leading the NIH effort. "The Bowel Control Awareness Campaign's main objective is raising public awareness of fecal incontinence to aid in prevention of incontinence and to improve the lives of men and women living with the condition."
People with bowel control problems are often reluctant to discuss the condition with their doctor. The embarrassment associated with fecal incontinence can have a crippling impact on quality of life for millions, and the condition is believed to be widely underdiagnosed.
Developed by the NIDDK, along with professional and voluntary organizations, the campaign offers materials and resources about the symptoms, diagnosis, treatment, and management of bowel control problems for patients and health care professionals, all available through the awareness campaign's "Let's Talk about Bowel Control" website.
"The lack of communication between health care professionals and patients appears to be one of the main challenges with bowel control problems. Being able to talk about the problem is the first step in both prevention and treatment," said Dr. Stephen P. James, director of the Division of Digestive Diseases and Nutrition at the NIDDK. "People experiencing bowel control problems need to know they are not alone and that the condition can be managed. The Bowel Control Awareness Campaign will inform health care professionals and the public that bowel incontinence is a common condition and that effective treatments are available."
Applications, enrollment grow for NIDDK Medical Student Summer Research Program in Diabetes
L. McLean House has friends with diabetes. Now, after a summer doing research as part of the NIDDK Medical Student Research Program in Diabetes, the medical student can tell his friends how he's worked toward understanding and improving their health—and may spend his career working to better human health through research.
House, a student at the University of Tennessee Health Science Center College of Medicine and a Vanderbilt University graduate, was one of the 104 students to participate in the third year of the NIDDK program. For House's project, he conducted a small animal study on the cardiovascular mechanisms of insulin resistance. "I gained a strong appreciation and interest for the pathophysiology, complications, and treatments for diabetes mellitus," he said.
Students who participate in the program spend their summer working with an established scientist at a diabetes research center. They can pick from among a wide variety of research experiences, said Dr. James Hyde, senior advisor for career development within NIDDK's Division of Diabetes, Endocrinology, and Metabolic Diseases. Options include both bench and bedside research—from analyzing cells in a test tube to helping conduct clinical trials.
"This program is designed to be a potential pipeline to attract more physician scientists into diabetes research," said NIDDK Director Dr. Griffin P. Rodgers. "By giving students hands-on experience in research, they better understand the challenges and rewards of pursuing knowledge that benefits public health."
The program was initially suggested by Dr. Mitchell A. Lazar, a former NIDDK council member, who directs the NIDDK diabetes research center at the University of Pennsylvania Perelman School of Medicine. The idea and its execution was then discussed and endorsed by all of the NIDDK-funded Diabetes Research Center principal investigators. Rodgers approved the pilot program, which uses existing training program funding. The program's early success provided the impetus for the launch of an NIDDK-supported summer program for college, medical or doctoral students to do research across the Division of Kidney, Urologic, and Hematologic Diseases in 2011.
The diabetes research program is coordinated by Vanderbilt University, which already had an NIDDK grant for short-term research experiences, and overseen by its diabetes center director, Dr. Al Powers. Through advertising and word-of-mouth, applications for the program have leapt, from 197 applicants for 56 positions in 2009 to 431 for 68 positions in 2010. For the 2011 cycle, additional students were funded by NIDDK through the O'Brien Kidney Center at Vanderbilt.
At the end of their research experience, the students meet at a two-day symposium, where they present their research and hear senior investigators speak about how they made career choices from medical school forward. "It gives students a perspective on the different pathways that a student may have in choosing a research career," Hyde said.
Hyde hopes to formally evaluate the career choices of program participants. In the meantime, he said, he hears from students that "a lot of them have determined that they like research and that they would consider a career in research in their future."
That has been the case for the future Dr. House. "The program absolutely did alter my future career plans; before I engaged in the Vanderbilt NIDDK [summer research program] I was not too interested in academic medicine. After my experience at Vanderbilt and the mentorship I received, I am certainly more interested in becoming a professor of medicine," he said. "This program proved to me that the world of academic medicine needs more MDs engaged in medical research."
The NIDDK Medical Student Summer Research Program in Diabetes is open to medical students in the summer after their first or second year of medical school.
You can find more information here.