NIDDK Director's Update
Fall 2012
Health Information Updates
NKDEP increases outreach to Hispanics with new website, media campaign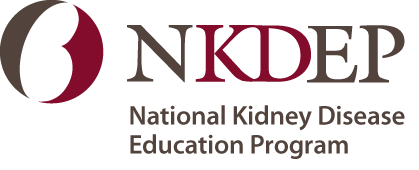 Word is spreading about the National Kidney Disease Education Program's (NKDEP) new Spanish website, thanks to a successful outreach campaign targeting Hispanic television, radio and online media.
Media outlets including CNN en Español, Univisión, Blogger Outreach and AARP's Spanish radio show have aired interviews in Spanish with NKDEP Director Dr. Andrew Narva, NKDEP coordinating panel members and NIDDK grantees, all serving as NKDEP spokespeople. The outlets reach millions of Latinos from the United States and Latin and South America.
As a result, website traffic and web visitor engagement from Hispanics in these areas have increased substantially. For instance, the number of visitors to the website increased 125 percent—from 1,039 visits on May 28, 2012, to 2,338 visits on June 4, the day an interview aired on CNN with NKDEP Coordinating Panel Member Dr. Sylvia Rosas, assistant professor of medicine at the University of Pennsylvania. Traffic to the Spanish resources page increased by 200 percent over the week when Narva was interviewed for Huffpost Voces, a recently launched Spanish website from AOL Latino and Huffington Post. Media interviews have focused on the causes, symptoms, risk factors, and treatment of kidney disease, as well as prevention, disease management and the new website.
"The great interest from the media reflects the need for more health information in Spanish," said Narva. "We were very surprised to see how little is available for the public in Spanish about kidney disease."
Hispanic adults are at higher risk for kidney disease than non-Hispanic white adults largely because they are twice as likely to be diagnosed with diabetes, a leading risk factor for kidney disease.
NKDEP launched its Spanish website, part of an overall website overhaul, in March. The site offers information about prevention, nutrition, testing, medication and treatment options, as well as educational videos and contact information for submitting questions in Spanish.
For more information about the NKDEP website, or the media campaign, contact NKDEP.
NDEP celebrates 15 years: Changing the way diabetes is treated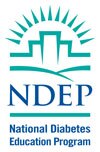 Fifteen years ago, the federal government launched the National Diabetes Education Program (NDEP), a comprehensive public education program to address the emerging epidemic of diabetes. NIDDK and the Centers for Disease Control and Prevention joined forces and resources to create and sustain a partnership dedicated to reducing the devastating effects of diabetes.
Since that time, the NDEP has forged a partnership that includes state and local health departments, professional societies representing the full gamut of health care disciplines, community-based organizations that serve populations most affected by diabetes, and key federal agencies that deliver or pay for health care, including the Centers for Medicare & Medicaid Services, the Indian Health Service, and the U.S Department of Veterans Affairs.
Fifteen years later, NDEP has made great progress in achieving its goal of changing the way diabetes is treated. Although the prevalence of diabetes has continued to rise due to the obesity epidemic, the aging of the U.S. population, and increasing numbers of people at high risk for diabetes, there are strong, encouraging indicators that the diabetes community, coalesced and empowered by the NDEP, is making a difference in preventing and treating diabetes.
What has made NDEP unique and enduring over the past 15 years is its robust Partnership Network, which represents a varied and diverse group of organizations and individuals on the front lines of diabetes prevention and management.
Visit NDEP's 15th anniversary webpage. This webpage will be updated throughout the year with NDEP highlights over the past 15 years—showcasing partner accomplishments and testimonials.