NIDDK Director's Update
Summer 2012
Director's Note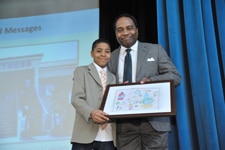 Sometimes government can seem so big that it's easy to forget the individuals that make government work. At NIDDK, staff gives of themselves in ways large and small, every day.
Three NIDDK investigators recently celebrated 50 years—each—of working in the institute. They stay because they love what they do, researching cell biology to understand diseases and ultimately improve therapies for them. Read more about these pioneers of the molecular biology field in the News Around NIDDK section below.
You can also read more about NIDDK's Network of Minority Research Investigators, which celebrated its 10th anniversary last month. As the program has grown to more than 200 members, participants from underrepresented groups have mentored and been mentored, learning how to be successful contributors to biomedical research.
We give outside of our work as well. In April, the staff at NIDDK collectively won a President's Award for contributions to charities in the Combined Federal Campaign annual giving program. Of our employees, 57 percent gave an average of $681 of their yearly earnings to charities around the country and the world.
A career of improving health, a program to help researchers improve their skills, and a desire to go beyond NIDDK's mission to give back across the spectrum of our nation's needs—these are the marks of the individuals that work within NIDDK. We are dedicated to our federal service, and we are honored to contribute to bettering our nation's health.
In good health,
Griffin P. Rodgers, M.D., M.A.C.P.
Director, National Institute of Diabetes and Digestive and Kidney Diseases