NIDDK Director's Update
Winter 2012
News Around NIDDK
NIH grantee Dr. Thomas E. Starzl wins Lasker award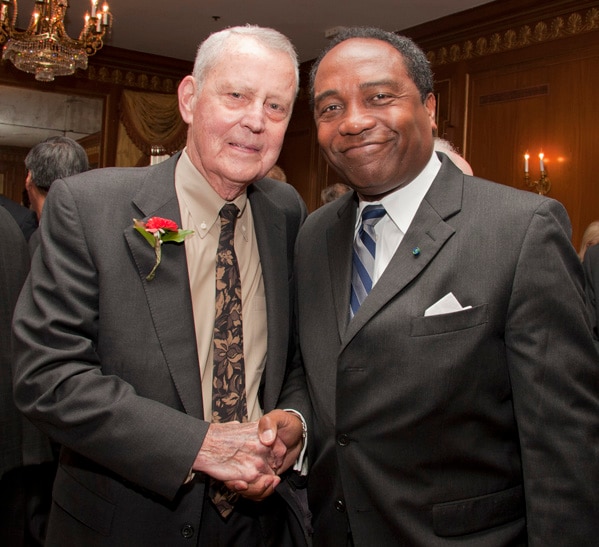 Dr. Thomas E. Starzl, distinguished service professor of surgery at the University of Pittsburgh School of Medicine and a longtime NIDDK grantee, received the 2012 Lasker-DeBakey Clinical Medical Research Award—shared with Dr. Roy Calne, University of Cambridge emeritus—for his work developing liver transplantation, an intervention that has restored normal life to thousands of people with end-stage liver disease.
Lasker awards are given for major advances in the understanding, diagnosis, treatment, cure and prevention of human disease. Starzl is the first person to perform a human liver transplant. He is a former NIDDK Method to Extend Research in Time (MERIT) awardee and has served on the NIDDK Digestive Diseases Advisory Board. He also eaned a 2004 National Medal of Science. "Dr. Starzl is a pioneer in the world of transplantation, and his work has saved thousands of lives," said NIDDK Director Dr. Griffin P. Rodgers. "This award is a most fitting recognition of his many years of unwavering commitment to teaching, research and clinical practice."
Receiving the award on Sept. 21, Starzl said, "Transplantation services are not provided by single individuals. The team is what counts, and it is on behalf of my research and clinical teams—first in Denver and then in Pittsburgh—that I accept this prize. And by the way, the prize could have gone to one of those courageous kidney, liver, or heart recipients who faced the great unknown in the early years and chose to run the uncharted gauntlet of transplantation instead of giving up. Win or lose, these were the heroes."
NIDDK launches large study of diabetes drug combinations
By Amy F. Reiter

If metformin is no longer enough to help manage a person's type 2 diabetes, a health care provider may tun to one of several FDA-approved glucose-lowering drugs to use in combination with metformin. But while short-term studies have tested the effects of such combinations, there have been no long-term studies of which combination works best and has fewer side effects. Until now.
Beginning recruitment in early 2013, the Glycemia Reduction Approaches in Diabetes: A Comparative Effectiveness (GRADE) Study aims to understand the effect and safety of four approved, widely used diabetes drugs in combination with metformin, the most common first-line medication for type 2 diabetes.
"Type 2 diabetes progresses slowly, over a long period of time," said Dr. Myrlene Staten, the project scientist and NIDDK senior advisor for diabetes translational research. "This study will help us understand how different medications affect the disease over time and help health care providers make better choices for their patients' long-term care."
The goal of this large trial is to understand which combinations of medications are most likely to maintain goal glucose (blood sugar) levels over time, to identify the most effective means of treating type 2 diabetes in patients if metformin alone is not enough. To that end, the study will compare drug effects on glucose levels, adverse effects, diabetes complications and quality of life over an average of nearly five years. As well, researchers are welcome to propose ancillary studies using the data from GRADE (see Funding Opportunity Announcement PAR-12-265 for submission information).
"The key is that we're looking at all of these drugs as a secondary therapy, head-to-head and over a long period of time," Staten said.
Dr. David Nathan of Massachusetts General Hospital and Dr. John Lachin of the George Washington University are co-principal investigators of the grant supporting GRADE. Nathan will chair the study group, and Lachin will lead the study's coordinating center. GRADE aims to enroll about 5,000 patients at 37 sites. A website for the study will be online shortly.
Five questions with NIDDK intramural researcher Dr. Enrico Cabib
Following a 63-year research career, including 45 years in NIDDK's Laboratory of Biochemistry and Genetics, Morphogenesis Section, Senior Investigator Dr. Enrico Cabib retired in November. Prior to his departure, Cabib talked with Krysten Carrera about his career and accomplishments.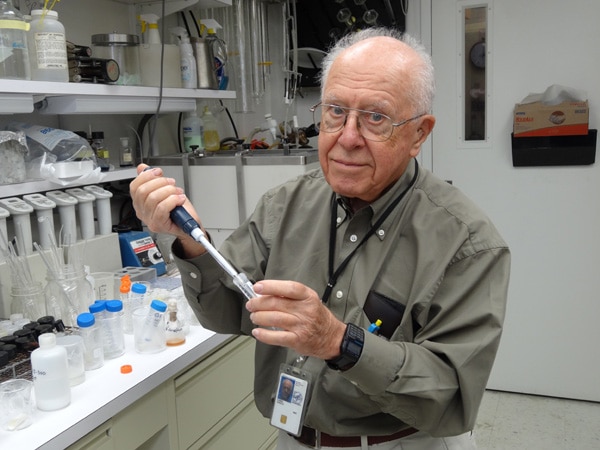 How did you become a researcher?
I was bon in Italy and moved to Argentina when I was sixteen years old to escape anti-Semitic persecution. I decided to study chemistry at the University of Buenos Aires, and I worked for my Ph.D. in a private research institute. I continued working there for several years as a post-doc under the guidance of my mentor, Luis Leloir, who later received a Nobel Prize. After ten years of independent research, I came to NIDDK in 1967.
What work are you best known for?
I am known for the work I've done with the yeast cell wall. The yeast cell is perfect for study because of its simplicity, and the cell wall is what gives the cell its shape and is a growing, dynamic structure, thus is a good model for morphogenesis. Working with yeast is also useful because it is a fungus. Fungal infections have been increasing in recent times, mainly because there are more people with suppressed immune systems, such as AIDS patients. Understanding how the yeast cell wall functions helps us to develop drugs for patients with fungal infections. This is a great example of how basic science yields unexpected applications.
What have been the biggest changes at NIH since you first stepped on campus in 1967?
NIH was a simpler place. Compared to now, there was very little administration; I remember there being only three or four people, including one administrative officer, for all of NIDDK. Back then, the only training we investigators had to take was about radioactivity.
What will you miss most about NIH?
I will definitely miss the people and spending time in the lab. I really love to work with my hands.
What is your advice for scientists at the beginning of their careers?
They should not get into science unless they feel it is their real vocation. That's what happened to me; after a few months at the bench, I knew that's what I wanted to do for the rest of my life. Also, they shouldn't get discouraged if something doesn't work, because in science, persistence is as important as intelligence. Look, I'm 87 years old. I am not terribly smart, but I am persistent, and any success I've had has been a product of that persistence.
NIDDK sets aside funding to study interventions to lengthen life for people on hemodialysis
By Bill Polglase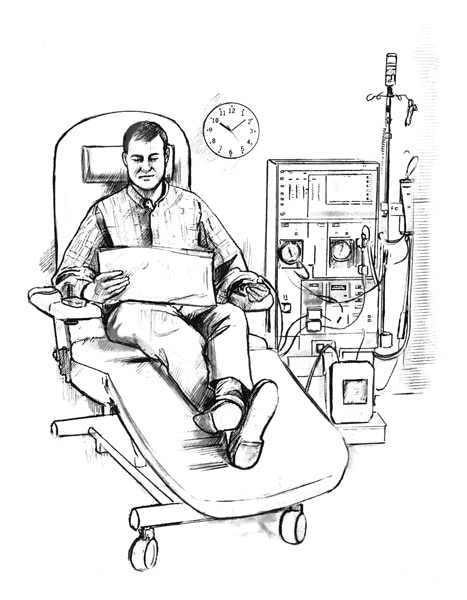 More than 400,000 people are currently treated by hemodialysis under Medicare's End-Stage Renal Disease (ESRD) Program. Hemodialysis removes toxins and water from the blood when diseased kidneys cannot. Average life expectancy on hemodialysis is just a few years, although individual patients can live much longer.
To jump start research to help people lead longer, healthier lives on hemodialysis, NIDDK has set aside $1.5 million for Novel Interventions to Reduce Morbidity and Mortality of Hemodialysis Patients. This new program encourages academia and industry to collaborate on pilot and feasibility studies to identify interventions that appear promising enough to be tested in full-scale clinical trials.
Potential approaches to improve well-being and survival and reduce complications could include changing infection control methods and how dialysis is administered, treating depression and improving social support, and using anti-inflammatory treatments.
General inflammation is a key factor in the progression of cardiovascular disease, as is malnutrition and depression, and all have been linked to increased mortality in hemodialysis patients. Recently, several interventions have been suggested for improving survival rates. However, NIDDK's effort will be the first to assess such interventions through well-designed, definitive, randomized, controlled trials to determine safety and improve patient comfort, well-being, and long-term outcomes, said Dr. Paul Kimmel in NIDDK's Division of Kidney, Urologic, and Hematologic Diseases.
"This program of weighing the effectiveness of novel therapies holds the promise of moving the field forward in bold leaps," Kimmel said. "The best potential ESRD therapies may be those that we currently shy away from as rather risky approaches. Also, partnering with the pharmaceutical industry could pave the way for Food and Drug Administration approval of new drug therapies."
Applications were due in November and NIDDK hopes to fund three to four grants in 2013.
NIDDK reaches out to American Indian, Alaska Native communities
By Krysten Carrera
On November 8, 2012, NIDDK Senior Investigator Dr. Robert Nelson, a member of the intramural Phoenix Epidemiology and Clinical Research Branch (PECRB), participated in a National Cancer Institute-sponsored webinar for Native American media. The webinar highlighted cancer, diabetes, and oral health in American Indian and Alaskan Native (AI/AN) populations. During the webinar, which coincided with Native American Heritage Month and National Diabetes Month, Nelson discussed diabetes in those groups, with an emphasis on the role of collaborative clinical research.
American Indians and Alaska Natives suffer from the highest rates of type 2 diabetes in the United States. About half of Pima Indian adults—who reside in southen Arizona near PECRB—have type 2 diabetes. Many of them also suffer from diabetes-related complications.
"Researchers face significant challenges in dealing with the type 2 diabetes epidemic in Pima Indians and many other tribes," Nelson said. "But American Indians' and Alaskan Natives' ongoing willingness to participate in clinical research trials has given us a unique opportunity to study and lean about the disease."
Many people in these populations are not aware that they have type 2 diabetes, or are not sure how to manage it. Nelson addressed those realities by discussing the wide variety of resources designed to educate these groups about diabetes and its complications, including We Have the Power to Prevent Diabetes, Tips for Teens with Diabetes: What is Diabetes?, and It's Never Too Early to Prevent Diabetes: A Lifetime of Small Steps for a Healthy Family. These and other materials were developed by the National Diabetes Education Program (NDEP), with AI/AN partner organizations.
"Health professionals have a responsibility to reach out to diverse audiences affected by diabetes, particularly the American Indian and Alaskan Native communities," Nelson said. "We hope to give people the information they need to reduce the burden of diabetes and live long, healthy, and productive lives."
NIH launches free database of drugs associated with liver injury
A free source of evidence-based information for health care professionals and for researchers studying liver injury associated with prescription and over-the-counter drugs, herbals, and dietary supplements is now available from the National Institutes of Health. Researchers and health care professionals can use the LiverTox database to identify basic and clinical research questions to be answered and to chart optimal ways to diagnose and control drug-induced liver injury.
Drug-induced liver injury is the leading cause of acute liver failure in the United States, accounting for at least half of cases. It occurs at all ages, in men and women, and in all races and ethnic groups. Drug-induced liver disease is more likely to occur among older adults because they tend to take more medications than younger people. Some drugs directly damage the liver, while others cause damage indirectly or by an allergic reaction. The most important element to managing drug-induced liver injury is to identify the drug that's causing the problem and appropriate steps to eliminate or reduce damage to the liver.
"Because drug-induced liver disease is not a single, common disease, it is very difficult to diagnose, with each drug causing a somewhat different patten of liver damage," said Dr. Jay H. Hoofnagle, the major creator of LiverTox and director of NIDDK's Liver Disease Research Branch. "Doctors have to rule out all other causes of liver disease before saying that a patient has drug-induced injury liver."
LiverTox has a searchable database of about 700 medications available in the United States by prescription or over the counter. Over the next few years, another 300 drugs will be added. For more information.