NIDDK Director's Update
Spring 2013
News Around NIDDK
Workshop of U.S., Indian diabetes experts sparks ideas for collaboration
By Dr. Eleanor Hoff and Amy Reiter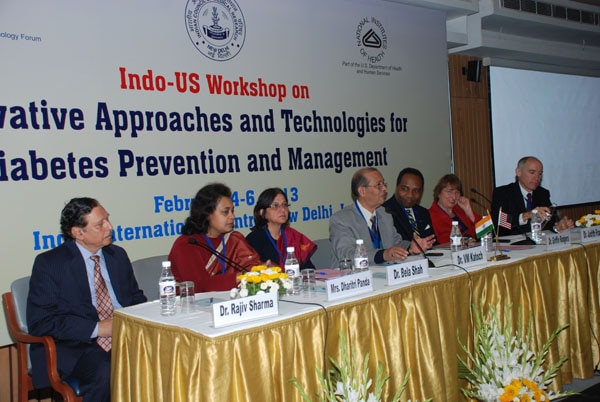 On February 4-6, 2013, the NIDDK and the Indian Council of Medical Research (ICMR), part of of the Indian Ministry of Health and Family Welfare, held a scientific workshop to identify opportunities for collaboration between the two countries in high-priority diabetes research areas of joint interest. This workshop convened in New Delhi, India, with leadership from NIDDK, ICMR, and the NIH's Fogarty International Center, along with diabetes experts from across the U.S. and India.
At the meeting, NIDDK Director Dr. Griffin P. Rodgers pointed to a map illustrating the diabetes burden in the United States and India—about 26 million and 62 million people, respectively—to demonstrate the importance of joint efforts between the two countries. "A picture is worth a thousand words, or in this case, millions," Dr. Rodgers told workshop participants. "India and the United States possess complementary scientific strengths and other resources that can be applied to the challenge of diabetes."
The meeting, entitled "Indo-U.S. Workshop on Innovative Approaches and Technologies for Diabetes Prevention and Management," comes after U.S. Secretary of Health and Human Services Kathleen Sebelius and India's Honorable Minister of Health and Family Welfare Ghulam Nabi Azad signed a joint statement to collaborate on diabetes research in June 2012.
"If common solutions [developed through this initiative] are affordable, they would also be applicable globally," said ICMR Director General Dr. V.M. Katoch at the workshop.
Workshop participants focused on four areas of opportunity: prevention and management, pathogenesis and pathophysiology, diabetes in youth, and innovative technologies for management and prevention.
Dr. Judith Fradkin, director of the NIDDK Division of Diabetes, Endocrinology, and Metabolic Diseases, said these are areas ripe for collaborative efforts that could yield new understanding of diabetes in both populations. "Both countries have an interest in implementing findings through translational efforts—for example, technologies offer extraordinary promise to identify people with diabetes and to help them prevent complications," she said.
By the workshop's end, participants had not only identified collaborative opportunities in each area, but also recommended ways to facilitate collaborations, such as through standardizing research methods and assays, and leveraging existing biobanks and registries.
The ideas generated in this workshop will help inform a planned initiative for the NIDDK and ICMR to fund collaborative teams of U.S. and Indian diabetes researchers. The initiative specifics will be announced later this year.
Co-sponsored by the Indo-U.S. Science and Technology Forum, this workshop stemmed from the latest in a string of scientific collaborations between the U.S. and Indian governments. NIH and ICMR, along with India's Department of Biotechnology, are responsible for implementing the diabetes joint statement.
NIDDK Technology Advancement Office provides legal, business expertise
By Krysten Carrera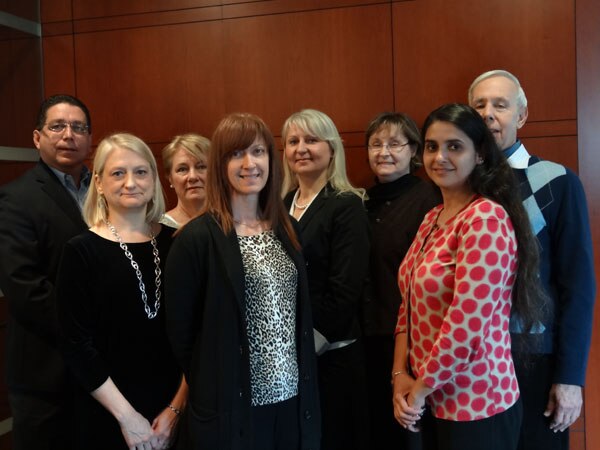 When the newly formed National Center for Advancing Translational Sciences (NCATS) needed intellectual property expertise in screening applications for the Bridging Interventional Development Gaps (BrIDGs) program this summer, its staff turned to NIDDK's Technology Advancement Office for support.
The BrIDGs program strives to "bridge" the gap between basic research and direct patient benefit by providing technical support to scientists. The Technology Advancement Office, formerly known as the Office of Technology Transfer and Development, contributed to the BrIDGs program by sharing expertise in intellectual property law and business matters to help NCATS staff assess risks and opportunities associated with the technologies proposed for BrIDGs development.
Each year, investigators from small companies, academia, and government apply for BrIDGs grants. Last year's funding decisions were announced in December of 2012, and investigators had until February 1 to submit applications for 2013. As they did last year, Technology Advancement Office staff will help NCATS staff review the applications.
"Their input was extremely helpful in determining which BrIDGs applications NCATS should consider funding in 2012, and we look forward to working with them again this year," said Lili Portilla, acting director of NCATS' Office of Policy, Communications and Strategic Alliances.
While NIDDK researchers work to make discoveries to benefit people's health, getting those discoveries into the hands of healthcare practitioners via medicines or other products can require a long and complicated journey. NIDDK's Technology Advancement Office guides scientists through the often complex process of technology development, which involves translating research discoveries into practical applications and products. The office's technology development expertise enables NIDDK to more efficiently move early stage discoveries along the development path to become new drugs and other therapies. Because that path involves technical and regulatory hurdles and a variety of business considerations, the Technology Advancement Office staff has expertise to help researchers navigate this challenging process.
"Our office guides NIDDK scientists through the patent process, helping them enter the product development pathway and turn their discoveries into new biomedical products that can benefit people's health," said TAO Director Cindy Fuchs. "We strive to make these processes as clear and achievable as possible to enable researchers to focus on their next discoveries.
"Working with NCATS was a way we were able to help other researchers translate bench work into medical practice, and enabled us to exchange information and share best practices with another NIH component."
Special Funding for Type 1 Diabetes Research extended through fiscal year 2014
By Dr. Julie Wallace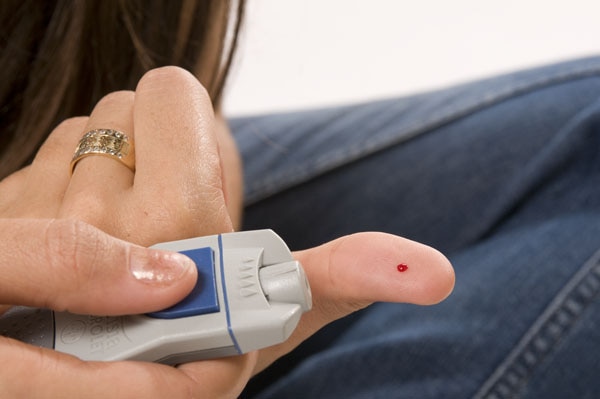 On January 2, funding for the Special Statutory Funding Program for Type 1 Diabetes Research (Special Diabetes Program) was renewed for fiscal year 2014 at a level of $150 million as part of the American Taxpayer Relief Act of 2012. The funding had been set to expire at the end of this fiscal year.
The Special Diabetes Program is a special appropriation that the NIDDK administers on behalf of the Secretary of the Department of Health and Human Services and in collaboration with multiple NIH institutes and centers and the Centers for Disease Control and Prevention.
This funding augments regularly appropriated funds that the NIH receives for diabetes research and is specific to research on type 1 diabetes and its complications. It has enabled the creation of innovative large-scale research programs that would otherwise not be possible. For example, Type 1 Diabetes TrialNet, a large-scale network that conducts clinical trials to test strategies for type 1 diabetes prevention and early treatment, is supported by the program.
NIDDK has produced several evaluation reports on the Special Diabetes Program. These reports describe all of the research the program has supported since its inception in 1998, as well as the program's scientific achievements. The NIDDK periodically convenes meetings of external scientific experts to provide input on new and emerging research opportunities that could be supported by new funds. The next such meeting will be held this June.
2013 edition of NIDDK's annual scientific report now available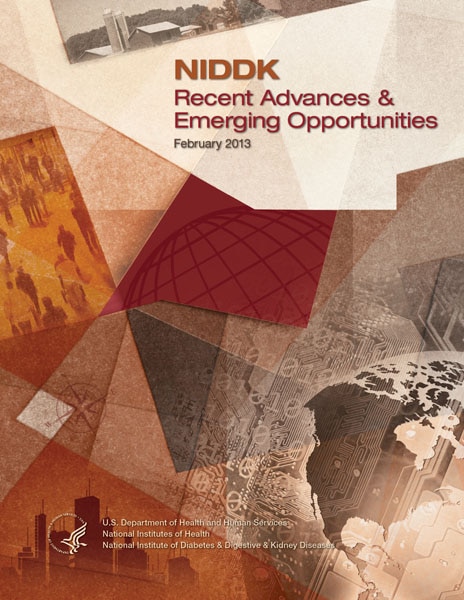 The NIDDK annual scientific report, NIDDK Recent Advances & Emerging Opportunities, is now available. This report highlights examples of NIDDK-supported research advances published in fiscal year 2012. It also includes stories of discovery, which trace research progress in specific areas over an extended time frame; personal stories of patients who are living with diseases that are part of NIDDK's research mission; and highlights scientific presentations made to the NIDDK's National Advisory Council during the past year. The report also contains an overview of NIDDK research training programs; information on the HBO documentary series "The Weight of the Nation"—a collaborative public awareness campaign showing how obesity affects the country's health; and a feature on the 2012 Lasker award winner in basic research, long-time NIDDK grantee Dr. Thomas E. Starzl, a pioneer in the field of liver transplantation.
To read the report, go to the NIDDK website. Or request a hard copy via the message box at http://catalog.niddk.nih.gov/ContactUs.cfm, by calling 1-800–860–8747 between 8:30 a.m. and 5 p.m. EST on Monday through Friday, or by writing to NIDDK Clearinghouses Publications Catalog, 5 Information Way, Bethesda, MD 20892–3568.
NIDDK funds research to improve outcomes for people with cystic fibrosis-related diabetes
By Amy F. Reiter
Over the last fifty years, the life expectancy for a person with cystic fibrosis has increased from about 10 years old in 1962 to a median of 37 years for people living in the U.S. To keep improving the quality of life and longevity of people living with cystic fibrosis—a disease which affects the lungs, pancreas, and liver, among other organs—the NIDDK is embarking on a new effort to fund research targeting cystic fibrosis-related diabetes (CFRD), one of the most common complications for people with CF.
CFRD occurs in almost half of people with CF as they age, and people with CFRD tend to die earlier than those without diabetes. In 2011, the NIDDK convened a workshop to discuss the state of knowledge on the causes and consequences of CFRD. Based on these discussions, the NIDDK sought research applications (funding opportunity announcement RFA-DK-11-025) to study the cause of CFRD and why people with CFRD die earlier than their counterparts without diabetes.
One question that has dogged scientists is whether diabetes related to cystic fibrosis is directly due to a gene defect affecting insulin production, or whether the loss of insulin production is instead a consequence of widespread damage to the pancreas because of CF.
"We're trying to understand the cause, the mechanism, which will in turn give us a better idea of how to go about preventing or treating CFRD," said Dr. Catherine McKeon, senior advisor for genetic research for NIDDK's Division of Diabetes, Endocrinology and Metabolic Diseases. "The research from these grants will help answer these questions." McKeon said NIH received many high-quality applications. In the fall of 2012, three five-year grants were funded, to investigators at the University of Iowa, Pacific Northwest Research Institute/Vanderbilt University and the Children's Hospital of Philadelphia (grants R01DK097820, R01DK097829, and R01DK097830, respectively).
One project will study CF animal models to examine the mechanisms underlying impaired insulin secretion, with a long-term goal of finding therapies to restore insulin secretion. Another will study mouse models and human islets to look at the cellular and molecular mechanisms that result in CFRD. A third, aimed at trying to preserve beta cell function, will conduct a human clinical trial to explore the role of an intestinal hormone called incretins in restoring insulin secretion in CFRD.