NIDDK Director's Update
Winter 2013
Director's Note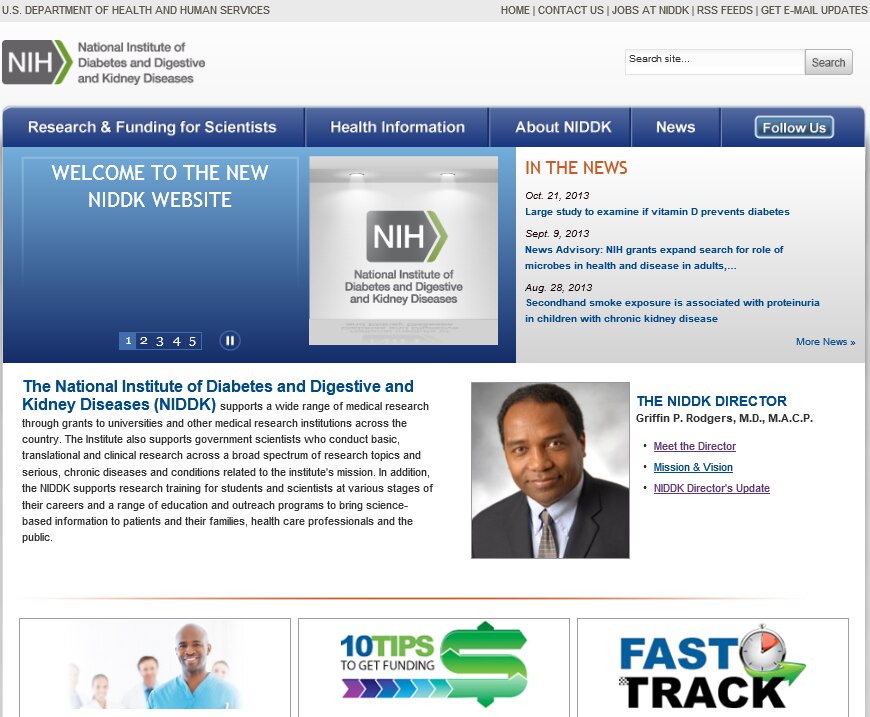 At NIDDK, we strive to provide diverse information to diverse audiences—news on funding opportunities for scientists, biographies of our investigators and their research for potential collaborators or fellows, research news for patients and reporters, reputable health information for the public and more. And while our website did well on some of these fronts, it didn't make the grade on others.
If you've been to the NIDDK website in the last few years, you may have gotten a request for your feedback. We've listened, and an improved website is the result.
On Dec. 16, we unveiled the work of more than two years of planning across the institute in a refreshed website we hope will better meet our audiences' needs, now and in the future. Our grant opportunities are easier to find and search. Our research training programs are displayed to help a new generation of researchers take the next step in their careers. Our data and sample repositories are more readily available in our list of research resources, the better to amplify the return on investments we've made in many important studies.
Our intramural investigators' publications and research areas are more clearly presented—along with a straightforward description of their work, ongoing trials and multimedia—to encourage research collaborations and help the public find opportunities to participate in the investigators' clinical trials. Meanwhile, our health information and education programs pages remain easy-to-navigate sources of evidence-based information used by millions of people each year.
Our website is still a work in progress. It will continue to evolve in the coming months using a data-driven approach that incorporates your feedback and a close study of how people interact with the new website. We encourage you to take a look at the trove of information and opportunities offered by NIDDK, now presented in a more dynamic and easier to navigate website.
As you can read more about later in this edition, the website is all about strengthening connections—to the research community, the public, patients and policymakers.
We hope you'll connect with us soon.