NIDDK Director's Update
Winter 2013
Health Information Updates
Revised Sisters Together Program Guide includes community tools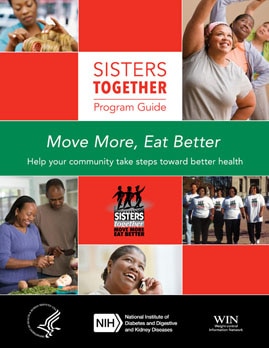 The newly revised Sisters Together Program Guide can help individuals and community groups create health awareness efforts that help black women move more and eat better. Sisters Together is part of the NIDDK Weight-control Information Network. The Guide gives examples of activities and lists six steps to help develop and sustain a Sisters Together program:
Getting started
Finding resources in your area
Setting goals
Spreading the word about Sisters Together
Planning activities
Measuring success
The Guide offers forms, logos, sample letters and tip sheets to download and customize to print or share online with others. These resources were designed for black women ages 18 and older but individuals and groups can adapt the resources to meet their needs.