NIDDK Director's Update
Summer 2016
News Around NIDDK
NIDDK staff help NIH work toward 'Common' goals
By Amy F. Reiter
Just as many of the diseases in NIDDK's mission are not confined to one part of the body, NIDDK staff work toward that mission in many capacities across NIH, including through about a dozen NIH Common Fund programs.
A distinct item in the NIH Office of the Director appropriation, the Common Funod makes possible programs that "have a high potential to dramatically affect biomedical and/or behavioral research over the next decade," according to a Science commentary by NIH Director Dr. Francis Collins and coauthors. Each program "must cut across missions of multiple NIH institutes and centers…and be sufficiently complex to require a coordinated, trans-NIH approach."
Here, just a few of the programs in which NIDDK is playing an integral role:
From molecules to motion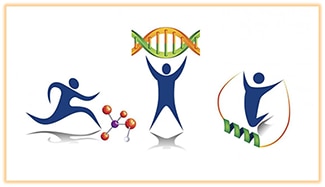 Dr. Maren Laughlin in NIDDK's Division of Diabetes, Endocrinology, and Metabolic Diseases is helping lead NIH efforts for the Common Fund's Molecular Transducers of Physical Activity in Humans program, which NIDDK Director Dr. Griffin P. Rodgers co-chairs.
The program's goal is to understand on a molecular level "how and why exercise affects prevention and treatment of diseases and health issues, such as bone health, heart health and healthy aging," Laughlin said. NIDDK will oversee projects designed to analyze a large variety of molecular changes in the tissues of people undergoing various types of exercise. "It's a discovery project. By describing all the molecules affected by physical activity, we hope to provide a basis for understanding its many health-promoting roles."
The centerpiece of the program is a large-scale clinical study expected to launch in 2017. The study aims to enroll 3,000 people and to include diverse ethnicities, body types and ages, including children. Each person will be tested for a range of measures, such as maximum oxygen intake, insulin sensitivity and fitness. Blood, muscle and fat will be analyzed for the molecules that are altered by acute and chronic endurance and resistance activity. Mechanistic animal studies are also planned. Laughlin hopes a molecular description of the benefits of physical activity will help researchers identify the key molecules that account for improved health.
Illuminating nerve-organ connections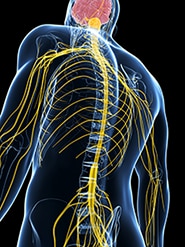 From the NIDDK Division of Digestive Diseases and Nutrition, Dr. Jill Carrington is helping to oversee a Common Fund program to "uncover the underlying mechanisms for nervous system control of organ function, and then use that knowledge to advance neuromodulation therapies to treat diseases and conditions," she said.
Neuromodulation therapies stimulate nerves, which connect with every organ in the body. By better understanding specific nerve-organ connections, researchers may improve potential treatments for gastrointestinal disorders, type 2 diabetes and hypertension, among other conditions.
The program, called Stimulating Peripheral Activity to Relieve Conditions (SPARC), includes a biology initiative with leadership from NIDDK to "support projects to map and understand the functions and types of nerves that control organ function," Carrington said.
Thus far, SPARC has published four requests for information and held a workshop to assess the state of the field. In late 2015, SPARC issued its first research funding awards for development of technologies. Funding opportunities are now published for mapping peripheral nervous system control of organ function, additional development of technologies, and development of new market applications for existing devices.
"The flexibility and the coordination required to achieve SPARC's goal make the Common Fund vehicle an excellent fit," Carrington said. "In addition, the SPARC program addresses the missions of multiple components of NIH and, as a Common Fund program, it is led through a working group with membership from those components to ensure broad interests are addressed."
Reaching across research-treatment divides
Dr. Kevin Abbott of the Division of Kidney, Urologic, and Hematologic Diseases is among the NIDDK staff advancing the Health Care Systems (HCS) Research Collaboratory, which aims to improve the nation's ability to conduct large, cost-effective studies that work with existing health care delivery organizations. NIDDK staff are working on two projects from the Collaboratory.
One project, Improving Chronic Disease Management with Pieces (ICD-Pieces), will involve collaboration between primary and subspecialty care. It employs a medical information tool called Pieces, which pulls data from the electronic health record (EHR) to help identify, treat and monitor patients. The study compares EHR-aided care versus usual care. The goal is to improve care for people with three chronic conditions: diabetes, chronic kidney disease and hypertension.
Collaborating with academic institutions and two large dialysis providers, the Time to Reduce Mortality in End-Stage Renal Disease (TiME) trial compares outcomes of "usual treatment" for people with end-stage renal disease versus what happens when the hemodialysis session lasts longer—at least 4.25 hours. The trial will be conducted at about 320 dialysis facilities and use EHRs to track progress.
"The TiME trial team has explored the opportunities and potential limits of what is possible in real-world trials," Abbott said. "The study's findings will have a strong impact on future trials of similar designs, regardless of the specific disease studied, which is one of the primary goals of the Common Fund."
White House hosts diabetes event
By Krysten Carrera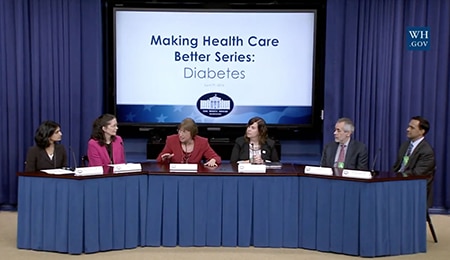 In April at the Eisenhower Executive Building in Washington, D.C., NIDDK Director Dr. Griffin P. Rodgers and Dr. Judith Fradkin, director of the NIDDK Division of Diabetes, Endocrinology, and Metabolic Diseases, participated in an event on recent dramatic progress in diabetes prevention and care in the United States. Joining them were colleagues from the U.S. Centers for Disease Control and Prevention and the Centers for Medicare and Medicaid Services, and from non-profit groups such as the American Diabetes Association and the YMCA. The event opened a five-part series, "Making Health Care Better," that the White House is hosting to highlight progress in improving the U.S. healthcare system.
The event called attention to the recent announcement that Medicare will soon cover interventions based on findings from NIDDK's seminal Diabetes Prevention Program study, which found that people at high risk for developing type 2 diabetes can often prevent or delay the disease through a lifestyle intervention aimed at increasing physical activity and healthy eating to achieve modest weight loss, and to a lesser degree with the diabetes drug metformin. NIDDK-supported follow-up research found that a group-based adaptation of the lifestyle intervention can be delivered cost effectively in real-world settings like YMCAs.
During the event, Dr. Fradkin praised the news as a way to eliminate barriers to care and empower people to take charge of their health.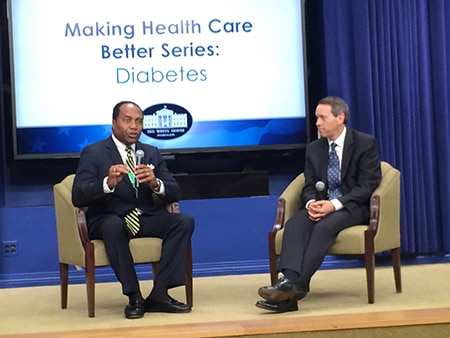 "We showed in our Diabetes Prevention Program that the amount of weight lost predicted success in delaying or avoiding diabetes," Fradkin said. She noted that an ongoing trial is also looking at the effect of vitamin D in preventing type 2 diabetes. "There's now a lot of evidence that we can make life better for people with or at risk of developing diabetes."
Dr. Rodgers and JDRF President and CEO Derek Rapp held center-stage as they discussed type 1 diabetes research, the resulting great strides toward developing an artificial pancreas and improvements in managing diabetic eye disease, and other advances. JDRF is formerly known as the Juvenile Diabetes Research Foundation.
"I was honored to join colleagues at the White House event on diabetes," Rodgers said. "Supporting a wide array of research helps us achieve our shared mission to help people lead healthier, more productive lives."
Christopher J. Lynch takes the helm of the Office of Nutrition Research
By Leslie Curtis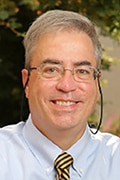 Dr. Christopher J. Lynch has been named director of the Office of Nutrition Research (ONR) and chief of the Nutrition Research Branch within the NIDDK. Lynch officially assumed his new roles in February. He facilitates nutrition research within NIDDK and—through ONR—across NIH, in part by forming and leading a trans-NIH strategic working group. He also continues and extends efforts at NIDDK to collaborate widely to advance nutrition research.
"Dr. Lynch is a leader in the nutrition community and his expertise will be vital to guiding the NIH strategic plan for nutrition research," said NIH Director Dr. Francis S. Collins.
NIH supports a broad range of nutrition research, including studies on nutrient and dietary intake, genetic influences on human nutrition and metabolism, and other scientific areas. ONR was established in August 2015 to help NIH develop a strategic plan to expand its mission-specific nutrition research.
"Every day, we learn more about the links between diet and life-threatening diseases such as type 2 diabetes, heart disease, and stroke, and how our gut microbiome may determine food preferences," Lynch said. "These are exciting times for nutrition research and I'm delighted to help advance NIH-funded nutrition research."
Lynch joins NIH after 27 years at Pennsylvania State University's College of Medicine, most recently serving as professor and vice chair of the Department of Cellular and Molecular Physiology.
"Nutrition research increases understanding of the causes of many diseases studied by NIDDK, including diabetes, obesity, inflammatory bowel disease and others," said NIDDK Director Dr. Griffin P. Rodgers. "With Dr. Lynch's guidance, we hope to strengthen our research in nutrition, encourage innovative research through novel partnerships and help the public to better understand how nutrition influences their health."
NIDDK director teaches reporters about obesity research
In February at the Phoenix Mayo Clinic, NIDDK Director Dr. Griffin P. Rodgers delivered a presentation on NIH's obesity research advances to reporters at a National Press Foundation program to provide training on obesity-related topics. Among other speakers, Dr. Jonathan Krakoff, section chief of the Obesity and Diabetes Clinical Research Section at the intramural NIDDK Phoenix Epidemiology and Clinical Research Branch, discussed the physiology of obesity.
In this interview filmed after his presentation, Dr. Rodgers talks about how research is helping people better understand and manage obesity and its complications.
Credit: National Press Foundation
Nutrition Roadmap aims to advance research, provide more individualized advice
For the first time, the HHS Interagency Committee on Human Nutrition Research (ICHNR) released guidance designed to advise federal nutrition research. The 2016-2021 National Nutrition Research Roadmap encourages an increased focus on research that can lead to individualized advice for promoting health and preventing disease. It emphasizes addressing research gaps concerning nutrition-related chronic diseases and health disparities, particularly for at-risk groups such as pregnant women, children and older adults.
The ICHNR includes members from the NIDDK and is charged with improving planning, coordination and communication among federal entities engaged in nutrition research.
Students explore nephrology careers in NIH Clinical Center
By Krysten Carrera
In March, local high school students gathered in the NIH Clinical Center to discuss career options in nephrology, the branch of medicine that deals with the kidneys. The students' visit was part of the Clinical Center's Discovery Program, designed to provide young people from underrepresented minority groups with an opportunity to explore professions in health sciences.
During the visit, Dr. Amaka Edeani—staff clinician in the intramural NIDDK Kidney Diseases Branch—explained how the kidneys work, answered questions about kidney disease, and discussed why she became a nephrologist. The group also toured the Clinical Center's dialysis unit, which is used by patients who are participating in NIH studies.
"When I was deciding whether to pursue kidney disease research, it helped to have frank discussions with people who had gone down that path," Edeani said. "I was glad to chat with the students about what's rewarding and challenging about my work. I hope many, including those who hadn't already considered nephrology, left the NIH inspired by what they might be able to achieve."
Meeting summary highlights potential type 1 diabetes research

The NIDDK has released a summary (PDF, 64.28 KB) of the Diabetes Mellitus Interagency Coordinating Committee's type 1 diabetes research initiatives planning meeting. The NIDDK, other NIH institutes, and the U.S. Centers for Disease Control and Prevention proposed research that could be supported by the Special Statutory Funding Program for Type 1 Diabetes Research (or Special Diabetes Program). A panel of non-federal scientific experts and a lay representative provided input on these concepts and on programs already supported by the Special Diabetes Program.