NIDDK Director's Update
Summer 2017
Health Information Updates
NIDDK urges all Americans to know their risk for developing type 2 diabetes
By Diane Tuncer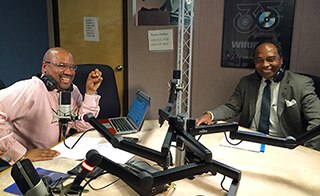 In support of American Diabetes Alert Day on March 28, 2017, NIDDK director Griffin P. Rodgers participated in television and radio interviews with WUSA9 and with WHUR-FM's "Medical Monday: Insight on Diabetes Alert Day" segment to "sound the alarm" about the seriousness of diabetes and to encourage people to take the Diabetes Risk test.
More than 29 million Americans have diabetes. An estimated one in four people do not know they have the disease. Undiagnosed or untreated, diabetes can lead to serious health problems—including kidney disease, heart attack, and stroke.
Answering questions from listeners, Rodgers shared information about risk factors and symptoms of type 2 diabetes. He also shared the good news that NIDDK-supported research has demonstrated how to delay or prevent the onset of type 2 diabetes. As well, Rodgers addressed common myths associated with diabetes, such as eating too much sugar causes diabetes.
"The answer is not so simple," said Rodgers. "Type 1 diabetes is caused by genetics, and factors that are unknown can trigger the onset of this disease. Type 2 diabetes is caused by genetics and lifestyle factors. Being overweight does increase a person's risk for type 2, and a diet high in calories from any source can contribute to weight gain."
More than 106,000 viewers and listeners received practical tips and messages about setting goals and taking small, yet achievable steps to make lifestyle changes to lose weight, maintain a healthy weight, be more active, and make healthy food choices.
For listeners with diabetes, Rodgers also discussed the importance of managing the diabetes ABCs, (A1C, blood pressure, cholesterol, and stopping smoking) to prevent diabetes-related health problems.
Find more NIDDK resources on diabetes here.
NIDDK's 2017 National Kidney Month messages reach people nationwide
By January W. Payne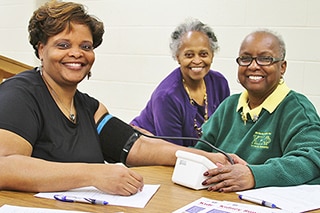 Every March, NIDDK participates in National Kidney Month (NKM) activities to spread awareness of how to prevent, diagnose and manage kidney disease. This year's efforts aligned with the worldwide theme of the role of obesity in kidney disease, as well as outreach to African Americans. The nationwide efforts included 18 radio interviews, a television interview, and blog posts.
"National Kidney Month enables NIDDK to encourage people with diabetes or high blood pressure—particularly African Americans, who are at higher risk for these conditions—to get tested for kidney disease and to talk about kidney health with their families and faith communities," said NIDDK Director Dr. Griffin P. Rodgers. "We encourage families who have a greater risk of developing kidney disease to adopt healthy lifestyle habits to help prevent the disease or better manage it."
More than 20 million people—approximately 1 in 10 American adults—have kidney disease. More than 1 in 3 U.S. adults, and about 1 in 5 teens, are affected by obesity. Kidney disease and kidney failure are serious health concerns for African Americans because they have higher rates of diabetes and high blood pressure than whites. People with early kidney disease usually have no symptoms, which is why getting tested is so important.
Contributing to the expanded reach of this year's NKM activities was the success of social media messaging. NKM social media impressions increased by about 318 percent over 2016 on NIDDK's Facebook and Twitter accounts, with nearly 350,000 social media impressions. Rodgers' World Kidney Day statement also led to 28,672 unique visits to NIDDK's website.
As part of its effort to reach African Americans where they live and worship, NIDDK held Kidney Sundays throughout the month of March as part of its long-standing partnership with the Chi Eta Phi Inc. nursing sorority. This year, the National Institute of Arthritis and Musculoskeletal and Skin Diseases also participated to educate faith communities about lupus and its effects on the kidneys. These events were held in 24 states, with a total of 146 participating churches. NIDDK disseminated kidney-related content to partners, sharing National Kidney Disease Education Program messages via partners' newsletters and social media platforms.
"Kidney Sundays encourages people to talk with family members, friends, coworkers, neighbors, and those in faith communities about kidney disease," Rodgers explained. "It can also help those who may be at risk for kidney disease learn about testing and how to protect their kidneys."
Related: