NIDDK Director's Update
Summer 2017
News Around NIDDK
Centers enable research access, advancements
By Amy F. Reiter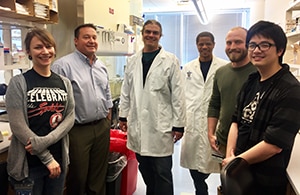 As Spiderman famously learned, with great power comes great responsibility.
The saying holds true for the NIDDK Research Centers as well. These institutions, with critical mass and proven leadership in their fields, receive funding to run core facilities that have and maintain cutting-edge expertise and equipment in an area essential to conducting research in NIDDK's diverse mission areas.
But that's not all. The Centers may also support pilot and feasibility projects, specialized expertise and research technologies. "The Centers can be the glue that holds the community together," said NIDDK Deputy Director Dr. Gregory Germino. "They enable our broader research field to use, attract and share expertise. The Centers capitalize on knowledge and investment in a specific area crucial to conducting our research while exercising best practices."
Core facilities are the backbone of the program. Some focus on basic science, others on clinical components or translation. The facilities are meant to be used often and widely, providing expertise specific to that field. So a Kidney Disease Center can offer a renal genomics core, while a Cystic Fibrosis Research & Translation Center offers a core producing animal models of cystic fibrosis-related diabetes.
"They are asked to evolve, to make sure they are appropriately equipped and well-used," said Dr. James Hyde, program director for the NIDDK Diabetes Centers.
In the pilot and feasibility programs, an investigator can request from a Center a small grant to generate preliminary data. The pilots can enable early career investigators to generate preliminary data, which can then support larger studies. The pilots can also enable researchers in other disciplines to bring their skills to NIDDK research areas.
"Scientists can move their research to the next level by tapping into an NIDDK-supported core," said Dr. Terry Rogers Bishop, program director for the NIDDK Molecular Hematology Centers.
For example, an NIDDK-supported core at the Fred Hutchison Cancer Research Center provides purified hematopoietic stem cells—a specialized skill for which their services are widely used. "Due to its high volume of cell processing, this core facility designed and utilizes a quality control system that ensures rigorous and reproducible purification of cells," Bishop said. The cells are also and cost-effective due to the larger scale of production.
"Though Center resources are usually used primarily by the Center's Institution, Centers are encouraged to reach beyond their own campuses to extend resources and unique expertise elsewhere," said Dr. Peter Perrin, Program Director for the NIDDK Digestive Diseases Centers.
For example, Washington University in St. Louis shared its Digestive Diseases Center resources with Saint Louis University (SLU) for a pilot project on the processes that regulate inflammation and metaplasia in the gastric mucosa. SLU subsequently received R01 funding to continue this research on a larger scale, continuing the collaboration as well. These studies continue to benefit from the Center in the form of core usage.
"The Centers bring people together to collaborate," said Perrin. "They enhance the quality of the research that can be done."
Many Centers also enhance student learning. A Vanderbilt University-led program supports an annual research symposium for about 100 medical students a year who are working at the Diabetes Centers across the country. "By giving them a taste of diabetes research at leading facilities, we're hoping to strengthen the research pipeline," Hyde said.
The sum total adds up to significantly more than its parts, Germino said. "It can be an incredibly impactful investment of resources."
Find more: NIDDK Research Centers.
Getting to know: Dr. Chuck Niebylski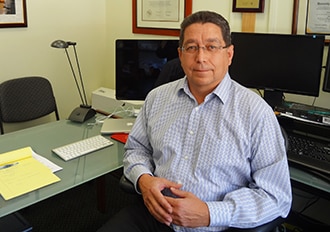 Chuck Niebylski, Ph.D., J.D., directs the Technology Advancement Office, including serving as technology development coordinator. Working in concert with scientists and program directors, his office identifies new opportunities for partnerships between the NIDDK and industry and to develop and protect discoveries made within NIDDK. Niebylski spoke with Shawn Humphrey about his dedication to lowering the cost of health care and facilitating successful research collaborations.
Tell me about the road you took to a career in technology transfer and advancement.
I originally came to the area 26 years ago as a postdoc at the National Institute on Alcohol Abuse and Alcoholism. I was hired to start a fluorescence resource lab. During my last year as postdoc, I started evening law school at Catholic University. Afterward, I began working at a patent firm downtown right when the patent boom was taking off. Gradually, I worked my way up to partner.
After 2008, the tremendous change in administration, change in banking rules, changes in patent laws, and loss of venture capital created huge consolidation in the biotech industry. I came back to my roots here in 2011 because I wanted to make a difference in how NIH advances early discoveries and innovations into new therapies and devices.
How does your office help the government add value to research?
Our office helps facilitate the transfer and exchange of research materials and know-how between NIH and collaborators in academia and industry. We identify new innovations that arise from research and protect intellectual property with patent applications and licenses. We also find synergies. We can help scientists collaborate with experts in other fields to establish the validity of a hypothesis and expand their area of research.
In my job and this office, we're at the intersection of science, business, and law. We can implement new models, tools, and innovations that decrease the cost of healthcare.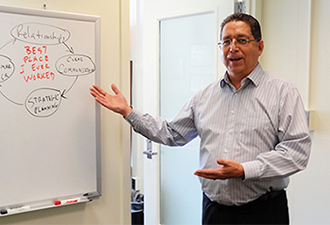 What are new research discoveries that excite you?
NIDDK intramural and extramural programs are both looking at repurposing proven, safe older drugs for effective new uses. This approach has big advantages. Scientifically, basic mechanisms of action of the drug may already be well understood. On the regulatory side, the FDA has already reviewed the drug's safety. On the business side, there is a lower risk of failure, and significantly shorter time and lower cost for completing clinical trials. This model can benefit the public and provide value back to taxpayer-supported NIH funding.
Can you give some recent examples of technology transfer?
We have new diagnostic methods being developed that might improve healthcare. Intramural's Dr. Dan Appella developed a peptide nucleic acid (PNA) platform. This technology might provide for faster, cheaper detection of HIV and other diseases.
Also, a new diagnostic method was discovered at the NIH imaging center by Dr. Ahmed Gharib, Dr. Khaled Abd-elmoniem, and Dr. Roderic Pettigrew. Through imaging technology, they're able to use an MRI machine to measure vessel wall thickness in a patient's heart. This is important to anybody with heart disease, because right now there's likely thousands of costly invasive radiological procedures taking place every day to measure vessel wall thickness. These are the sorts of innovations that could change the face of health costs.
What advice do you offer investigators looking to enter a research collaboration?
Go through the website and contact our office. We try to be strategic about scientific collaboration. Whoever you are when you come in the door, whether it's from the inside or outside, we want you to succeed.
NIH and Indian Council of Medical Research staff meet to advance diabetes, tuberculosis research
By Amy F. Reiter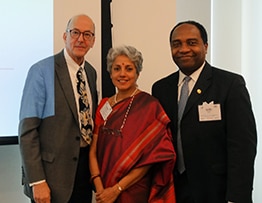 On April 11, representatives from the Indian Council of Medical Research (ICMR), along with visiting scientists, joined staff from NIH to discuss the converging epidemics of diabetes and tuberculosis. From left, Fogarty International Center Director Dr. Roger Glass, Secretary of the Department of Health Research and ICMR Director General Dr. Soumya Swaminathan, and NIDDK Director Dr. Griffin Rodgers led discussions. Staff from NIAID also participated in the discussions.
In 2012, the U.S. and Indian governments initiated a formal research relationship in diabetes. This collaboration is spearheaded by NIDDK and ICMR. Afterward, in response to joint efforts of the two agencies, researchers from both countries began working together on projects that could provide unique insights into diabetes and help lead to improved health for people with or at risk for diabetes in both countries. "We are taking research where the opportunities really lie," Glass said.
The idea to explore the convergence of diabetes and tuberculosis stemmed from discussions in 2016 by the Joint Steering Committee for the Indo-U.S. diabetes research collaboration, which also held its sixth meeting the day before the scientific session. Both diabetes and tuberculosis worsen outcomes for the other.

Swaminathan said there was a need to identify strategies to solve the growing problems of diabetes and tuberculosis. "It is the right time to really think about [these] research questions," she said.
Rodgers concurred, saying, "With each meeting and collaboration, we have been able to capitalize on our shared goals with projects that advance public health, at a scale beyond which we could achieve alone."