Robert: Paying It Forward—A Physician-scientist with Type 1 Diabetes Participates in a Clinical Trial To Prevent Kidney Disease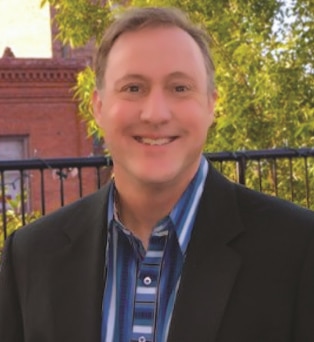 As a pediatric emergency physician and research scientist who has type 1 diabetes, Robert Truckner has personally witnessed, as both a patient and a doctor, the remarkable technological advances made over the past few decades that have improved the lives of people with type 1 diabetes. However, he has been concerned about developing kidney disease and other diabetes-related complications sinceshortly after he was diagnosed with type 1 diabetes as a child in the 1970s. "You're worried about kidneys," he says, as well as other organs that could be adversely affected by type 1 diabetes, such as the eyes and the heart. These fears "have always been in my mind," Robert remembers. Although rates of complications are lower now than they were when Robert was growing up, kidney disease remains a common complication of type 1 diabetes. After years of managing his own diabetes, Robert, now in his mid-50s, helps counsel his own patients with type 1 diabetes when they arrive at the emergency room, often for diabetic ketoacidosis—an acute and dangerous complication of diabetes. His personal experience with type 1 diabetes and its complications allows him to connect with and reassure his adolescent patients in a way that may not be possible for many other physicians. Robert laughs as he recalls the times he has told his young patients: "I've been doing this [managing type 1 diabetes] for four times longer than you've been alive."
"You're worried about kidneys," he says, as well as other organs that could be adversely affected by type 1 diabetes, such as the eyes and the heart. These fears "have always been in my mind," Robert remembers.
Living with Type 1 Diabetes, and the Fear of Kidney Disease and Other Complications
Robert was diagnosed with type 1 diabetes when he was about 10 years old. He recalls one year around Christmas, his observant mother noticed that he was excessively thirsty and hungry, and was losing weight - characteristics that he later learned were classic signs of type 1 diabetes. After visiting his equally sharp family doctor, followed by a trip to the hospital, Robert and his family were told the difficult news that he had type 1 diabetes. Because Robert was so young, it took some time for him to fully understand what this diagnosis meant. But soon he began to realize how managing his health would change his life. He learned to give himself insulin shots, to monitor his urine glucose levels, and to help maintain his health by living a very active lifestyle.
Type 1 diabetes presented a variety of challenges throughout life. As a child, Robert spent years trying diligently to control his blood sugar as best as was possible at the time, but without the benefit of a robust community nearby to provide support. "It was a very isolating experience," Robert remembers; "I didn't know anybody who had diabetes - no one." But that changed when he was 19 years old, and he began working at Camp Midicha - a summer camp run by the Michigan Children's Diabetes Association - where he interacted with kids ages 6 to 16 who had diabetes. Initially he was a counselor, and later became its Director for a couple of years. "This was mind-opening for me," says Robert of his time working with these youths at Camp Midicha, "just a phenomenal experience."
Robert credits his parents with instilling in him the perseverance to pursue his dreams. This was a value that "my Mom and Dad ingrained in me from a very young age … that there was nothing I couldn't do, even with diabetes."
Robert remembers always planning a career in medicine in the back of his mind. As a young teenager, he wrote a letter to a prominent diabetes center asking a physician there for advice about whether he should become a physician himself, considering his diabetes. He remembers the response: "I got a letter back … but they discouraged me, really, from becoming a physician," noting that the hours are long and will take a toll on his health. While the letter was somewhat dispiriting, Robert credits his parents with instilling in him the perseverance to pursue his dreams. This was a value that "my Mom and Dad ingrained in me from a very young age … that there was nothing I couldn't do, even with diabetes." Heeding this advice, Robert applied and was accepted to medical school. A few years later, he again faced an important professional decision about which area of specialization to pursue - a choice that he admits was influenced by the possibility of complications from diabetes. "I really liked orthopedic surgery. But I chose not to go into it because I was worried if I got retinopathy at some point, I would not be able to perform." (Diabetic retinopathy, a type of diabetic eye disease, can lead to severe vision loss and blindness.) "That was one time that … I let the fear of diabetes take control of me, the fear of the unknown of diabetes." However, he says cheerfully that he has been very happy with his chosen career of pediatric emergency medicine. Now Robert helps his young patients who have type 1 diabetes learn to manage their health better. He offers them hope for a brighter future by reminding them that over the past few decades, technological advances have greatly improved his own blood sugar control and management of complications. He often tells them: "The technology in my lifetime has been amazing; the technology of your lifetime will be even more amazing."
Even with the new and improved technologies currently available to help Robert and other people with type 1 diabetes manage their disease, it is difficult even for the most vigilant patients to achieve levels of blood sugar control that research has shown can reduce the risk of long-term complications, including kidney disease. Thus, in addition to providing support for studies that have contributed to technology development and improved understanding of the long-term effects of diabetes, NIDDK is also funding research to identify other approaches to prevent and treat diabetes-related complications. Toward this goal, in fall 2015, Robert enrolled in an NIDDK-funded study investigating whether an inexpensive drug, called allopurinol, can help slow the decline of kidney function in people with type 1 diabetes and very early kidney damage.
Diabetic Kidney Disease and the PERL Clinical Trial
Diabetes is the most common cause of kidney disease and can lead to kidney failure, requiring dialysis or kidney transplantation—both highly invasive treatments. A growing number of research studies suggest that reducing the level of the bodily waste product uric acid in the blood could help curb the deterioration of kidney function. The drug allopurinol has been used for decades to lower uric acid levels in patients with gout, which is a painful condition that occurs when uric acid is deposited as needle-like crystals in the joints and/or soft tissues. Allopurinol exhibits an excellent safety profile and is a generic, relatively inexpensive drug - attractive characteristics for a potential preventative therapy for a prevalent condition.
The NIDDK-supported Preventing Early Renal Function Loss in Diabetes (PERL) clinical trial is investigating whether allopurinol can prevent or delay the loss of kidney function in people with type 1 diabetes and very early kidney damage. Several centers around the United States and Canada have enrolled patients so populations from different geographic locations will be included in the study. The primary outcome measurement for the study is glomerular filtration rate (GFR) - the rate at which kidneys filter wastes and extra fluid from the blood, serving as a measure of kidney function.
Patients enrolled in the trial, including Robert, have relatively high serum uric acid levels but only mildly or moderately decreased renal function. PERL is a double-blind randomized clinical trial, which means that study participants receive either allopurinol or a placebo control, but neither the participants nor the scientists who interact directly with them know which patient receives which treatment through the course of the study. Thus, because the trial is still ongoing, Robert does not yet know whether he is receiving allopurinol or placebo. Trial participants receive the treatment for 3 years, after which their GFR levels, as well as other conditions, will be compared to see whether there are differences in health between those who received the different treatments.
A Unique Perspective: Patient, Physician, and Scientist
As a physician and scientist who has been involved in conducting clinical trials, Robert is well-aware of logistical and other issues participants face when enrolling in clinical research studies. Based on his previous experiences, Robert feels that the PERL trial is not as demanding as some other clinical trials. "As studies go," he says, "this is a piece of cake." In addition to taking daily pills (either allopurinol or placebo), participants visit the clinic every few weeks for weight measurement and blood sugar analysis, and for kidney function tests. Due to Robert's schedule as an emergency physician, coordinating these visits is fairly easy for him, but he acknowledges that "people who work 9-to-5 jobs … may have more difficulty." He also notes that while he lives in Spokane, Washington, near one of the sites where the trial is being conducted, study participants are being recruited from a larger area of the Pacific Northwest, so some people may have to travel longer distances.
Interestingly, through conversations with research staff, Robert was made aware of a potential unexpected benefit of participation in the PERL study for some people. He learned that by simply engaging frequently with the well-trained staff, some participants were given valuable advice in passing, such as tips on making healthy dietary choices, that they might not have otherwise received. "I think a secondary effect of these studies for people [who have poorly controlled blood glucose levels]," he says, "is that they get some diabetes education along the way." In this way, study nurses and others help improve diabetes care for some study participants.
Hope Through Research
"There's this whole generation of kids" growing up with the fear of developing kidney disease, and "if I can use … an old medication to save my kidneys," he ponders, or "to at least study if it does, and it works - wouldn't that be wonderful?"
Robert recognizes that improvements in technology - made possible through scientific research - have led to improved quality of care for people with type 1 diabetes over the past few decades. By participating in the PERL trial, he will be a part of the ongoing research efforts to develop the next potential wave of life-improving or life-saving therapeutics. The idea of preventing kidney disease with allopurinol gives Robert hope for all people with type 1 diabetes, but particularly for today's children. "There's this whole generation of kids" growing up with the fear of developing kidney disease, and "if I can use … an old medication to save my kidneys," he ponders, or "to at least study if it does, and it works - wouldn't that be wonderful?"
"I want to say thank you … thank you to the scientists. I want to say thank you to the Congress. I want to say thank you to NIDDK, and the other study participants," he reflects. "Thank you for caring."
From his varied experiences, Robert knows that clinical trials aimed at addressing important health issues, such as preventing kidney disease, require commitment on many levels, by many groups of interested people. Robert expresses great appreciation to all those involved. "I want to say thank you … thank you to the scientists. I want to say thank you to the Congress. I want to say thank you to NIDDK, and the other study participants," he reflects. "Thank you for caring."