Michelle and Paula: Sisters Participate in Life-changing Clinical Trials—Testing Artificial Pancreas Technology for Managing Type 1 Diabetes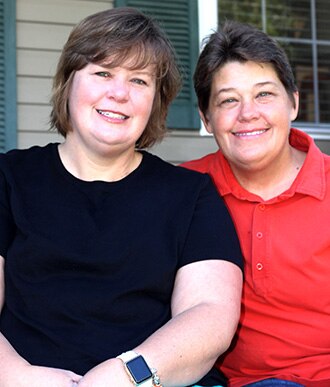 Sisters Paula and Michelle were diagnosed with type 1 diabetes 6 months apart 41 years ago when Paula was 12 years old and Michelle was 6. Taking cues from their parents, the sisters made the best of their situation. When they were children and had to take insulin shots, the sisters would save empty syringes (without needles), and "pass them out to our cousins as water guns," they recall with a laugh.
People's ability to manage type 1 diabetes has greatly improved since the sisters were children. However, type 1 diabetes is still an extremely burdensome and difficult disease to manage.
To keep blood sugar (glucose) levels within a healthy range, people with the disease (or parents of young children) must measure blood sugar levels with finger sticks or a continuous glucose monitor (CGM), calculate how much insulin to administer, and deliver that insulin via injection or pump. Paula and Michelle said that they typically measure their blood sugar levels four times a day, but it can be more often if their blood sugar is running too high or too low - then they need to monitor more often to make sure it comes back to a healthy range.
Additionally, while insulin therapy helps keep blood sugar from climbing too high, it brings with it the risk of potentially life-threatening episodes of low blood sugar (hypoglycemia). The risk of hypoglycemia greatly limits people's ability to achieve recommended levels of blood sugar control-levels that have been shown by NIDDK-supported research to reduce the risk of long-term disease complications. Everyday experiences like eating, exercising, and illness can also affect blood sugar levels in unexpected ways, complicating people's ability to predict changes in their blood sugar levels and determine how much insulin to take.
For these reasons, research is under way to develop new and improved tools to help people with type 1 diabetes manage their disease. Paula and Michelle are on the forefront of testing new technology - called an artificial pancreas - that could potentially help reduce the burden of managing the disease, as well as help people improve their blood sugar control.
Signing Up for Their First Artificial Pancreas Clinical Trial
An artificial pancreas, or "closed-loop system," currently being tested in research studies, is technology that would replace the function of the pancreas that does not work in type 1 diabetes: delivering insulin in response to blood sugar levels. It links three technologies: (1) a sensor, such as a CGM, that measures blood sugar levels and sends information to a computer; (2) an insulin delivery device, such as an insulin pump; and (3) a computer that calculates the amount of insulin needed and instructs the pump to deliver insulin. Artificial pancreas technology would require minimal human input and mimic the exquisite control of blood sugar maintained by a healthy pancreas. Thus, the technology could help people with type 1 diabetes achieve recommended levels of blood sugar control while preventing hypoglycemia, as well as alleviate the enormous burden associated with current management strategies - improving the health and quality of life of people with the disease.
Paula and Michelle have participated in two artificial pancreas trials at the University of Virginia (UVA), located in Charlottesville. It was Michelle who initially heard about their first trial because she liked to keep tabs on artificial pancreas research. Through www.clinicaltrials.gov, which is a service of the National Institutes of Health (NIH) with information on trials funded by NIH and other sponsors, "I found they had quite a few trials in Charlottesville for the artificial pancreas," she says. She talked to one of the UVA researchers and found she was eligible to participate in an upcoming trial. She told Paula about it, with the hope that she could also participate, and both sisters enrolled in the trial. The trial was funded by JDRF - an organization that has been a key research partner with the NIDDK to advance artificial pancreas research.
The technology they tested as part of that trial is called DiAs, short for "diabetes assistant," and was developed by researchers at UVA. DiAs is an Android-based smartphone medical platform that serves as the "brains" of the operation; it is paired with a commercial CGM and insulin pump via Bluetooth. For safety reasons, during a clinical trial, the system allows the researchers to monitor real-time data from participants remotely so that they could intervene if the system doesn't work properly. In "closed-loop" mode, DiAs runs computer algorithms that, based on CGM data, predict when blood sugar levels will fall or rise; in response, the system sends a signal to the insulin pump telling it to adjust insulin levels accordingly. The sisters had to input the number of carbohydrates (carbs) they were eating into DiAs, and to tell it when they were going to exercise, but otherwise the system took over control of managing their type 1 diabetes.
The first phase of the trial started in July 2014. "It was a 3-month trial that was to test the feasibility and safety of using an artificial pancreas at home," explains Michelle. They first had to learn how to use the individual components of the artificial pancreas. Then, "we moved on to using the DiAs as an artificial pancreas at night. The last step was to use the system for 2½ weeks in 24-hour closed-loop mode," she recalls. It didn't take the sisters much time to adjust to using the new technology. "[It was] not hard to get used to it," remembers Paula. "We like technology; we like new gadgets." Michelle adds, "If you use a smartphone, you could definitely use an artificial pancreas." In November 2014, they turned in their devices but then got them back in March 2015 when they started the second phase of the trial, in which they used DiAs at home for 6 months in 24-hour closed-loop mode.
Artificial Pancreas Technology - A Life Changer
As Michelle explains, the artificial pancreas "was in complete control. You didn't have to think about anything. You just put your carbs in there, and it gave you insulin, and you didn't really have to worry…. It was great!"
"We found that using the DiAs gradually changed our lives," Michelle says. "It's been a taste of freedom so to speak," Paula adds. As Michelle explains, the artificial pancreas "was in complete control. You didn't have to think about anything. You just put your carbs in there, and it gave you insulin, and you didn't really have to worry.… It was great!"
One major benefit of using the system was that the sisters experienced many fewer episodes of hypoglycemia. Michelle explains that if blood sugar levels drop extremely low during the day, "It pretty much wipes you out. Especially if it does it quickly, it completely wipes you out in terms of energy levels." Paula adds: "Your brain function slows down, too." The sisters further explain that blood sugar drops could happen quickly and unexpectedly. According to the sisters, the artificial pancreas helped protect against such episodes by keeping their blood sugar levels in a healthier range, so they didn't experience the extremely low blood sugar levels they once did. If their blood sugar did drop, it dropped at a much slower rate, making it easier to manage.
Relief from the frightening and debilitating symptoms of hypoglycemia made driving less of a worry. "Driving has always been a concern - I never wanted to have a low [blood sugar level] while driving, as the guilt would have eaten me alive if there had been an accident," says Michelle. However, because her blood sugar was being well-controlled by the artificial pancreas, "During the study, driving became just an everyday task," she reports happily.
Use of the DiAs also helped the sisters sleep better, since low - as well as high - blood sugar levels could often interrupt their sleep. As Paula explains, "Before I got the DiAs, my sugar was dropping and then spiking in the night, and I would have to get up at least once during the night." After starting on the device, though, she says that, "I was able to sleep through the night and my blood sugar levels were steady through the night and morning." Michelle adds that, "I could get a full night's sleep and would wake up … refreshed and ready to take on the day."
The ability of the artificial pancreas to control blood sugar levels has positively affected other aspects of their lives. One of the things that the sisters liked most was having the ability to exercise and eat healthier, which, for them, resulted in losing some excess weight by the end of the trial. As Michelle explains, before using the device, "Every time I'd exercise I'd have to eat something," because her blood sugar would drop so low. Even outside of exercise, the sisters had to eat extra calories during the day when their blood sugar dropped too low. However, the artificial pancreas protected against the very low blood sugar drops during exercise, so they didn't have to eat a lot of food after exercising. And their blood sugar didn't drop as often or as low when not exercising, so they didn't need to consume as many extra calories during the day to raise it. "The fact that I wasn't having to eat all the time … gave me the ability to exercise and eat healthier," Paula reports. Michelle states: "It feels good to only eat when you are hungry and not because you have to keep your blood sugar up."
At the end of the trial, the sisters achieved impressive personal results. Paula's hemoglobin A1c (HbA1c) level - a measure of average blood sugar control - improved from 7.7 percent to 6.6 percent.
(The American Diabetes Association recommends that adults with type 1 diabetes aim for HbA1c levels less than 7.0 percent unless there is a reason to set a higher target.) Paula exclaims, "That is my all-time lowest HbA1c ever!" Michelle started with an HbA1c level of 6.9 percent, which was already at recommended levels, so she didn't think she'd see much change. However, her HbA1c level improved to 6.1 percent. Thus, both sisters achieved greatly improved blood sugar control with the artificial pancreas, while experiencing fewer episodes of hypoglycemia and improved quality of life.
The sisters recognized that the technology being tested in the trial was still a prototype device, and there are areas that need to be improved. For example, the device would often lose Bluetooth connectivity, requiring them to reconnect the components manually. (There were safety mechanisms in place that alerted them to connectivity problems.) For safety reasons, there were also loud and frequent alarms, although they reported that the alarms lessened over time. "While this version was not the nirvana I had hoped for, it did allow me to relax a great deal," states Michelle. They also stress that the research team has been extremely willing to hear their feedback about how to make the system better and more user-friendly. "They are definitely wide open to any improvements that we suggested," the sisters report. Improving the "usability" of artificial pancreas technology is another important aspect of this research area.
"While it was a sad day when I had to turn off the [artificial pancreas] system and hand it over to the research team, I know that it brings us a step closer to having it available to the public," says Paula.
Paula jokes that at the end of the trial, she and her sister weren't thrilled about turning in their artificial pancreas devices: "We had plans to run away with them," she laughs. More seriously, she adds: "While it was a sad day when I had to turn off the system and hand it over to the research team, I know that it brings us a step closer to having it available to the public." She knows that today's clinical trials are paving the way to what scientists hope will be U.S. Food and Drug Administration (FDA) approval of the technology, which could lead to it being available to people with type 1 diabetes outside of a research setting. Of the trial, Michelle reports: "I could not have had a better experience."
Another Artificial Pancreas Trial - Project Nightlight
The sisters had such a great experience in their first trial that they eagerly signed up for a new NIDDK-supported trial, called Project Nightlight, which began in spring 2016. In that trial, they are using "inControl," which is the commercial version of DiAs licensed by a start-up company called TypeZero Technologies; it uses the same algorithms as DiAs. Although the sisters only recently started the trial at the time they were interviewed for this profile, they already see two major improvements in the technology. First, the inControl system is much more user-friendly. Second, they aren't having the connectivity problems that they experienced in the first trial. Thus, the technology has advanced in the short amount of time between the two trials.
For the 11-month trial, Project Nightlight is examining different functionalities of the inControl platform. For example, for the first part of the trial, Paula and Michelle can only use the closed-loop mode starting at dinnertime and continuing overnight. The hardest part for them is that they want to use it all the time! However, they know that some people with type 1 diabetes may prefer to use closed-loop control during the nighttime only, so it is important to test the device at night only, as well as in 24-hour use.
Helping Others Through Sharing Research Experiences
Paula and Michelle have active and busy lives. Paula is married to David and has a 28-year-old son, Nathan; she is a licensed practical nurse (LPN) and works for a public school system. Michelle is married to husband Gray and has two daughters, 18-year-old Abby and 16-year-old Maddie; she works from home as a web content manager for a government contractor. Even with their busy schedules, Paula and Michelle have made helping others one of their priorities. In addition to their family, work, and participating in artificial pancreas clinical trials, they have made time to share their experiences in their trials through a blog. One of the reasons they enrolled in the trials and started the blog was because they wanted to help others - including family members - who may not be as comfortable with new technology as they are; five other family members on both sides of their family have type 1 diabetes. "I really wanted to not only help them, but anybody else who might be scared about this [new artificial pancreas technology]," says Michelle.
Hope Through Research
"The [UVA] researchers are fantastic. They are striving to make our lives better…. I cannot sing their praises enough," emphasizes Michelle. "They are a great bunch of people," states Paula.
Paula and Michelle couldn't say enough good things about the research team at UVA. "The researchers are fantastic. They are striving to make our lives better…. I cannot sing their praises enough," emphasizes Michelle. "They are a great bunch of people," states Paula. In addition to the group at UVA, there are several other research groups developing different artificial pancreas technologies. To propel research progress in this area, the NIDDK recently funded new advanced clinical trials testing different artificial pancreas systems. The goal is that these trials will pave the way toward generating data to satisfy safety and efficacy requirements for FDA approval of these systems. One of the recently funded trials is led by the UVA scientists.
As Michelle says and Paula echoes: "I personally cannot wait until this [artificial pancreas] equipment is released into the market … so that I can use it 24/7 until a cure is found…. It's truly life-changing."
With continued research, artificial pancreas technology represents a near-term approach that could transform the ability of people with type 1 diabetes to manage their disease with less burden while maintaining healthy blood sugar levels. As Michelle says and Paula echoes: "I personally cannot wait until this [artificial pancreas] equipment is released into the market… so that I can use it 24/7 until a cure is found…. It's truly life-changing."