Veerasamy "Ravi" Ravichandran, Ph.D.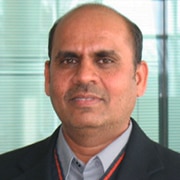 Bioinformatics, Computational Biology, Systems Biology, Data Science
Responsibilities & Activities
As a Program Director in the Division of Digestive Diseases and Nutrition at the NIDDK, I oversee a portfolio of research grants that use systems biology, bioinformatics, computational biology, and data science to study both the normal biological processes and the wide spectrum of diseases impacting the gastrointestinal (GI) tract, including the alimentary GI tract, hepatobiliary system, exocrine pancreas, as well as nutrition and obesity research.
My responsibilities encompass a range of activities, including data curation, sharing, access, reproducibility, security, analysis, harmonization, quality metrics, standards, and visualization. Additionally, I serve as a representative for NIDDK on NIH-wide committees that are involved in data science initiatives.
Committees & Working Groups
NIH FAIR Data Working Group, Member
NIH Biomedical Information Science and Technology Working Group, Member
OOR Neuroscience Priorities Working Group, Member
NIH Data Management and Sharing Expert Panel, Member
NIH Common Data Elements Working Group, Member
NIDDK Data Science Working Group, Member
Interagency Modeling and Analysis Group, Member
NIDDK Racial and Ethnic Equity in the Workforce Working Group, Member
NIDDK Obesity Research Working Group, Member
Trans-NIH WG meeting on Whole Person Health, Member
Select Experience
Program Director, National Institute of General Medical Sciences, NIH, 2013-2022
Scientific Fellow/Biologist, CBER/CDER, Food and Drug Administration, 2010-2013
Staff Scientist, National Institute of Neurological Disorders and Stroke, NIH, 2005-2010
Research Scientist, National Institute of Standards and Technology (NIST), 2000-2005