Rebecca Rodriguez, Ph.D., M.S.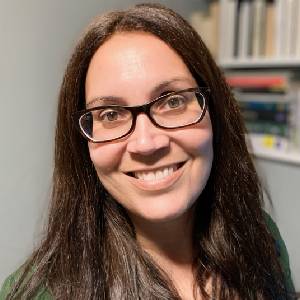 Provides guidance, technical direction, and oversight to the NIDDK Repository Program
Responsibilities & Activities
I am the director of the NIDDK Central Repository program. The program makes clinical studies' generated resources available to the broader scientific community, maximizing the research's impact and scientific value. In my role, I provide guidance, technical direction, and oversight for the performance of repository support staff and repository contractors and coordinate repository interactions with study groups to ensure the timely transfer of resources following approved Data Management and Sharing Plans. I advise and assist repository applicants and am involved in resource release determinations. In addition, I support the Office of Clinical Research Support (OCRS) along with a multidisciplinary team to develop and implement policies and guidance that adhere to NIH and NIDDK regulations and policies to ensure these are applied consistently across NIDDK divisions. I am currently implementing new initiatives to monitor and refine adherence to data and biospecimen sharing practices, assessing and managing Repository Program costs, and promoting Repository resources utilization, making these FAIR (findable, accessible, interoperable, and reusable) for secondary research.
I earned a Ph.D. in Biomedical Sciences from the John A. Burns School of Medicine, University of Hawaii at Manoa. Prior to joining NIDDK, I worked for the Infectious Disease Clinical Research Program (IDCRP), an interagency collaboration network between the National Institute of Allergy and Infectious Diseases (NIAID), the Uniformed Services University (USU), and the Henry M. Jackson Foundation (HJF) for the Advancement of Military Medicine, headquartered in Rockville MD, where I served as the site manager and liaison for multiple high impact interventional and observational studies under the Deployment and Travel Related Infectious Diseases Research Area in Honolulu, Hawaii. Before IDCRP, I spent time conducting research for the Defense Health Agency, the Veterans Health Administration R&D Program, Academia, and the Biotech industry, working at various stages and diverse areas of biomedical and clinical research.
Committees & Working Groups
NIDDK Repository Program Directors, Chair
Clinical Studies Working Group, Member
Data Science Working Group, Member
Trans-NIH Controlled Data Access Committee, Member
NIH Standardized DULs Working Group, Member
Select Experience
Ph.D., John A. Burns School of Medicine, University of Hawaii at Manoa, 2016-2019
Supervisor/Honolulu Site Liaison, Infectious Disease Clinical Research Program, Henry M. Jackson Foundation for the Advancement of Military Medicine, Rockville, MD, 2016-2018
Graduate Fellowship, University of Hawaii at Manoa Cancer Center, Honolulu, HI, 2018
R&D Associate Researcher, MDL a member of the Genesis Biotechnology Group, 2005-2008