National Diabetes Month 2021 Toolkit
Use the resources below to share this year's theme, Small Steps, Big Difference: Preventing diabetes is within your reach. Help to raise awareness that while prediabetes is a serious health condition, it can be managed or even reversed.
National Diabetes Month Flyer
Download our flyer with tips to help manage prediabetes. Print copies for your bulletin board or share in an e-newsletter.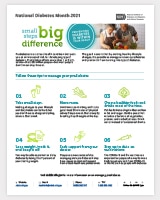 English Version
(PDF, 914.11 KB)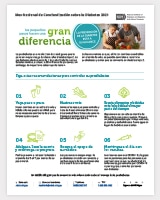 Spanish Version
(PDF, 904.55 KB)
Social Media Content
Download our social media graphics (ZIP, 1.3 MB) and content to post on your Instagram, Facebook, and Twitter pages.
To share this toolkit with your followers, click anywhere on the NIDDK social media message below to then like and share the post on your Twitter page.
Twitter
Resources for Health Professionals
View evidence-based resources and data related to prediabetes.