Eating, Diet, & Nutrition for NAFLD & NASH in Children
How can a child's diet help prevent or treat NAFLD or NASH?
Eating a healthy diet, limiting portion sizes, and maintaining a healthy weight can help prevent NAFLD and NASH in children.
For children who have NAFLD or NASH and are overweight or obese, doctors may recommend gradual weight loss. Eating a healthy diet, avoiding beverages that have added sugar, and being more active can help manage weight and improve NAFLD or NASH.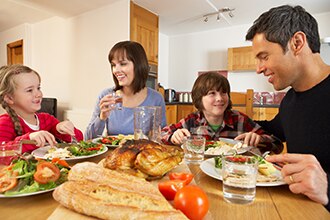 If a child has NAFLD or NASH, the parent or caretaker should talk with a doctor about the child's diet. Making sure that children receive proper nutrition is important for growth and development. The doctor may refer the child to a dietitian to help plan a well-balanced diet.
November 2017
This content is provided as a service of the National Institute of Diabetes and Digestive and Kidney Diseases (NIDDK), part of the National Institutes of Health. The NIDDK translates and disseminates research findings through its clearinghouses and education programs to increase knowledge and understanding about health and disease among patients, health professionals, and the public. Content produced by the NIDDK is carefully reviewed by NIDDK scientists and other experts.
The NIDDK would like to thank:
Jeffrey B. Schwimmer, M.D., University of California, San Diego, School of Medicine