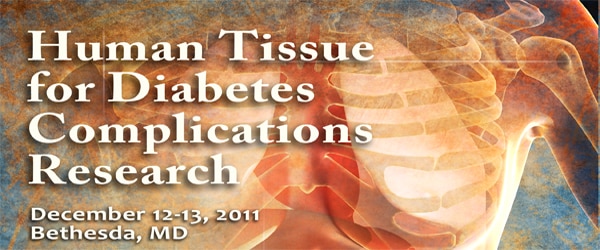 Human Tissue for Diabetes Complications Research
Event Details
Meeting Objectives
Diabetes, either through autoimmune destruction of islets in type 1 diabetes or cellular resistance to insulin in type 2 diabetes, leads to hyperglycemia and other metabolic defects. Over time, these metabolic abnormalities cause cell and tissue injury and eventually diseases such as heart attacks, stroke, renal failure, peripheral and autonomic neuropathy, and blindness. An important, but elusive, goal for diabetes research has been therapeutics that would prevent or reverse the cellular injury induced by hyperglycemia. A major obstacle is the limitation of animal models to mimic the complexity and chronicity of the human disease.
Significant advances have taken place in approaches to obtain, store, and study human tissue. A goal of this workshop is to learn from the successes in other diseases and better translate them to diabetes research. Of particular importance to diabetes complications research is the availability of clinical data to inform the human tissue findings. The foundation for any consideration of obtaining human tissue is the scientific need and questions that could be addressed.
Goals
Review the current use of human post-mortem tissue for research in diabetes complications and other relevant diseases.
Review the current knowledge on the human pathology of the development of complications from type 1 and type 2 diabetes.
Review current approaches to the study of human post-mortem tissue. Although tissue quality, collection techniques, and preservation are important, they will not be part of the focus of the meeting.
Identify specific research questions that could be addressed with human tissue obtained after death from individuals who have pre-consented to donating tissue and who have medical records that fully characterize their diabetes.
Develop ideas that could be used for future initiatives from NIH and JDRF.
Workshop Organizing Committee
Co-chairs
Matthew D. Breyer, MD, Lilly Research Laboratories Michael Brownlee, MD, Albert Einstein College of Medicine Alvin Powers, MD, Vanderbilt University
Organizing committee
Kristin M. Abraham, PhD, NIDDK
Michael F. Flessner, MD, PhD, NIDDK
Teresa L. Z. Jones, MD, NIDDK
Christian J. Ketchum, PhD, NIDDK
Event Logistics
Location
Hyatt Regency
One Bethesda Metro Center
Bethesda, MD 20892