Hepatitis E in the United States: An NIH Research Workshop
Event Details
Meeting Objectives
The purpose of the meeting is to assess the status of hepatitis E virus (HEV) infection in the United States, with particular focus on its distinct epidemiology, clinical features, serology, and burden of disease in the general population as well as in high-risk groups. The meeting will address the issues of the peculiar epidemiology and clinical course of the sporadic, non-travel-associated hepatitis E that occurs in the United States and other developed countries that usually is due to genotype 3 HEV infection, a strain that is considered a zoonosis and is common among domestic swine and wild game animals. The meeting will address the reliability of diagnostic tests to identify hepatitis E, the possible role of treatment in chronic infection, and approaches to prevention, including public health measures, particularly in immunosuppressed or immunodeficient patients.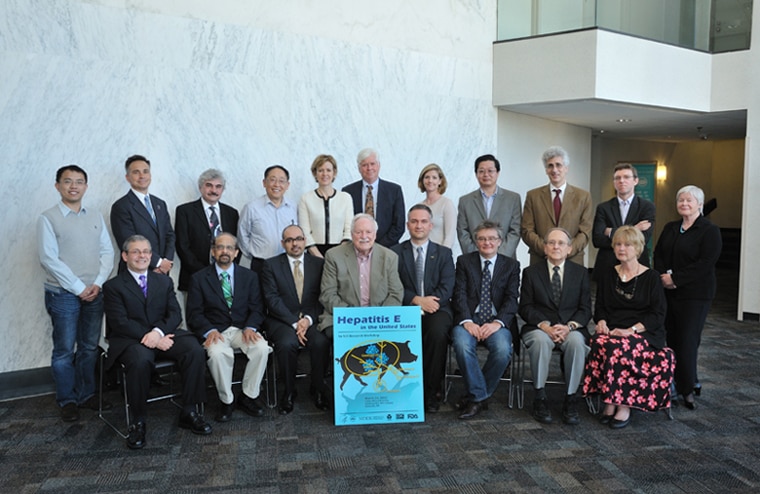 Speakers from the Hepatitis E in the Unites States - An NIH Research Workshop
Pictured: Top: Chenyu Xu, John Ward, Scott Holmberg, James Wai Kuo Shih, Norah Terrault, Jay H. Hoofnagle, Caryn Morse, Xiang-Jin Meng, Robert Fontana, Philippe Colson, Sally Hojvat
Bottom: Averell H. Sherker, Rajen Koshy, Nassim Kamar, Kenrad Nelson, Alain Labrique, Harry Dalton, Robert H. Purcell, Sue Emerson.
Organizers:
Kenrad Nelson, Johns Hopkins University
Robert H. Purcell, NIAID, NIH
Rajen Koshy, NIAID, NIH
Averell H. Sherker, NIDDK, NIH
Jay H. Hoofnagle, NIDDK, NIH