Individualizing Treatment - Broadening the Framework for Urinary Incontinence Research
Registration
Registration ended
Event Details
Meeting Summary
Background
While treatment options exist for people with urinary incontinence (UI), outcomes vary and there is insufficient information about the individual biologic and non-biologic factors that might affect treatment success. More tailored approaches may help clinicians initiate the optimal UI treatment for a specific patient.
Meeting Purpose
This is the first of two meetings to be held in 2017. The overarching goal of the meeting series is to develop fundable, interdisciplinary, investigator-initiated research proposals that will lead to better outcomes for currently available treatments by individualizing them to each patient, considering characteristics across the spectrum from biology to the social determinants of health.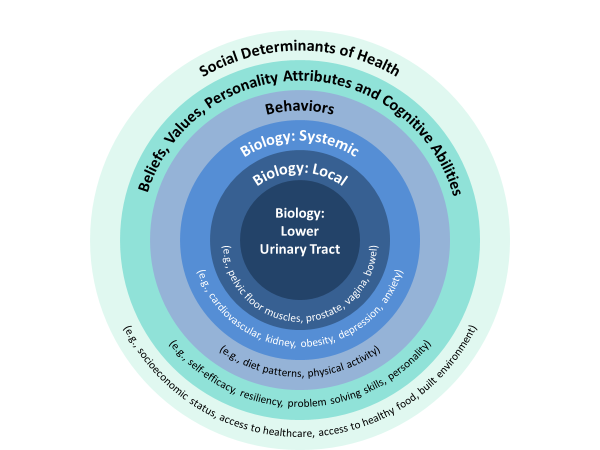 Adopting this broader framework for research will require engaging researchers from scientific fields beyond urology. We encourage participants to get outside of their comfort zones and think broadly about what factors might be involved in successful treatment outcomes. The goal will be to identify as many factors as possible, working in interdisciplinary groups to shape research questions.
The first meeting will set the stage on the status of existing treatments and the factors that may predict treatment success, and it will encourage participants to brainstorm research questions and approaches. The second meeting, to be held in Summer or Fall 2017, will focus on refining and focusing research approaches.
Meeting Objectives
As a first step toward achieving personalized medicine in UI, the National Institutes of Health is hosting a meeting on March 30 and 31, 2017 to:
Enhance interdisciplinary thinking among specialties involved in UI research—including pelvic medicine and reconstructive surgeons, urologists, obstetrician-gynecologists, primary care clinicians, geriatricians, nursing professionals, physical therapists, occupational therapists, behavioral scientists, pharmacists, bioengineers, geneticists and microbiologists—identify gaps in the evidence that would support personalized treatment in individuals with UI.
Learn how individualized treatment is evolving in other disciplines and its impact on these fields.
Consider strategies to identify the most effective treatment for an individual, considering biologic (e.g., anatomy, physiology, immunology, microbiome) and non-biologic (e.g., preferences, beliefs, cognitive ability, education, employment, etc.) factors.
Help participants forge interdisciplinary teams and generate testable hypotheses that will fill specific knowledge gaps in our ability to provide UI treatment tailored to the individual.
Participants are encouraged to attend with colleagues from their institutions with diverse areas of expertise to facilitate interdisciplinary research planning.
Registration Deadline
March 24, 2017
Speakers
Michael Albo, M.D., Professor, Department of Surgery/Urology, University of California, San Diego, San Diego, CA
Cindy Amundsen, M.D., Professor, Department of Obstetrics and Gynecology/Urogynecology, Duke University, Raleigh, NC
Catherine Bradley, M.D., MSCE, Associate Professor, Department of Obstetrics and Gynecology/Urogynecology, University of Iowa, Iowa City, IA
Sonya Brady, Ph.D., Associate Professor, Department of Psychology, School of Public Health, University of Minnesota, Minneapolis, MN
Colleen Fitzgerald, M.D. Associate Professor, Department of Physical Medicine and Rehabilitation, Loyola University Chicago, Chicago, IL
Mikel Gray, Ph.D., Professor, School of Nursing, University of Virginia, Charlottesville, VA
Jeffrey Henderson, M.D., Ph.D., Assistant Professor, Department of Infectious Disease and Molecular Biology, Washington University in St. Louis, St. Louis, MO
Jennifer Hebert-Beirne, Ph.D., M.P.H., Assistant Professor, School of Public Health, University of Illinois at Chicago, Chicago, IL
Theodore Johnson, M.D., M.P.H., Professor, School of Medicine, Division of Geriatrics, Emory University, Atlanta, GA
Carol Musil, Ph.D., R.N., Professor, School of Nursing, Case Western Reserve University, Cleveland, OH
Christopher Schmid, Ph.D., Professor, Department of Biostatistics, Brown University, Providence, RI
Planning Committee
Tamara Bavendam, M.D., Senior Scientific Officer, Division of Kidney, Urology, and Hematology Diseases, National Institute of Diabetes and Digestive and Kidney Diseases, Bethesda, MD
Lisa Begg, Ph.D., R.N., Senior Research Program Officer, Office of Research on Women's Health, National Institutes of Health, Bethesda, MD
Linda Brubaker, M.D., M.S., Health Sciences Clinical Professor, Division of Female Pelvic Medicine and Reconstructive Surgery, Department of Reproductive Medicine, University of California, San Diego, San Diego, CA
Allison Cernich, Ph.D., Director, National Center for Medical Rehabilitation Research, Eunice Kennedy Shriver National Institute of Child Health and Human Development, Bethesda, MD
William Elwood, Ph.D., Health Science Administrator, Office of Behavioral and Social Sciences, National Institutes of Health, Bethesda, MD
Daniel Gossett, Ph.D., Program Director, Division of Kidney, Urology, and Hematology Diseases, National Institute of Diabetes and Digestive and Kidney Diseases, Bethesda, MD
Lisa Halvorson, M.D., Chief, Gynecologic Health and Disease Branch, Eunice Kennedy Shriver National Institute of Child Health and Human Development, Bethesda, MD
Jenna Norton, M.P.H., Director, Kidney and Urology Science Translation Program, Division of Kidney, Urology and Hematology Diseases, National Institute of Diabetes and Digestive and Kidney Diseases, Bethesda, MD
Eric Rovner, M.D., Professor, Department of Urology (Pelvic Floor Medicine and Reconstructive Surgery), Medical University of South Carolina, Charleston, SC
Marcel Salive, M.D., M.P.H., Program Officer, Division of Geriatrics and Clinical Gerontology, National Institute on Aging, Bethesda, MD
Event Logistics
Registration
Registration ended
Location
Natcher Conference Center
Building 45
45 Center Drive, NIH Campus
Bethesda, MD 20894