James E. Balow, M.D., Scientist Emeritus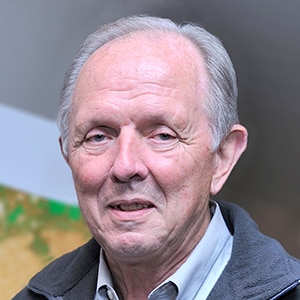 Scientific Focus Areas: Clinical Research, Immunology
Professional Experience
Clinical Immunology Fellowship, NIAID, NIH, 1972-1975
Internal Medicine and Nephrology Fellowships, Georgetown University, 1969-1972
M.D., University of Minnesota, 1968
B.S., College of St. Thomas, 1964
Current Research
The focus of our research and consultative clinical studies is the natural history, pathology and treatment of immunologically mediated glomerular diseases. Examples, include lupus nephritis, membranous nephropathy, and other diseases associated with deposition of a range of pathogenic antibodies, dysregulated complement proteins and products of other inflammatory pathways components in glomeruli. Approaches to treatment of several of these disorders include development of novel modifications of standard immunosuppressive drugs, monoclonal antibodies and inhibitors of cell signaling.
Select Publications
Glomerular disease: perspectives on maintenance therapy in lupus nephritis.

Balow JE.
Nat Rev Nephrol (2012 Feb 7) 8:136-8. Abstract/Full Text

Membranous nephropathy: Pilot study of a novel regimen combining cyclosporine and Rituximab.

Waldman M, Beck LH Jr, Braun M, Wilkins K, Balow JE, Austin HA 3rd.
Kidney Int Rep (2016 Jul) 1:73-84. Abstract/Full Text
View More Publications
Research in Plain Language
Our research interest is the development and progression of autoimmune kidney disorders that impair the ability of the kidney to filter waste products from the bloodstream. Autoimmune diseases are difficult to treat without incurring the risk of harmful side effects from the drugs needed to suppress an overactive and autoaggressive immune system. We have a particular interest in the treatment of glomerular diseases caused by auto-antibodies and inflammatory processes that damage the normal filtering system (glomeruli) of the kidney.