James E. Balow, M.D.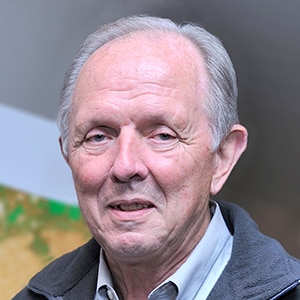 Scientific Focus Areas: Clinical Research, Immunology
Professional Experience
Clinical Immunology Fellowship, NIAID, NIH, 1972-1975
Internal Medicine and Nephrology Fellowships, Georgetown University, 1969-1972
M.D., University of Minnesota, 1968
B.S., College of St. Thomas, 1964
Current Research
The focus of our research is the natural history, pathogenesis, and treatment of immunologically mediated glomerular diseases, particularly lupus nephritis and membranous nephropathy. Previous findings from our research section have demonstrated that intermittent pulse cyclophosphamide therapy has the highest therapeutic index among currently available immunosuppressive drug therapies in the treatment of proliferative forms of lupus nephritis.
In light of the intrinsic risk of gonadal toxicity of pulse cyclophosphamide therapy, we are conducting studies designed to examine the efficacy and toxicity profile of alternative immunomodulating agents, particularly monoclonal antibodies, such as rituximab, calcineurin inhibitors, signaling pathway inhibitors, and antimetabolite drugs.
Recent clinical research of our group has been focused on primary membranous nephropathy, a chronic, autoimmune glomerular disease caused by autoantibodies to constitutive antigens of the capillary wall podocytes. Membranous nephropathy is manifested by protracted edema due to nephrotic proteinuria and is associated with substantive morbidity from secondary cardiovascular disease and progressive loss of renal function. Most treatment regimens used in the clinic have been only partially efficacious, often of limited long-term effectiveness, and associated with intrusive side effects.
Our group has recently completed a pilot study examining the effects of a novel immunosuppressive drug regimen combining cyclosporine and the monoclonal antibody, rituximab, for treating primary membranous nephropathy. This regimen targets both the T-cell and B-cell limbs of the immune system, both of which contribute to the autoimmune pathogenesis of this disease. Induction therapy included combination of rituximab and cyclosporine for 6 months, followed by a maintenance phase of additional doses of rituximab while tapering cyclosporine to discontinuance over several months. Sustained remissions of proteinuria occurred at higher rates than historical controls. Parallel decreases in titers of autoantibodies to glomerular antigens supported the postulated mechanism of action for the effects of this combination therapy. [Citation: Waldman M, Beck LH, Braun M, Wilkins K, Balow JE, Austin HA III. Membranous nephropathy: pilot study of a novel regimen combining cyclosporine and rituximab. KI Reports 2016; 1:73-84]
Need for Further Study
Our pilot study of the novel regimen of cyclosporine and rituximab has yielded results that suggests that this therapeutic strategy may have improved efficacy over most conventional treatments for membranous nephropathy. However, our results must be viewed as preliminary and will require validation in randomized clinical trials. Our pilot study data will inform both the design and power calculations for these prospective, randomized clinical trials.
Select Publications
Glomerular disease: perspectives on maintenance therapy in lupus nephritis.

Balow JE.
Nat Rev Nephrol (2012 Feb 7) 8:136-8. Abstract/Full Text

Membranous nephropathy: Pilot study of a novel regimen combining cyclosporine and Rituximab.

Waldman M, Beck LH Jr, Braun M, Wilkins K, Balow JE, Austin HA 3rd.
Kidney Int Rep (2016 Jul) 1:73-84. Abstract/Full Text
View More Publications
Research in Plain Language
Our research interest is the development and progression of autoimmune kidney disorders that impair the ability of the kidney to filter waste products from the bloodstream. Autoimmune diseases are difficult to treat without incurring the risk of harmful side effects from the drugs needed to suppress an overactive and autoaggressive immune system. In previous research, our section has demonstrated that the treatment option that delivers the most relief while doing the least amount of harm is intermittent cyclophosphamide. Nonetheless, this treatment causes substantial risk of infertility in both women and men. Our lab is testing other chemical compounds that could provide the basis for safer and more effective treatment.
We have a particular interest in the treatment of membranous lupus nephropathy, a kidney disorder associated with the auto-antibodies and components of the normal filtering system of the kidney. Patients with membranous nephropathy are drained of normal blood proteins and are predisposed to blood clots, cardiovascular complications from high blood pressure, accelerated atherosclerosis, and ultimately, kidney failure. We are conducting an exploratory study to evaluate the safety and effectiveness of a new combination treatment involving a chemical drug called cyclosporine and a drug called rituximab. Rituximab is a biologic agent designed to destroy the immune cells that produce the abnormal antibodies that work against the filtering apparatus of the kidneys. This process leads to leakage and waste of blood protein into the urine and ultimately to scarring damage of the filtering processes needed to eliminate metabolic wastes from the body (kidney failure).