National Diabetes Month 2019 Toolkit
Use the resources below to share this year's theme, Take Diabetes to Heart: Linking Diabetes and Cardiovascular Disease. Help to raise awareness that having diabetes means you are more likely to develop heart disease.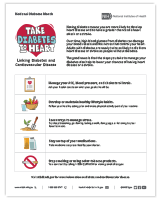 National Diabetes Month Flyer
Download our flyer (PDF, 840.12 KB) with tips for reducing your risk of developing heart disease, especially if you have diabetes.
Social Media Content
Download our social media graphics (DOCX, 15.11 MB) and content to post on your Instagram, Facebook, and Twitter pages.
To share this toolkit with your followers, click anywhere on the NIDDK social media message below to then like and share the post on your Twitter page.
Resources for Health Professionals and Their Patients
View evidence-based resources and data related to diabetes and cardiovascular disease.
Printable Factsheets