Diagnosis of Proctitis
How do doctors diagnose proctitis?
Your doctor diagnoses proctitis based on your medical history, a physical exam, lab tests, and medical procedures.
Medical history
Your doctor will review your symptoms and ask you about your medical history, including
current and past medical conditions
history of radiation therapy
current use of antibiotics
Your doctor will also ask you about your sexual activities, including those that increase your risk of proctitis caused by a sexually transmitted disease (STD).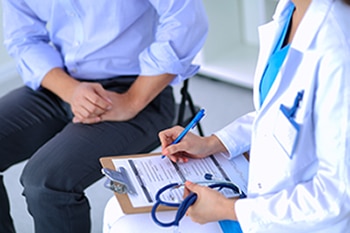 Physical exam
Your doctor will perform a physical exam, which will include a digital rectal exam. During a digital rectal exam, your doctor will check for pain, bleeding, and problems such as internal hemorrhoids, polyps, and ulcers.
What tests and procedures do doctors use to diagnose proctitis?
Lab tests
Your doctor may perform one or more of the following lab tests to diagnose proctitis.
blood test. A health care professional may take a blood sample of your blood and send the sample to a lab to test. A blood test can show signs of certain conditions and diseases that can cause proctitis, such as STDs and other infections.
rectal culture. A rectal culture can show signs of infections that cause proctitis.
stool test. A stool test can show signs of bleeding from the rectum and signs of infections that cause proctitis.
Medical procedures
Your doctor may perform one or more of the following medical procedures to diagnose proctitis. Your doctor can also diagnose some causes of proctitis, such as Crohn's disease and ulcerative colitis, and some complications of proctitis with these procedures.
proctoscopy—a procedure to look inside the rectum and anus using a proctoscope
August 2016
This content is provided as a service of the National Institute of Diabetes and Digestive and Kidney Diseases (NIDDK), part of the National Institutes of Health. The NIDDK translates and disseminates research findings through its clearinghouses and education programs to increase knowledge and understanding about health and disease among patients, health professionals, and the public. Content produced by the NIDDK is carefully reviewed by NIDDK scientists and other experts.