Diagnosis for Alagille Syndrome
How do doctors diagnose Alagille syndrome?
Doctors diagnose Alagille syndrome based on signs and symptoms, medical and family history, a physical exam, an eye exam, and medical tests. Doctors may diagnose Alagille syndrome if a person has signs, symptoms, or health problems of the disease in three or more of the following areas
Doctors may also diagnose Alagille syndrome if a person has signs, symptoms, or health problems in two of the above areas and also has a family member with Alagille syndrome.
Alagille syndrome can be difficult to diagnose because the signs and symptoms vary.
Medical and family history
The doctor will ask about a patient's medical history and signs or symptoms, such as a yellowish color of the whites of the eyes and skin or changes in stool color. The doctor will also ask about the patient's family history, including the history of liver diseases and other health problems.
Physical exam
During a physical exam, the doctor will check for signs of Alagille syndrome such as
Eye exam
During a slit-lamp exam, a doctor will use a special light to look for eye defects, such as a white or gray-white ring on the cornea.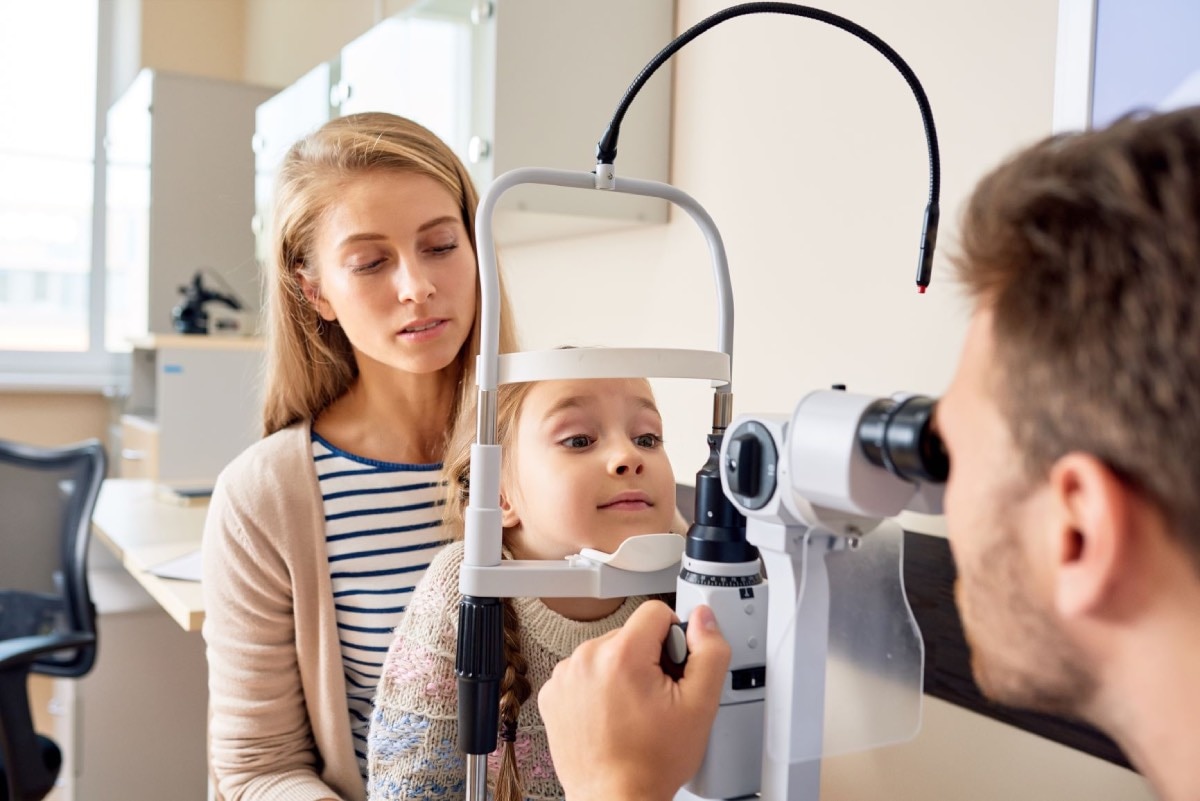 Doctors use a slit-lamp exam to look for eye defects.
What tests do doctors use to diagnose Alagille syndrome
Doctors may use blood tests, genetic tests, imaging tests, and liver biopsy to check for signs of Alagille syndrome and health problems related to this disease.
Blood tests
The doctor may order one or more blood tests to help diagnose Alagille syndrome. A health care professional will take blood samples and send the samples to a lab.
Blood tests may include
Genetic testing and counseling
The doctor may recommend genetic testing for gene mutations that cause Alagille syndrome. Genetic testing for these mutations is now widely available and increasingly reliable.
A health care professional will take a blood sample, which will be tested for gene mutations in a special lab. If a gene mutation for Alagille syndrome is found, a doctor may recommend testing the patient's parents or other family members for the same mutation.
If you or your child have, or might have, Alagille syndrome and are considering genetic testing, you and your family may want to consider genetic counseling. Genetic counseling may be useful when you're deciding whether to have genetic testing and again later when test results are available. Genetic counseling can help you and your family understand how test results may affect your lives.
Urinalysis
A urine sample is collected in a special container at a doctor's office or at a lab. A health care professional will test the sample. Doctors may use urinalysis to check for signs of kidney problems related to Alagille syndrome or to rule out other health problems.
Imaging tests
To check for signs and health problems related to Alagille syndrome, doctors may order imaging tests. Imaging tests that doctors use to check for problems with the liver and biliary tract include
Doctors may also order imaging tests to look for signs or health problems in other parts of the body. These tests may include
Liver biopsy
Doctors may order a liver biopsy if the results of other exams and test don't confirm or rule out a diagnosis of Alagille syndrome.
During a liver biopsy, a doctor will take small pieces of tissue from your liver. A pathologist will examine the tissue under a microscope to look for features of specific liver diseases, such as Alagille syndrome, and check for liver damage and cirrhosis.
January 2019
This content is provided as a service of the National Institute of Diabetes and Digestive and Kidney Diseases (NIDDK), part of the National Institutes of Health. The NIDDK translates and disseminates research findings through its clearinghouses and education programs to increase knowledge and understanding about health and disease among patients, health professionals, and the public. Content produced by the NIDDK is carefully reviewed by NIDDK scientists and other experts.