Talking With Patients About Weight Loss: Tips for Primary Care Providers
On this page:
As a primary care clinician, you are in an ideal position to talk with adult patients about weight loss. These tips and resources may help you address this sensitive topic with your patients.
Why talk with your adult patients about their weight?
About 70 percent of American adults are overweight or have obesity. Extra weight may put people at risk for developing type 2 diabetes, heart disease, kidney disease, stroke, and certain cancers. Research shows that even a modest weight loss of 5 percent can result in health benefits.1
The rate of overweight and obesity in the United States, and related health risks, make the role of the primary care clinician an important one. Studies show that talking with patients about weight loss may help promote behavior change.2
Patients with overweight or obesity may want help setting and reaching weight-loss goals but may have a hard time talking about their weight. By speaking with patients respectfully and working with them as partners, you can play a key role in helping them improve their health.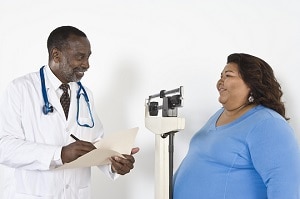 Which patients might benefit the most?
Measuring your patients' body mass index (BMI) regularly may help you identify who may benefit from weight-loss information and counseling. The BMI calculator is a screening tool that may indicate high levels of body fat and risk for excess weight. However, it is not a diagnostic tool, and clinicians should follow up to determine a patient's health risk.
Approach the subject of weight management if your patients have
current cutpoints for overweight (a BMI between 25 and 29.9 kg/m2) and obesity (a BMI ≥30 kg/m2), to identify adults who may be at elevated risk of cardiovascular disease
current cutpoints for obesity (BMI ≥30 kg/m2), to identify adults who may be at elevated risk of mortality from all causes
waist size of more than 35 inches for women or 40 inches for men
For patients with BMIs ≥35, you don't need to measure waist circumference.
Patients who use medication
Some medications patients use for psychiatric disorders, diabetes, or other conditions may contribute to weight gain or difficulty losing weight. Review your patients' medications and consider substituting others that may be weight-neutral or cause weight loss where medically appropriate.
How do I raise the topic?
Patients do not want their primary care clinicians to assume all of their problems (such as a sore throat) are weight-related. Address your patients' main health concerns first. Let them talk about other issues that may be affecting their physical or emotional health, such as family or work issues.
Open the discussion about weight in a respectful and nonjudgmental way. Patients may be more open if they feel respected.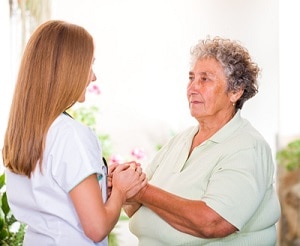 Before asking patients if they wish to discuss their weight, mention the health risks associated with overweight and obesity. Ask patients if you could talk with them about their general health, including weight.
Research has shown that patients prefer the terms "weight" (first) and "BMI" (second) when talking about obesity, and dislike the terms "fatness," "excess fat," and "obesity." Preferred and non-preferred terms generally were the same across social and economic factors. Using terms that patients prefer may improve patient communication and care.3 You may want to say something like this:
"Mr. Jones, could we talk about your weight today?" or
"Mr. Jones, how are you feeling about your weight at this time?"
Also, be alert and sensitive to cultural differences your patients may have about weight, favorite foods, social norms and practices, and related issues. For example, patients who think they are at a normal weight within their culture might respond better to a clinician's suggestions for maintaining, rather than losing, weight.4
Visit NIDDK's Diabetes Discoveries and Practice Blog for emerging trends and tips on helping patients with obesity and weight management.
What other questions are appropriate to ask patients?
Try to determine whether your patients are willing to acknowledge that they should make lifestyle changes that might improve their health—and how ready they may be to begin actually making those changes.
Patients who are not yet ready to attempt weight loss may still benefit from talking with their primary care clinician about healthy eating and regular physical activity.
Questions to ask about eating and drinking patterns
Ask patients about their eating and drinking patterns (PDF, 384 KB) . For instance
"I'd like to learn more about your eating habits. What kinds of foods and beverages do you eat and drink on a typical day?"
"What does 'healthy eating' mean to you?"
"Do you eat only when you're hungry, or do you eat for other reasons as well, such as feeling stressed or bored?"
"When is the amount of food and beverages you eat and drink likely to change (for example, when you eat out or at work or family celebrations)?"
"How do you think keeping a journal will help you track how much you eat, drink, and exercise?"
Questions to ask about physical activity
To talk about physical activity, start with the health benefits of being active, even for short periods of time, on a regular basis. Consider asking your patients the following types of questions:
"When would be the best time of day or evening for you to be active?"
"What kinds of activities do you enjoy? Do you like walking? Seated aerobics? Do you prefer activities you can do alone, with someone else, or in a group?"
"How much time do you spend sitting each day? Would you like to try to work some physical activity into your daily routine?"
How can I help my patients who need to lose weight?
Partner with your patients to develop a plan tailored to their individual needs and readiness for change. Many patients may benefit from a referral to a registered dietitian or structured weight-loss program. Some evidence-based, commercial weight-loss programs may also be helpful.
Practice guidelines
The U.S. Preventive Services Task Force recommends offering or referring patients with obesity for intensive, multicomponent, behavioral interventions.5 Lifestyle programs and counseling might include a thorough plan that uses behavior change strategies for at least 6 months to increase physical activity and improve healthy eating.
Other options to help patients lose weight are included in the practice guideline for managing overweight and obesity in adults from the American Heart Association, American College of Cardiology, and The Obesity Society.
If a patient currently is not interested in or ready to commit to a weight-loss plan, advise him or her to avoid further weight gain and continue to treat other risk factors or comorbid conditions.
How can I help my patients set and stick with goals?
Help patients understand the stages of change and how the stages relate to making lifestyle changes, such as weight loss, that may improve health. Ask your patients
"What are some goals you could set regarding your weight?"
"What kind of changes would you be willing to start with?"
"What kind of help would you like to meet your goals?"
Talk with patients about setting SMART goals for losing weight, or goals that are specific, measurable, achievable, realistic, and time-sensitive. For example, suggest a goal of walking 30 minutes a day 3 days a week for 2 months, rather than a more general goal of becoming more active. Another SMART goal would be to replace soda with water every day for the next month, rather than a goal to give up all sugar.
Once your patients determine their goals, they can begin to identify concrete actions or changes they can make to meet their weight goal over 6 months. Having patients start with just two or three actions or changes may make them seem less overwhelming and more realistic.
Some patients may lose weight very slowly, which can discourage them. When you see patients for follow-up visits, note their progress. Point out any health improvements, such as lower blood pressure and cholesterol levels. Improving health numbers, along with praise, may help motivate patients and boost self-esteem.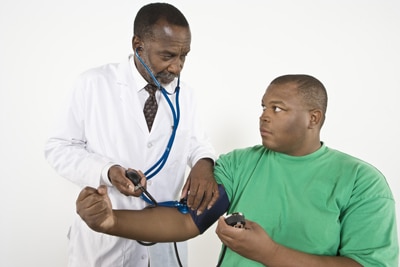 Also, discuss setbacks and make suggestions for overcoming challenges. Your patients may want to set new goals or adjust existing goals to make them more realistic. They also may want to review which eating, drinking, and physical activity habits they should change or maintain.
What if a patient needs more help?
Weight-loss medications may be an option for people with health problems related to excess weight. Adults with a BMI ≥30 kg/m2 or ≥27 kg/m2 with weight-related health problems such as type 2 diabetes or high blood pressure might benefit from weight-loss medications.
Some patients with severe obesity—a BMI ≥40 kg/m2 or ≥35 kg/m2 with comorbid conditions—may benefit from information on bariatric surgery or other weight-loss surgery. Be prepared to refer patients to a specialist who can help them decide if weight-loss surgery is an option for them.
The U.S. Food and Drug Administration has approved several new devices for obesity treatment that cause less weight loss than bariatric surgery. Researchers don't know the long-term risks and benefits of these devices.
What type of patients may be best suited for bariatric surgery?
Bariatric surgery may be the next step for patients who continue to have severe obesity after trying lifestyle changes to lose weight' especially if they have one or more comorbid conditions linked to obesity.
Among adults, bariatric surgery may be an option if the patient has
a BMI ≥40 kg/m2
a BMI ≥35 kg/m2, along with a serious health problem linked to obesity, such as type 2 diabetes, heart disease, or sleep apnea
a BMI ≥30 kg/m2 with a serious health problem linked to obesity, for the laparoscopic adjustable gastric band only
Clinical Trials
The National Institute of Diabetes and Digestive and Kidney Diseases (NIDDK) and other components of the National Institutes of Health (NIH) conduct and support research into many diseases and conditions.
What are clinical trials, and are they right for you?
Clinical trials are part of clinical research and at the heart of all medical advances. Clinical trials look at new ways to prevent, detect, or treat disease. Researchers also use clinical trials to look at other aspects of care, such as improving the quality of life for people with chronic illnesses. Find out if clinical trials are right for you.
What clinical trials are open?
Clinical trials that are currently open and are recruiting can be viewed at www.ClinicalTrials.gov.
References
Last Reviewed January 2017