Kidney Health in the Digital Age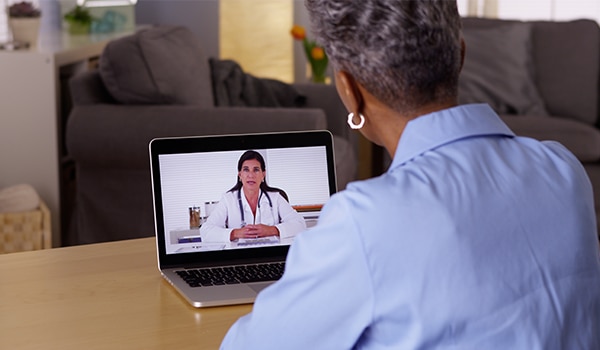 Learn why health information technology offers numerous benefits for health care professionals.
Clarissa J. Diamantidis, MD, discusses the potential of health information technology (IT), like telehealth, to improve care for complex chronic diseases such as chronic kidney disease (CKD).
Q: For health care professionals, what are the potential benefits of using health IT—including telehealth and mobile-based health resources and applications—to improve care for people with CKD?
A: Health IT offers health care professionals the ability to reach people at different times, at their convenience, using technologies that do not require face-to-face interaction. It can streamline the efficiency of care. Telehealth centralizes the health care professional, who can reach out to patients in several different areas on the same day without physically traveling to these areas. Health IT also opens up platforms, like electronic health records (EHRs) and mobile phones, that enhance the opportunity for communication outside of the traditional office scenario.
Health IT improves access to care, which is a major issue in diabetes and CKD. Mobile technologies allow people who have limited accessibility or are reluctant to see a health care professional to interact with the health system on their own terms. It's an opportunity to provide patient-centered care.
Q: How can health care professionals address challenges when implementing health IT to improve care for people with CKD?
A: There are challenges, and, to be perfectly candid, change is hard. Many health care professionals are reluctant to modify the way they practice medicine and fear that changing their patterns may interrupt or interfere with the care they deliver.
We're also still learning how to use digital technologies to enhance patient care. For example, I was in a university that was implementing a new EHR, and we had to go back and forth several times with the programmers to make sure the system was functional and efficient and didn't interrupt our workflow. It took several iterations, but once we finally got there, efficiency was significantly improved. Training in the use of the platform—carving out time for didactic learning on the platform itself—is extremely beneficial.
Many people are skeptical that technologies being proposed to transform health care delivery, such as mobile technologies, will reach the target audience. But our research—see 2012, 2013, and 2015 articles—and the research of others has shown that this concern is not warranted. Mobile health usage is pervasive in 2019, and even those who are not regular Internet or mobile phone users can be shown how to use digital technologies for self-management if the platform is tailored for low-literacy audiences.
However, I remain a bit skeptical about whether some of the new wearable biometric sensors will have a clinical uptake in our kidney community, when we know that medical mistrust is a major challenge in our population. We'll see if those interventions are targeting the populations that need them most.
Q: How can health care professionals use telehealth to improve communication with and care for people with chronic health conditions such as CKD?
A: Telehealth and telemedicine technologies provide wonderful examples of patient-centered approaches to chronic disease care. We know that patient-centered care for kidney disease is of value to the health system and is aligned with patients' values. Telehealth allows us to see people more often than we would otherwise and takes the burden off the patients to travel for appointments. Anecdotally, it's been shown to improve medication adherence and appointment compliance. We all suspect that telehealth programs would be financially beneficial to health systems, but this hasn't been tested in large, regional health systems yet.
There are potential benefits of using telehealth in kidney disease populations, especially in populations with diabetes. For patients who need dialysis, studies have shown that telehealth-based dialysis assessments improve patient satisfaction. Telehealth allows us to see people on dialysis more frequently than if we were doing face-to-face assessments in a dialysis unit. Standardized telehealth protocols—such as a checklist of questions to ask—can make telehealth visits efficient and ensure all topics are covered. For example, hypoglycemia is often not self-reported; you have to ask.
Q: What online and mobile resources for CKD are available that health care professionals could consider using with or recommending to their patients?
A: The online resources that I use and recommend most are the online patient education resources from the National Kidney Disease Education Program (NKDEP). I print NKDEP resources and use them in the clinic. Overall, there is a significant variation in the quality of the online resources that professionals can give to their patients. I've been very pleased with NKDEP, which has a low-literacy audience in mind and uses visual aids to get across complex medical concepts. Kidney disease is a very complicated condition, and NKDEP resources make it easier for patients to understand.
Unfortunately, there aren't many high-quality mobile apps that are commercially available, and they have to be updated and reviewed for accuracy regularly. There are some used in research, but they're not publicly available yet. We just reviewed all kidney disease-related apps that are available and have been recently updated, and we found they were really heterogeneous in quality.
Q: What is the future of kidney health in the digital age? What innovations are on the horizon?
A: We're close to figuring out a good way to do remote data capturing, such as point-of-care creatinine testing, which are sometimes used clinically, and home-based urinalysis kits, which are being tested.
In the kidney world, the most exciting innovations are advancements in how dialysis is performed, such as figuring out ways to make it less invasive. We've been performing dialysis the same way for many decades. We're cultivating advancements that leverage new digital technologies, which I think would revolutionize the field of nephrology and how we deliver care.
How do you use health IT to improve patient care? Tell us in the comments.