Making System-wide Improvements in Diabetes Care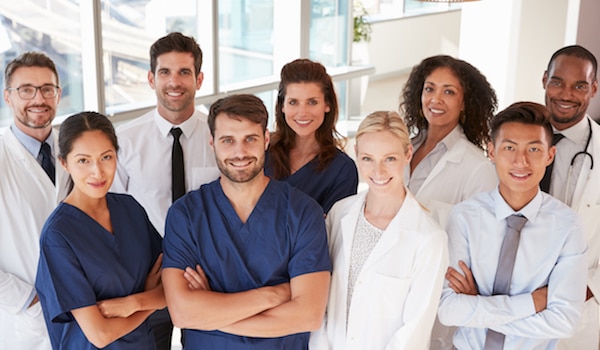 How do you make changes that will have a system-wide impact on care for patients with diabetes? Read 6 tips from John W. Kennedy, MD, chief medical officer, AMGA, and president, AMGA Foundation.
Given that diabetes affects 30 million Americans—only 23 million of whom have been diagnosed—how can we as health care providers better identify the condition and improve the quality of care for patients who live with it? At AMGA, we are constantly looking for answers to this question in order to share best practices for quality improvement with our members, who represent some of the nation's highest-performing medical groups and health systems.
Prior to my current role at AMGA, I spent the past 10 years as the director of endocrinology at Geisinger, an integrated health services organization serving more than 3 million patients, including 35,000 patients with diabetes. Improving diabetes care at the population health level for these patients was my top priority, and I collaborated with some very talented colleagues on our Diabetes Care Transformation Committee to redesign workflows. The changes we made greatly improved our efficiency and the quality of care we were providing.
These kinds of changes are an example of the best practices that AMGA Foundation, the philanthropic arm of AMGA, cultivates and shares through our Together 2 Goal campaign. This is a national initiative that unites 150 medical groups and health systems to improve the lives of 1 million people with type 2 diabetes by 2019. That's an ambitious goal, and we know that the only way we can meet it is to improve care at a system-wide level.
System-level changes can be challenging, but their impacts can be significant and lasting. Informed by my roles and experiences both at Geisinger and AMGA, here are my top 6 tips for improving diabetes care at a system level:
Create your team: Consider transforming diabetes management into a physician-led team approach that aligns primary care and endocrinology specialist metrics. As part of this approach, you may also consider embedding trained diabetes educators—including clinical nurses, dietitians, and pharmacists—into primary care practices to work in concert with case managers, nurse specialists, and health coaches.



Empower staff to work at the top of their license:

When possible, delegate to trained non-physician staff to maximize efficiency and save on costs. In diabetes care, this might mean that midlevel and ancillary team members manage the majority of the diabetes bundle of care, allowing physicians to focus on glycemic control, blood pressure control, and lipid management.





Update treatment algorithms to integrate evolving research:

The American Diabetes Association's 2018 Standards of Care adds GLP-1 analogues and SGLT2 inhibitor therapies to the diabetes treatment algorithm in an effort to reduce the risk of hypoglycemia and promote heart heath. At Geisinger, we modified our algorithm to include this pharmacologic approach after an extensive review of recent cardiovascular outcomes trial data.



Hardwire new workflows and automate as much as possible:

Consider integrating alerts into electronic health records (EHR) to standardize information at key decision points and make office visits more efficient. You may also want to leverage the EHR to automate reminder letters, outreach, and pre-visit planning.





Empower patients through technology:

Work with your existing systems to keep the patient at the center of care. At Geisinger, we accomplished this by allowing patients to work through the patient portal to email providers directly, access all lab and radiology reports, and view physicians' notes. We also launched a text messaging program to send patients automated appointment reminders, preventive health information, and diabetes education.





Find ways to collaborate with your peers:

In health care, finding effective solutions to problems can be time consuming and costly. That's why I consider peer-to-peer learning to be one of the most efficient ways to tackle common challenges. While still at Geisinger, I signed our organization up to participate in the Together 2 Goal® campaign, the same initiative I now oversee as president of the AMGA Foundation. Being part of Together 2 Goal® allowed our staff at Geisinger to unite around a common objective, meet other providers with similar challenges, and share best practices. We identified problems and implemented solutions that wouldn't have been possible without national benchmarking and peer-to-peer comparisons.
These are just a few of the best practices I've gleaned from my professional experience and my observation of AMGA groups on their diabetes improvement journeys. By working at the system level, we can advance coordinated, patient-centered, high-quality care for patients with diabetes.Want more tips to mobilize your team to improve diabetes care? Check out the Together 2 Goal campaign toolkit, video, best practices, and archived webinars.
Editor's Note: If you're interested in submitting or looking at quality improvement and practice transformation initiatives, visit Clinical Diabetes' Quality Improvement Success Story repository.