Metformin and Vitamin B12 Deficiency
Providers need to be aware of the possibility of B12 deficiency and monitor patients.
Jill Crandall, MD, Professor of Medicine at Albert Einstein College of Medicine in New York, shares insights about metformin and vitamin B12.
Thank you, Dr. Crandall, for sharing your expertise.
To learn more about metformin and diabetes, check out blog posts from other experts in the series.
Stay tuned to more information on this topic from Kieren Mather, MD.
Don't want to miss the next post in our series on metformin? Subscribe to the blog.
---
About Jill Crandall, MD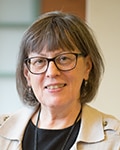 Jill Crandall, MD, is Professor and the Jacob A. and Jeanne E. Barkey Chair in Medicine at Albert Einstein College of Medicine, where she is chief of the Division of Endocrinology. She is director of the Diabetes Clinical Trials Unit and a principal investigator for several NIH sponsored clinical trials, including the Diabetes Prevention Program Outcome Study, Glycemia Reduction Approaches in Diabetes (GRADE) and the PERL study. She is Director of the Einstein-Sinai Diabetes Center's Translational Research Core. Her research interests focus on age-related changes in glucose metabolism and the relationship between hyperglycemia and cardiovascular risk.