Prescribing Exercise for Almost Anyone
Instructing patients to move more is not enough. Focus the prescription around what's going to be enjoyable if you want it to stick.
Sheri Colberg, PhD, FACSM, specializes in diabetes and exercise research. She shares ways to help patients with diabetes be more active.
---
About Sheri Colberg, PhD, FACSM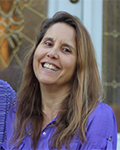 Sheri Colberg, PhD, FACSM, is Professor Emerita of Exercise Science from Old Dominion University. An author of 12 books, 26 book chapters, and over 300 articles, she specializes in diabetes, exercise, and healthy lifestyles. She was the 2016 recipient of the American Diabetes Association Outstanding Educator in Diabetes Award.