Diagnosis of Kidney Stones
How do health care professionals diagnose kidney stones?
Health care professionals use your medical history, a physical exam, and lab and imaging tests to diagnose kidney stones.
A health care professional will ask if you have a history of health conditions that make you more likely to develop kidney stones. The health care professional also may ask if you have a family history of kidney stones and about what you typically eat. During a physical exam, the health care professional usually examines your body. The health care professional will ask you about your symptoms.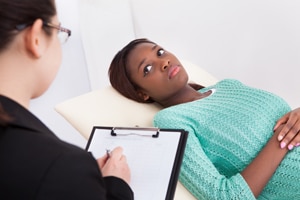 What tests do health care professionals use to diagnose kidney stones?
Health care professionals may use lab or imaging tests to diagnose kidney stones.
Lab tests
Urine tests can show whether your urine contains high levels of minerals that form kidney stones. Urine and blood tests can also help a health care professional find out what type of kidney stones you have.
Urinalysis. Urinalysis involves a health care professional testing your urine sample. You will collect a urine sample at a doctor's office or at a lab, and a health care professional will test the sample. Urinalysis can show whether your urine has blood in it and minerals that can form kidney stones. White blood cells and bacteria in the urine mean you may have a urinary tract infection.
Blood tests. A health care professional may take a blood sample from you and send the sample to a lab to test. The blood test can show if you have high levels of certain minerals in your blood that can lead to kidney stones.
Imaging tests
Health care professionals use imaging tests to find kidney stones. The tests may also show problems that caused a kidney stone to form, such as a blockage in the urinary tract or a birth defect. You do not need anesthesia for these imaging tests.
Abdominal x-ray. An abdominal x-ray is a picture of the abdomen that uses low levels of radiation and is recorded on film or on a computer. An x-ray technician takes an abdominal x-ray at a hospital or outpatient center, and a radiologist reads the images. During an abdominal x-ray, you will lie on a table or stand up. The x-ray technician will position the x-ray machine over or in front of your abdomen and ask you to hold your breath so the picture won't be blurry. The x-ray technician then may ask you to change position for additional pictures. Abdominal x-rays can show the location of kidney stones in the urinary tract. Not all stones are visible on abdominal x-ray.
Computed tomography (CT) scans. CT scans use a combination of x-rays and computer technology to create images of your urinary tract. Although a CT scan without contrast medium is most commonly used to view your urinary tract, a health care professional may give you an injection of contrast medium. Contrast medium is a dye or other substance that makes structures inside your body easier to see during imaging tests. You'll lie on a table that slides into a tunnel-shaped device that takes the x-rays. CT scans can show the size and location of a kidney stone, if the stone is blocking the urinary tract, and conditions that may have caused the kidney stone to form.
May 2017
This content is provided as a service of the National Institute of Diabetes and Digestive and Kidney Diseases (NIDDK), part of the National Institutes of Health. The NIDDK translates and disseminates research findings through its clearinghouses and education programs to increase knowledge and understanding about health and disease among patients, health professionals, and the public. Content produced by the NIDDK is carefully reviewed by NIDDK scientists and other experts.