NIDDK Director's Update
Winter 2011
Research Updates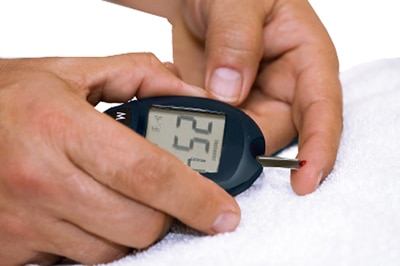 Intensive therapy halves kidney disease in type 1 diabetes: Controlling blood glucose early in the course of type 1 diabetes yields huge dividends, preserving kidney function for decades. The new finding from a study funded by NIH was published online in the New England Journal of Medicine Nov. 12.
Gene variant increases risk of kidney disease in African-Americans: African-Americans with two copies of the APOL1 gene have about a 4 percent lifetime risk of developing a form of kidney disease, according to scientists at the NIH. The finding brings scientists closer to understanding why African-Americans are four times more likely to develop kidney failure than whites, as they reported in the Oct. 13 online edition of the Journal of the American Society of Nephrology.
Complications of chronic kidney disease occur earlier in children: In what may lead to a shift in treatment, the largest prospective study of children with chronic kidney disease (CKD) has confirmed some experts' suspicions that complications occur early. The findings suggest the need for earlier, more aggressive management of blood pressure, anemia and other problems associated with kidney disease, according to Dr. Marva Moxey-Mims, a pediatric kidney specialist at the NIH. Results of the Chronic Kidney Disease in Children (CKiD) Study are in the September issue of the Clinical Journal of the American Society of Nephrology.
Saw palmetto no more effective than placebo for urinary symptoms: Saw palmetto, a widely used herbal dietary supplement, does not reduce urinary problems associated with prostate enlargement any better than a placebo, according to research funded by the NIH. The study was published Sept. 28 in the Journal of the American Medical Association.
NIDDK ends participation in Parent NIH Exploratory Developmental Research Grant (R21): The NIDDK will no longer co-sponsor the NIH Exploratory Developmental Research Grant Program (Parent R21), and will not accept new or resubmitted applications in response to the Parent R21 Funding Opportunity Announcement after the expiration of PA-10-069 (i.e., for receipt dates after Cycle III for funding consideration during the May 2012 Council round). For more information, please see:#160.
NIDDK will continue to accept R21 applications for pilot projects for clinical studies/trials and secondary data analyses under separate Program Announcements.
NIDDK current funding opportunities
Grants and contract notices