Smita Jha, M.D.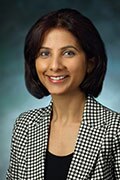 Scientific Focus Areas: Clinical Research, Genetics and Genomics
Clinical Trials
Open studies conducted by NIDDK Principal Investigators appear below. Study statuses may include the following:
Open: Recruiting - Currently recruiting participants and open to everyone who meets eligibility criteria.
Open: Active, Not Recruiting - Participants are receiving an intervention or being examined, however new participants are not being recruited or enrolled.
Open: Enrolling by Invitation - People in a particular population were selected in advance and invited to participate. The study is not open to everyone who meets the eligibility criteria.
Open: Available for Expanded Access - Patients who are not participants in the clinical study may be able to gain access to the drug, biologic, or medical device being studied.
Studies Seeking Patients
Background: Parathyroid disorders are very common in the general population and include disorders of parathyroid excess, deficiency, or defects in parathyroid hormone (PTH) signaling. PTH, the main secretory product of parathyroid glands is responsible for regulation of calcium-phosphate homeostasis. Objective: i) To investigate the cause of parathyroid disorders ii) To describe evolution, natural history, and longitudinal trends of parathyroid and related disorders seen in syndromic presentations like multiple endocrine neoplasia, hyperparathyroidism-jaw tumor syndrome Eligibility: People ages 6 months older who have, are at risk of having, or are related to a person with a parathyroid or related disorder. Design: Participants will be screened with a review of their medical records. Participants will be seen, tested, and treated by doctors based on their condition. Their visits may be in person or via telehealth. Participants will complete questionnaires. They will answer questions about their physical, mental, and social health. Participants may give samples such as saliva, blood, urine, or stool. Participants may give cheek cell samples. They will do this using a cheek swab or by spitting into a cup. Adult participants may give a skin biopsy. For this, a small bit of skin is removed with a punch tool. Participants may have medical photos taken. If participants have surgery during the course of their regular care either at the NIH or at a different hospital or doctor s office, researchers will ask for some of the leftover tissue. Participants will be in the study as long as they are being seen by their doctor.
The trial is Open with a status of Recruiting.
Investigator: Smita Jha, M.D.
Referral Contacts: Craig S Cochran, R.N. (301) 402-1880
Diseases of mineral metabolism such as familial multiple endocrine neoplasia type 1 (FMEN1), familial hypocaliuric hypercalcemia (FHH), familial hyperparathyroidism (FH), and pseudohypoparathyroidism (PHP) are known as hereditary abnormalities. Meaning these conditions are passed from parents to their children through genes. These specific conditions result in abnormal levels of calcium in the blood. This study was designed to help researchers understand more about the genes that are responsible for these disorders. By learning more about the genetic process involved in hereditary abnormalities, new tests and treatments can be developed. Subjects for this study will be members of families that have had relatives diagnosed with a disease of mineral metabolism. Participants will be asked to give blood samples for DNA extraction. DNA is the part of cells that carries genetic information. The DNA will be analyzed and the results given to the subjects. Genetic counseling will be provided to subjects to aid in interpreting their results.
The trial is Open with a status of Active, not recruiting.
Investigator: Smita Jha, M.D.