Meryl A. Waldman, M.D.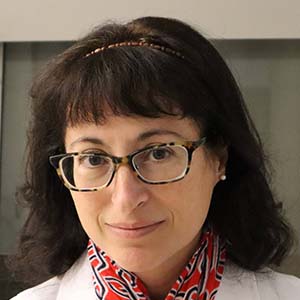 Scientific Focus Areas: Immunology, Clinical Research
Professional Experience
Senior Research Physician NIDDK, NIH, 2020-present
Chief, Clinical Nephrology Consult Service, 2020-present
Director, Dialysis, 2020-present
NIDDK Clinical Director's Award, 2020
Associate Research Physician, NIDDK, NIH, 2018-2020
Staff Clinician, NIDDK, NIH, 2006-present
Clinical Instructor, Columbia University, New York Presbyterian Hospital, Glomerular Disease Institute, 2005-2006
Nephrology Fellowship, Hospital of the University of Pennsylvania, 2001-2005
Internal medicine-Pediatrics Combined Residency, Baystate Medical Center, 1997-2001
M.D., Tufts University School of Medicine, 1997
Current Research
The focus of my research is the natural history, pathogenesis, and treatment of immunologically mediated glomerular diseases particularly membranous nephropathy. The goal of my research is to find novel ways to suppress autoimmune responses that lead to kidney disease as well as to find more sensitive methods to monitor disease activity.
Select Publications
COVID-19 vaccines and kidney disease.

Windpessl M, Bruchfeld A, Anders HJ, Kramer H, Waldman M, Renia L, Ng LFP, Xing Z, Kronbichler A.
Nat Rev Nephrol (2021 May) 17:291-293. Abstract/Full Text

Lupus-like autoimmunity and increased interferon response in patients with STAT3-deficient hyper-IgE syndrome.

Goel RR, Nakabo S, Dizon BLP, Urban A, Waldman M, Howard L, Darnell D, Buhaya M, Carmona-Rivera C, Hasni S, Kaplan MJ, Freeman AF, Gupta S.
J Allergy Clin Immunol (2021 Feb) 147:746-749.e9. Abstract/Full Text
View More Publications
Research in Plain Language
I study new combinations of agents that reduce the activity of the immune system to treat individuals with immune-mediated kidney disease in which kidney cells are damaged by immune responses or inflammation.