Eating, Diet, & Nutrition for Celiac Disease
In this section:
What should I avoid eating if I have celiac disease?
Avoiding foods with gluten, a protein found naturally in wheat, rye, and barley, is critical in treating celiac disease. Removing gluten from your diet will improve symptoms, heal damage to your small intestine, and prevent further damage over time. While you may need to avoid certain foods, the good news is that many healthy, gluten-free foods and products are available.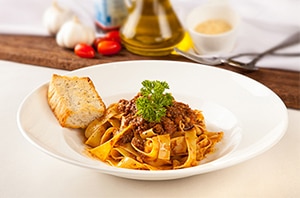 You should avoid all products that contain gluten, such as most cereal, grains, and pasta, and many processed foods. Be sure to always read food ingredient lists carefully to make sure the food you want to eat doesn't have gluten. In addition, discuss gluten-free food choices with a dietitian or health care professional who specializes in celiac disease.
What should I eat if I have celiac disease?
Foods such as meat, fish, fruits, vegetables, rice, and potatoes without additives or seasonings do not contain gluten and are part of a well-balanced diet. You can eat gluten-free types of bread, pasta, and other foods that are now easier to find in stores, restaurants, and at special food companies. You also can eat potato, rice, soy, amaranth, quinoa, buckwheat, or bean flour instead of wheat flour.
In the past, doctors and dietitians advised against eating oats if you have celiac disease. Evidence suggests that most people with the disease can safely eat moderate amounts of oats, as long as they did not come in contact with wheat gluten during processing. You should talk with your health care team about whether to include oats in your diet.
When shopping and eating out, remember to
read food labels—especially on canned, frozen, and processed foods—for ingredients that contain gluten
identify foods labelled "gluten-free;" by law, these foods must contain less than 20 parts per million, well below the threshold to cause problems in the great majority of patients with celiac disease
ask restaurant servers and chefs about how they prepare the food and what is in it
find out whether a gluten-free menu is available
ask a dinner or party host about gluten-free options before attending a social gathering
Foods labeled gluten-free tend to cost more than the same foods that have gluten. You may find that naturally gluten-free foods are less expensive. With practice, looking for gluten can become second nature.
If you have just been diagnosed with celiac disease, you and your family members may find support groups helpful as you adjust to a new approach to eating.
Is a gluten-free diet safe if I don't have celiac disease?
In recent years, more people without celiac disease have adopted a gluten-free diet, believing that avoiding gluten is healthier or could help them lose weight. No current data suggests that the general public should maintain a gluten-free diet for weight loss or better health. 6, 7
A gluten-free diet isn't always a healthy diet. For instance, a gluten-free diet may not provide enough of the nutrients, vitamins, and minerals the body needs, such as fiber, iron, and calcium. Some gluten-free products can be high in calories and sugar.
If you think you might have celiac disease, don't start avoiding gluten without first speaking with your doctor. If your doctor diagnoses you with celiac disease, he or she will put you on a gluten-free diet.
Gluten-free food labeling requirements
The U.S. Food and Drug Administration (FDA) published a rule defining what "gluten-free" means on food labels. The "gluten-free" for food labeling rule requires that any food with the terms "gluten-free," "no gluten," "free of gluten," and "without gluten" on the label must meet all of the definition's requirements.
While the FDA rule does not apply to foods regulated by the U.S. Department of Agriculture, including meat and egg products, it is often still observed.
References
June 2016