Eating, Diet, & Nutrition for Chronic Diarrhea in Children
How can what a child eats help prevent or treat chronic diarrhea?
Eating, diet, and nutrition play a major role in treating chronic diarrhea in children. Depending on the cause, changing what your child eats can reduce or stop chronic diarrhea. Changing what your child eats may also help manage symptoms of some of the causes of chronic diarrhea. Talk with your child's doctor before changing what he or she eats. Your child's doctor or a dietitian can recommend a healthy eating plan that is right for your child.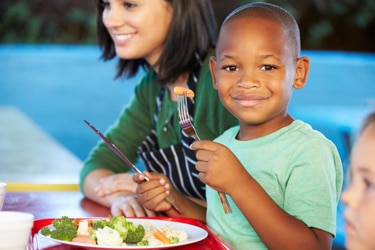 What should a child with chronic diarrhea eat?
A child with chronic diarrhea should eat foods that may improve symptoms and ensure good nutrition for normal growth and development.
Children whose chronic diarrhea was caused by an infection of the digestive tract should eat the foods they normally eat. If your child has long-lasting problems digesting certain carbohydrates or proteins after an infection, talk with your child's doctor about what foods your child should eat.
Increasing the amount of fat and fiber your child eats may improve symptoms of toddler's diarrhea.
What should a child with chronic diarrhea avoid eating?
What foods your child should avoid eating depends on the cause of chronic diarrhea. In general, your child should avoid foods that make symptoms worse.
To find out if certain foods trigger your child's symptoms, keep a diary and track
what your child eats each day
what symptoms your child has
when the symptoms occur
what foods make the symptoms worse
Take your notes to your child's doctor and talk about which foods seem to make your child's symptoms worse. Your child may need to avoid these foods or eat less of them.
More information on what your child should eat or avoid eating if he or she has chronic diarrhea caused by certain digestive tract problems is available in these NIDDK health topics:
Last Reviewed February 2017