Definition & Facts for Pancreatitis
In this section:
What is pancreatitis?
Pancreatitis is inflammation of the pancreas. The pancreas is a large gland behind the stomach, close to the first part of the small intestine, called the duodenum. The pancreas has two main functions—to make insulin and to make digestive juices, or enzymes, to help you digest food. These enzymes digest food in the intestine. Pancreatitis occurs when the enzymes damage the pancreas, which causes inflammation. Pancreatitis can be acute or chronic. Either form is serious and can lead to complications.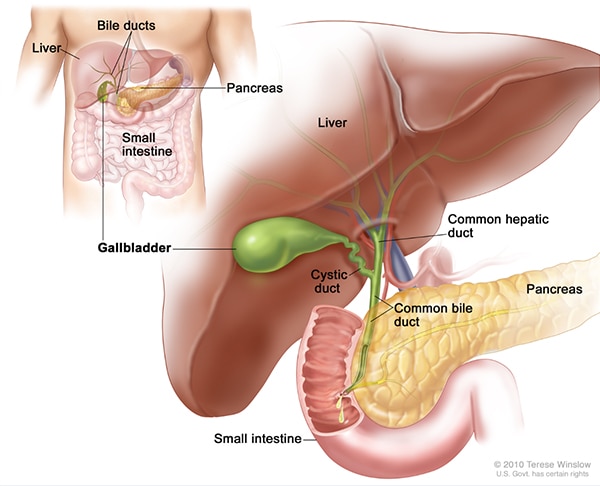 Acute pancreatitis
Acute pancreatitis occurs suddenly and is a short-term condition. Most people with acute pancreatitis get better, and it goes away in several days with treatment. Some people can have a more severe form of acute pancreatitis, which requires a lengthy hospital stay.
Chronic pancreatitis
Chronic pancreatitis is a long-lasting condition. The pancreas does not heal or improve. Instead, it gets worse over time, which can lead to lasting damage to your pancreas.
How common is pancreatitis?
Acute pancreatitis has becoming more common, for reasons that are not clear. Each year, about 275,000 hospital stays for acute pancreatitis occur in the United States.1 Although pancreatitis is rare in children, the number of children with acute pancreatitis has grown.
Chronic pancreatitis is less common, with about 86,000 hospital stays per year.2
Who is more likely to get pancreatitis?
Certain groups of people are more likely to get acute or chronic pancreatitis than others:
Men are more likely to get pancreatitis than women.1
African Americans have a higher risk of getting pancreatitis.3
People with a family history of pancreatitis have a higher risk.
People with a personal or family history of gallstones also have a higher risk.
People with certain health conditions
You are more likely to get pancreatitis if you have one of the following health conditions:
People with other health concerns
You are also more likely to get pancreatitis if you
have obesity
are a heavy alcohol user
are a smoker
What are the complications of pancreatitis?
Both acute and chronic pancreatitis can lead to complications that include
Acute pancreatitis
Repeat episodes of acute pancreatitis may lead to chronic pancreatitis. Other complications of acute pancreatitis include
Chronic pancreatitis
Complications of chronic pancreatitis include
chronic pain in your abdomen
maldigestion, when you can't digest food properly
problems with how well your pancreas works
scars in your pancreas
diabetes
pancreatic cancer, which is more likely in people with both diabetes and pancreatitis
osteopenia, osteoporosis, and bone fractures
References
Last Reviewed November 2017