Diagnosis of Cirrhosis
How do doctors diagnose cirrhosis?
Doctors diagnose cirrhosis based on your medical history, a physical exam, and the results of tests.
Medical history
Your doctor will ask about your symptoms. He or she will also ask if you have a history of health conditions that make you more likely to develop cirrhosis.
Your doctor will ask about your use of alcohol and over-the-counter and prescription medicines.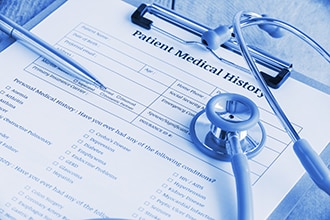 Physical exam
Your doctor will examine your body, use a stethoscope to listen to sounds in your abdomen, and tap or press on specific areas of your abdomen. He or she will check to see if your liver is larger than it should be. Your doctor will also check for tenderness or pain in your abdomen.
What tests do doctors use to diagnose cirrhosis?
Blood tests
Your doctor may recommend the following blood tests
liver tests that can show abnormal liver enzyme levels, which may be a sign of liver damage. Your doctor may suspect cirrhosis if you have

increased levels of the liver enzymes alanine transaminase (ALT), aspartate transaminase (AST), and alkaline phosphatase (ALP)
increased levels of bilirubin
decreased levels of blood proteins

complete blood count, which can show signs of infection and anemia that may be caused by internal bleeding
tests for viral infections to see if you have hepatitis B or hepatitis C
blood tests for autoimmune liver conditions, which include the antinuclear antibody (ANA), anti-smooth muscle antibody (SMA), and anti-mitochondrial antibody (AMA) tests
Based on the blood test results, your doctor may be able diagnose certain causes of cirrhosis.
Your doctor can use blood tests to tell how serious your cirrhosis is.
Imaging tests
Imaging tests can show the size, shape, texture, and stiffness of your liver. Measuring the stiffness of the liver can show scarring. Your doctor can use stiffness measures to see if the scarring is getting better or worse. Imaging tests can also show how much fat is in the liver. Your doctor may use one or more of the following imaging tests
transient elastography, a special ultrasound that measures the stiffness of your liver and can measure liver fat
Liver biopsy
Your doctor may perform a liver biopsy to see how much scarring in is your liver. A liver biopsy can diagnose cirrhosis when the results of other tests are uncertain. The biopsy may show the cause of cirrhosis. Sometimes your doctor may find that something other than cirrhosis has caused your liver to become damaged or enlarged. Your doctor can also diagnose liver cancer based on liver biopsy results.
Last Reviewed March 2018