Symptoms and Causes
What are the symptoms of Wilson disease?
The symptoms of Wilson disease vary. Wilson disease is present at birth, but the symptoms don't appear until the copper builds up in the liver, the brain, or other organs.
Some people do not have symptoms of Wilson disease before they are diagnosed with the disease and treated. If you do have symptoms, the symptoms may be related to your liver, nervous system and mental health, eyes, or other organs.
Liver symptoms
People with Wilson disease may develop symptoms of hepatitis, or inflammation of the liver. In some cases, people develop these symptoms when they have acute liver failure. These symptoms may include
feeling tired
poor appetite
pain over the liver, in the upper part of the abdomen
darkening of the color of urine
lightening of the color of stool
yellowish tint to the whites of the eyes and skin, called jaundice
Some people with Wilson disease have symptoms only if they develop chronic liver disease and complications from cirrhosis. These symptoms may include
feeling tired or weak
losing weight without trying
bloating from a buildup of fluid in the abdomen, called ascites
swelling of the lower legs, ankles, or feet, called edema
itchy skin
jaundice
Nervous system and mental health symptoms
People with Wilson disease may develop nervous system and mental health symptoms after copper builds up in their body. These symptoms are more common in adults but sometimes occur in children.7 Nervous system symptoms may include
problems with speech, swallowing, or physical coordination
stiff muscles
tremors or uncontrolled movements
Mental health symptoms may include
changes in mood, personality, or behavior
Eye symptoms
Many people with Wilson disease have Kayser-Fleischer rings, which are greenish, gold, or brownish rings around the edge of the corneas. A buildup of copper in the eyes causes Kayser-Fleischer rings. A doctor can see these rings during a special eye exam called a slit-lamp exam.
Among people who have nervous system symptoms of Wilson disease, more than 9 out of 10 have Kayser-Fleischer rings. However, among people who have only liver symptoms, 5 or 6 out of 10 have Kayser-Fleischer rings.7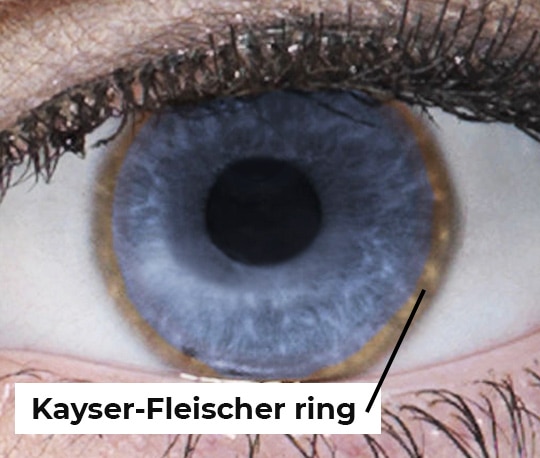 Other symptoms and health problems
Wilson disease can affect other parts of your body and cause symptoms or health problems, including
What causes Wilson disease?
Mutations of a gene called ATP7B cause Wilson disease. These gene mutations prevent the body from removing extra copper. Normally, the liver releases extra copper into bile. Bile carries the copper, along with other toxins and waste products, out of the body through the digestive tract. In Wilson disease, the liver releases less copper into bile, and extra copper stays in the body.
The ATP7B mutations that cause Wilson disease are inherited, meaning they are passed from parent to child. These mutations are autosomal recessive, meaning that a person must inherit two ATP7B genes with mutations, one from each parent, to have Wilson disease. People who have one ATP7B gene without a mutation and one ATP7B gene with a mutation do not have Wilson disease, but they are carriers of the disease.
People can inherent Wilson disease if both parents are carriers who don't have the disease. The chart below shows the chance of inheriting Wilson disease from parents who are carriers.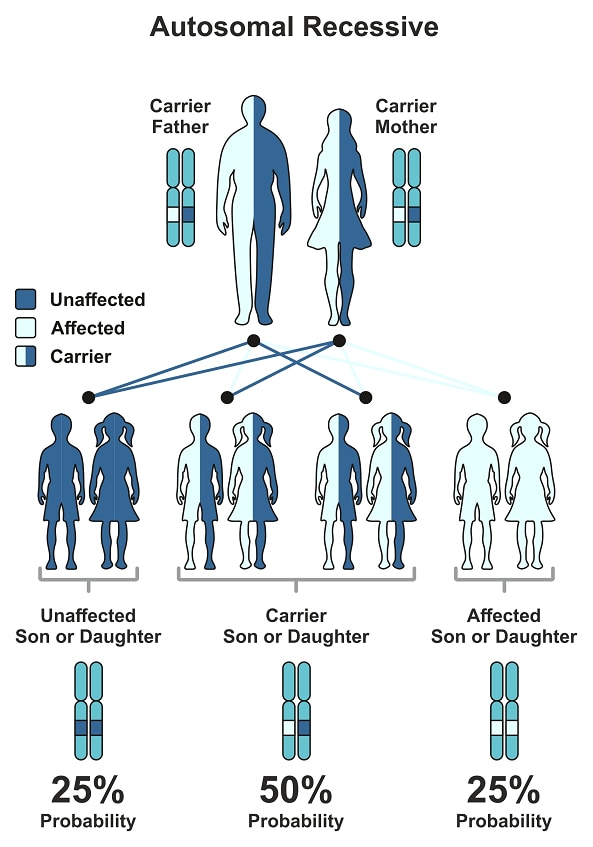 References
October 2018
This content is provided as a service of the National Institute of Diabetes and Digestive and Kidney Diseases (NIDDK), part of the National Institutes of Health. The NIDDK translates and disseminates research findings through its clearinghouses and education programs to increase knowledge and understanding about health and disease among patients, health professionals, and the public. Content produced by the NIDDK is carefully reviewed by NIDDK scientists and other experts.