Medicare Diabetes Prevention Program Expands Access to Evidence-based Community Intervention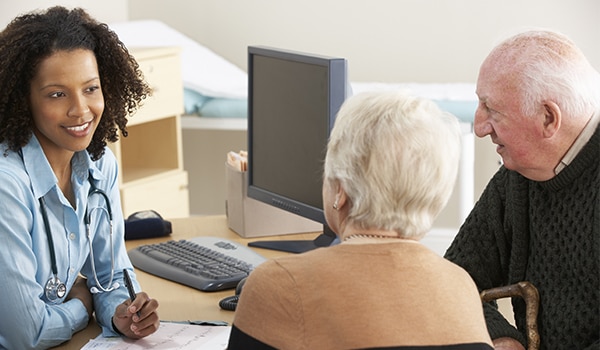 The MDPP expanded model aims to prevent type 2 diabetes among Medicare beneficiaries with prediabetes.
Type 2 diabetes affects more than 1 in 4 Americans age 65 or older, and its prevalence is expected to increase if current trends continue. Ann Albright, PhD, RDN, shares her insights on the federally funded Medicare Diabetes Prevention Program (MDPP) and how it is addressing this issue.
Q: What is the MDPP?
A: The Medicare Diabetes Prevention Program, or MDPP, delivers a lifestyle change program that was proven effective in the NIDDK-sponsored Diabetes Prevention Program (DPP) and refined, if you will, for real-world implementation in a number of translation studies. So, this is not a new program; it's part of a CDC-recognized lifestyle change program designed to delay or prevent the onset of type 2 diabetes called the National Diabetes Prevention Program (National DPP). The CDC-led National DPP is a partnership of public and private organizations working to prevent or delay type 2 diabetes. The National DPP provides a framework for type 2 diabetes prevention efforts in the United States, and its scientifically proven and effective lifestyle change program is a critical component.
Q: What is covered through this model?
A: The MDPP allows eligible Medicare beneficiaries to access the core, year-long program, which consists of weekly 1-hour sessions with a trained lifestyle coach for the first 6 months and then monthly for the next 6 months. What Medicare is also providing to participants who meet weight loss and attendance goals is a second year of the program, which is really considered ongoing maintenance.
Q: What do health care professionals need to know about this coverage?
A: Health care professionals need to know that they should screen, test, and refer their patients. Medicare beneficiaries are an important population for this program. We know from the DPP that there was a 58 percent reduction in the incidence of type 2 diabetes for the overall study population, but a 71 percent reduction for those who are over 60 years of age, so it's a very effective intervention. This is also brand new. This is the first time in history that CMS (The Centers for Medicare & Medicaid Services) is paying for the delivery of this lifestyle intervention, which can be delivered by both health care professionals and trained lay people within health care systems and community-based organizations. This is historic and transformational.
Q: What can health care professionals do?
A: Health care professionals can take these steps to help Medicare beneficiaries with prediabetes access MDPP services.
Screen and test your patients for prediabetes. More than half of U.S. adults age 65 and older have prediabetes, but only about 1 in 10 know they have it. Screening and testing can raise awareness about prediabetes and the risk of developing type 2 diabetes.


Refer eligible Medicare beneficiaries with prediabetes to the MDPP.While CMS doesn't require a referral for MDPP services, your referral can help raise awareness about the program and its benefits.


Encourage your organization or other organizations in your community to provide MDPP services. To provide MDPP services, organizations must first receive recognition through the CDC Diabetes Prevention Recognition Program and then apply to become Medicare suppliers. Increasing the number of MDPP service providers will give us all more access to this very, very effective program.
Are you screening for prediabetes and referring patients to a CDC-recognized diabetes prevention lifestyle change program? If not, why?