Treatment for Bladder Infection in Adults
How do health care professionals treat a bladder infection?
If you have a bladder infection caused by bacteria, a health care professional is likely to prescribe antibiotics. If the diagnosis is not certain, based on your symptoms or lab test results, you may not need antibiotics. Instead, your health care professional will work to find the cause and the best treatment for your symptoms.
Medicines
Which antibiotic you take is based on the type of bacteria causing your infection and any allergies you may have to antibiotics.
The length of treatment depends on
how severe the infection is
whether your symptoms and infection go away
whether you have repeated infections
whether you have problems with your urinary tract
Men may need to take antibiotics longer because bacteria can move into the prostate gland, which surrounds the urethra. Bacteria can hide deep inside prostate tissue.
Follow your health care professional's instructions carefully and completely when taking antibiotics. Although you may feel relief from your symptoms, make sure to take the entire antibiotic treatment.
If needed, a health care professional may prescribe other medicines to relieve any pain or discomfort from your bladder infection.
At-home treatments
Drink a lot of liquids and urinate often to speed healing. Water is best. Talk with a health care professional if you can't drink a lot of liquids due to other health problems, such as urinary incontinence, urinary frequency, or heart or kidney failure.
A heating pad on your back or abdomen may help you manage pain from a kidney or bladder infection.
Research
Researchers are studying ways to treat or prevent bladder infections without taking antibiotics. The bacteria that cause these infections can become stronger and harder to fight when a person takes antibiotics repeatedly. Alternate approaches include probiotics, vaginal estrogen, and "watchful waiting." Talk to your health care professional about any treatment for a bladder infection before you start it, including home remedies and supplements. Some supplements can have side effects or react poorly with other medications you take.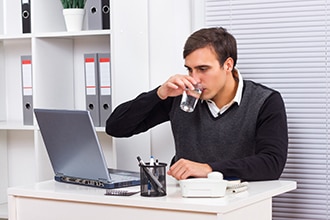 How can I prevent a bladder infection?
Changing some of your daily habits and lifestyle choices may help you prevent repeated bladder infections.
Drink enough liquids
Most people should try drinking six to eight, 8-ounce glasses of liquid a day. Talk with a health care professional if you can't drink this amount due to other health problems, such as urinary incontinence, urinary frequency, or heart or kidney failure.
Be aware of your bathroom habits
Take enough time to fully empty your bladder when urinating—don't rush it. Urinate after sex to flush away bacteria that may have entered the urethra during sex. Clean the genital area before and after sex.
If you're a woman, wipe from front to back, especially after a bowel movement, to keep bacteria from getting into the urethra.
Wear loose-fitting clothing
Consider wearing cotton underwear and loose-fitting clothes so air can keep the area around the urethra dry.
Consider switching birth control methods if you have repeat bladder infections
If you have trouble with repeat bladder infections, talk with a health care professional about your birth control. Consider switching to a new form of birth control if you use diaphragms, unlubricated condoms, or spermicide, all of which can increase your chances of developing a bladder infection. Consider using lubricated condoms without spermicide or using a nonspermicidal lubricant.
Last Reviewed March 2017