Treatment for Erectile Dysfunction
How can I treat erectile dysfunction?
You can work with a health care professional to treat an underlying cause of your erectile dysfunction (ED). Choosing an ED treatment is a personal decision. However, you also may benefit from talking with your partner about which treatment is best for you as a couple.
Lifestyle changes
Your health care professional may suggest that you make lifestyle changes to help reduce or improve ED. You can
You can seek help from a health professional if you have trouble making these changes on your own.
Go to counseling
Talk with your doctor about going to a counselor if psychological or emotional issues are affecting your ED. A counselor can teach you how to lower your anxiety or stress related to sex. Your counselor may suggest that you bring your partner to counseling sessions to learn how to support you. As you work on relieving your anxiety or stress, a doctor can focus on treating the physical causes of ED.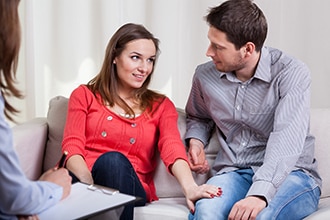 How do doctors treat erectile dysfunction?
Change your medicines
If a medicine you need for another health condition is causing ED, your doctor may suggest a different dose or different medicine. Never stop taking a medicine without speaking with your doctor first. Read about which medicines make it more likely that you'll develop ED.
Prescribe medicines you take by mouth
A health care professional may prescribe you an oral medicine, or medicine you take by mouth, such as one of the following, to help you get and maintain an erection:
All of these medicines work by relaxing smooth muscles and increasing blood flow in the penis during sexual stimulation. You should not take any of these medicines to treat ED if you are taking nitrates to treat a heart condition. Nitrates widen and relax your blood vessels. The combination can lead to a sudden drop in blood pressure, which may cause you to become faint or dizzy, or fall, leading to possible injuries.
Also talk to your health care professional if you are taking alpha-blockers to treat prostate enlargement. The combination of alpha-blockers and ED medicines also could cause a sudden drop in blood pressure.
A health care professional may prescribe testosterone if you have low levels of this hormone in your blood. Although taking testosterone may help your ED, it is often unhelpful if your ED is caused by circulatory or nerve problems. Taking testosterone also may lead to side effects, including a high red blood cell count and problems urinating.
Testosterone treatment also has not been proven to help ED associated with age-related or late-onset hypogonadism. Do not take testosterone therapy that hasn't been prescribed by your doctor. Testosterone therapy can affect how your other medicines work and can cause serious side effects.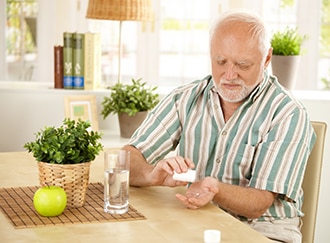 Prescribe injectable medicines and suppositories
Many men get stronger erections by injecting a medicine called alprostadil into the penis, causing it to become filled with blood. Oral medicines can improve your response to sexual stimulation, but they do not trigger an automatic erection like injectable medicines do.
Instead of injecting a medicine, some men insert a suppository of alprostadil into the urethra. A suppository is a solid piece of medicine that you insert into your body where it dissolves. A health care professional will prescribe a prefilled applicator for you to insert the pellet about an inch into your urethra. An erection will begin within 8 to 10 minutes and may last 30 to 60 minutes.
Discuss alternative medicines
Some men say certain alternative medicines taken by mouth can help them get and maintain an erection. However, not all "natural" medicines or supplements are safe. Combinations of certain prescribed and alternative medicines could cause major health problems. To help ensure coordinated and safe care, discuss your use of alternative medicines, including use of vitamin and mineral supplements, with a health care professional. Also, never order a medicine online without talking with your doctor.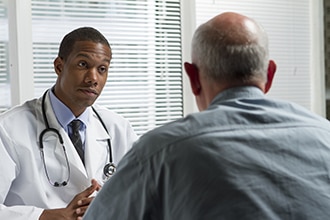 How will side effects of erectile dysfunction medicines affect me?
ED medicines that you take by mouth, through an injection, or as a pellet in the urethra can have side effects, including a lasting erection known as priapism. Call a health care professional right away if an erection lasts 4 hours or longer.
A small number of men have vision or hearing loss after taking oral ED medicines. Call your health care professional right away if you develop these problems.
Prescribe a vacuum device
A vacuum device causes an erection by pulling blood into the penis. The device has three parts:
a plastic tube, which you put around your penis
a pump, which draws air out of the tube, creating a vacuum
an elastic ring, which you move from the end of the tube to the base of your penis as you remove the tube
The elastic ring maintains the erection during intercourse by preventing blood from flowing back into your body. The elastic ring can remain in place up to 30 minutes. Remove the ring after that time to bring back normal circulation and to prevent skin irritation.
You may find that using a vacuum device requires some practice or adjustment. Using the device may make your penis feel cold or numb and have a purple color. You also may have bruising on your penis. However, the bruises are most often painless and disappear in a few days. Vacuum devices may weaken ejaculation but, in most cases, the devices do not affect the pleasure of climax, or orgasm.
Recommend Surgery
For most men, surgery should be a last resort. Talk with your doctor about whether surgery is right for you. A urologist performs surgery at a surgical center or hospital to
implant a device to make the penis erect
rebuild arteries to increase blood flow to the penis
Implanted devices. Implanted devices, known as prostheses, can help many men with ED have an erection. Implants are typically placed by a urologist. The two types of devices are
inflatable implants, which make your penis longer and wider using a pump in the scrotum
malleable implants, which are rods that allow you to manually adjust the position of your penis
You usually can leave the hospital the day of or day after the surgery. You should be able to use the implant 4 to 6 weeks after the surgery.
Once you have either implant, you must use the device to get an erection. Possible problems with implants include breaking and infection.
Artery reconstruction. Surgery to repair arteries can reverse ED caused by blockages that stop blood flow to the penis. Usually men younger than 30 are the best candidates for this type of surgery.
Last Reviewed July 2017