Symptoms & Causes of Bladder Infection in Children
What are the symptoms of a bladder infection?
Don't assume that you'll know when your child has a bladder infection, even if you've had one yourself. Symptoms can be very different in children than in adults, especially for infants and preschoolers. If your child is not well, contact your child's pediatrician or health clinic.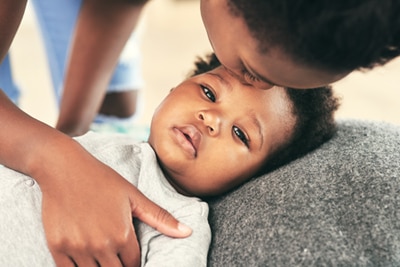 Young children
It's not always obvious when an infant or child younger than age 2 has a bladder infection. Sometimes there are no symptoms. Or, your child may be too young to be able to explain what feels wrong. A urine test is the only way to know for certain whether your child has a bladder or kidney infection.
When a young child has symptoms of a UTI, they may include
fever, which may be the only sign
irritability or fussiness
poor feeding or appetite; poor weight gain
Older children
Symptoms of a bladder or kidney infection in a child ages 2 and older can include
pain or burning when urinating
cloudy, dark, bloody, or foul-smelling urine
frequent or intense urges to urinate
pain in the lower belly area or back
fever
wetting after a child has been toilet trained
Seek care right away
If you think your child has a bladder infection, take him or her to a health care professional within 24 hours. A child who has a high fever and is sick for more than a day without a runny nose, earache, or other obvious cause should also be checked for a bladder infection. Quick treatment is important to prevent the infection from getting more dangerous.
What causes a bladder infection?
Most often a bladder infection is caused by bacteria that are normally found in the bowel. The bladder has several systems to prevent infection. For example, urinating most often flushes out bacteria before it reaches the bladder. Sometimes, your child's body can't fight the bacteria and the bacteria cause an infection. Certain health conditions can put children at risk for bladder infections.
Last Reviewed April 2017