NIDDK Director's Update
Fall 2012
Director's Note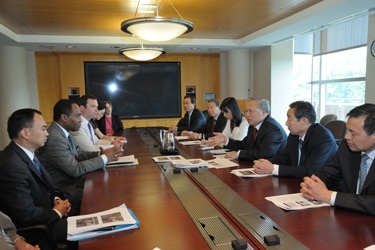 Diseases don't care about national borders, and neither do treatments or cures. The U.S., India, and China, among other countries, have seen increasing rates of type 2 diabetes. Just as African Americans of sub-Saharan descent face disproportionally high rates of kidney disease, so too do counterparts in ancestral lands.
And so the National Institute of Diabetes and Digestive and Kidney Diseases has forged international relationships to accelerate research to find clues, treatments and cures that can help everyone. In July, the U.S. and India signed a joint statement to support diabetes research collaborations, as you can read more about in this issue. As well, in 2011 a delegation of Chinese health officials visited the NIDDK's Metabolic Clinical Research Unit to learn about our work on obesity and metabolism.
Oftentimes, pooling scientific knowledge and resources can be the most economical, efficient way to make health discoveries. As part of the Human Health and Heredity in Africa initiative (or H3Africa), funded through NIH and others, NIDDK will be sharing its expertise in kidney disease with researchers from five other countries on a large-scale study to better understand why chronic kidney disease is so prevalent in sub-Saharan Africa.
In this project, the primary investigator is from the University of Ghana. His collaborators are from the U.S., Canada, Ethiopia, Nigeria, and South Africa. The African sites will work to recruit about 8,000 patients with kidney disease. The U.S. and Canadian sites will help with genetic analyses, and a U.S. site will provide training. Working together, the results may have a greater impact on public health than any of the teams could achieve alone.
While we collaborate on research, we also share what we've learned in ways that can reach people of many languages, both in the U.S. and abroad. The National Diabetes Education Program has copyright-free materials in 19 languages. The National Kidney Disease Education Program has been expanding its outreach to Spanish speakers through radio appearances and materials targeting a Hispanic population—which has a disproportionate amount of kidney disease. You can read more about NKDEP's efforts in this issue.
As we work together with goodwill to strengthen our mutual health, we may also find a corollary benefit: strengthening our international relationships.
In good health,
Griffin P. Rodgers, M.D., M.A.C.P.
Director, National Institute of Diabetes and Digestive and Kidney Diseases