NIDDK Director's Update
Spring 2015
News Around NIDDK
Small business grants lead to big innovations
By Amy F. Reiter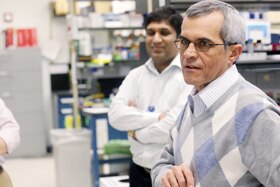 A test to quickly diagnose children with a chronic liver disease, an enzyme that can improve results of hemodialysis access surgery, and an insulin that can adapt to the needs of its user—all major developments coming down the research pipeline, and all due in part to a type of NIDDK funding that gives biomedical businesses a boost when they need it most.
The NIDDK's Small Business Innovation Research (SBIR) and Small Business Technology Transfer (STTR) programs are aimed at supporting innovative research conducted by small businesses.
"The key goal is to allow companies to take the scientific 'risk' with something novel that can improve healthcare," said Dr. Marva Moxey-Mims, deputy director for clinical research within the Division of Kidney, Urologic and Hematologic Diseases.
A test to diagnose a liver disease in children
When Dr. Jorge A. Bezerra set out to develop a test that could quickly diagnose cholestatic syndrome—a condition where bile builds up in the liver, leading to liver damage and liver disease—the NIDDK funding proved critical.
"The STTR was essential to our ability to design and produce the JaundiceChip" test, said Bezerra, medical director of the Pediatric Liver Care Center at the Cincinnati Children's Hospital Medical Center. The grant enabled the researchers to examine and demonstrate the technical merit of the chip, test it in children and adults with cholestatic syndrome, and analyze sequencing output and results in individuals, he said.
"The ability to identify a genetic mutation has the potential to minimize additional testing in children with chronic cholestasis," Bezerra said. "Ongoing clinical trials for patients with pruritus and chronic cholestasis raise the real possibility that the identification of individual mutations may be used to tailor treatment."
The JaundiceChip is currently available at the Cincinnati Children's Hospital Medical Center through its Molecular Genetics laboratory and is in use by hepatologists, Bezerra said. Partnering with the company P2D, researchers are working to expand the test's availability.
An enzyme to improve hemodialysis access surgery
Moxey-Mims served as program director for an STTR grant for Proteon Therapeutics. In 2004, the company used the funding to test an enzyme found in pancreatic juice to dilate the inflow artery and outflow vein during hemodialysis access surgery (also known as fistula creation), a process meant to improve the maturation of the fistula.
If successful, the development could improve vascular access for people with chronic kidney disease who are on hemodialysis, lengthening their lives.
"The NIDDK STTR funding allowed the company to generate the preliminary data needed to move this project forward," Moxey-Mims said. The company is now conducting phase III clinical trials for PRT-201, and raised significant funds to move forward in a 2014 initial public offering.
A hormone that adapts to its user
Imagine a self-regulating insulin injection—called SmartInsulin—for the treatment of type 1 diabetes, helping its users gain tight glucose control and prevent complications.
With continued NIDDK grant funding from 2004 through 2010—and continued research success—a company called SmartCells was successful first in developing and then in conducting initial testing of such an insulin. In 2010, Merck acquired the small company.
"This is a good example of how the SBIR/STTR program promotes the transition of good ideas from academy to industry," said Dr. Guillermo Arreaza-Rubin, director of the Diabetes Technology Program within NIDDK's Division of Diabetes, Endocrinology and Metabolic Diseases.
"If clinical trials demonstrate that SmartInsulin works well in people with T1D, the benefits would be great, including substantially fewer insulin injections and ability to control glucose levels in a more physiological fashion," said Arreaza-Rubin. "In the long term, this insulin may contribute to preventing chronic complications of diabetes and lead to better quality of life and survival for people with all forms of diabetes who need insulin."
Getting to Know: Dr. Wei Yang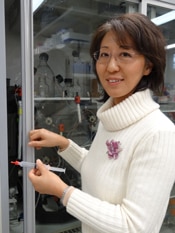 Dr. Wei Yang is a senior investigator and section chief at NIDDK's Laboratory of Molecular Biology. In February, Nature published Yang's latest discoveries on DNA, and in 2013 she was elected into the prestigious National Academy of Sciences. She recently spoke with Krysten Carrera about her career and accomplishments.
How did you become interested in science, and DNA in particular?
As a child, I dreamed of becoming a scientist. Discovering hidden connections in nature seemed like such an adventure. I fell into DNA research after my advisor assigned me to a project converting RNA to DNA, or reverse transcription—and I fell in love with it.
What do you enjoy most about your work?
I like that what I do is so biologically relevant. DNA is the foundation of all life and the key to understanding how organisms grow and function. It's like a secret code that you have to uncover, and every so often, there is a significant scientific breakthrough that allows you to grasp a little more of that code.
How could the findings recently featured in Nature change the field of DNA research?
DNA sequence alone tells you very little about a molecule—the equivalent of only knowing someone's name and no other details. The crystal structure of a protein complex enables us to locate and assign function to more than 60 human mutations that lead to immune deficiencies. This could be a real game-changer in the field, as we now have a platform to explore more effectively the mechanisms underlying the deleterious effects of DNA sequence variation.
You've been at the NIH for the past 20 years. What makes this place unique?
The NIH intramural program allows its scientists to do real scientific exploration and to take on important and difficult projects without strict time constraints. That, along with small lab sizes, creates an atmosphere of collaboration and teamwork in which people share knowledge and resources.
What advice would you give to someone looking to pursue a career in biomedical research?
We need smart and motivated people in every area of biomedical research. A good scientist approaches a research project as if they were peeling an onion, layer by layer. Your hypotheses may be wrong 90-95 percent of the time, but you have to persist and constantly adjust where you dig and what tool you use based on what you find along the way. Someone who enjoys exploring and figuring things out should seriously consider pursuing research as a career.
NIDDK establishes Office of Nutrition Research, seeks director
NIDDK seeks director for new Office of Nutrition Research
Recruitment is under way for a director of the NIDDK Office of Nutrition Research. The position will also serve as chief of the Nutrition Research Branch in the NIDDK Division of Digestive Diseases and Nutrition. Candidates should possess substantial leadership experience in managing basic, translational and clinical nutrition research programs.
More information about the new position will be available through the Jobs at NIDDK page once the vacancy announcement is posted.
On August 1, the NIDDK will establish the Office of Nutrition Research within the NIDDK Office of the Director. The office will replace the NIH Division of Nutrition Research Coordination (DNRC).
Guided by an assessment of DNRC activities, the new office will assist in leading a trans-NIH group that will strategically plan new initiatives for NIH nutrition research. The office will also be closely aligned with nutritional sciences grant funding programs across NIDDK. The NIDDK is NIH's largest funder of nutrition research.
The director of the Office of Nutrition Research will both lead the office and serve as chief of the Nutrition Research Branch in the NIDDK Division of Digestive Diseases and Nutrition.
"The new office will continue the DNRC's commitment to nutritional research coordination, while taking careful steps to expand NIH mission-specific nutrition research," said NIDDK Deputy Director Dr. Gregory Germino. "We believe the office's new structure will improve coordination and stimulate new, cutting-edge research in the field."
The announcement coincides with the planned retirement of Dr. Van Hubbard, director of the Division of Nutrition Research Coordination. Hubbard has had a long and distinguished career at NIH starting in the intramural program in 1976, leading NIDDK extramural nutritional sciences research programs since 1983, and serving as a senior advisor on obesity to the HHS Secretary. He is also a retired assistant surgeon general and rear admiral in the U.S. Public Health Service.
"Van has been a titan in this field—a world-renowned and respected scientist, advocate for public health and coordinator of nutrition research," said Dr. Stephen James, director of the NIDDK Division of Digestive Diseases and Nutrition. "We will miss his wisdom, dedication and enthusiasm for research."
During the transition, NIDDK will continue many of the DNRC's ongoing activities.
NIDDK annual report available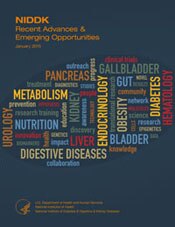 The NIDDK annual scientific report, NIDDK Recent Advances & Emerging Opportunities, is now available. This report highlights examples of NIDDK-supported research advances published in fiscal year 2014. It also includes stories of discovery – which trace research progress in specific areas over an extended time frame – personal stories of patients, and scientific presentations made to the NIDDK's National Advisory Council during the past year.
The report also contains an overview of NIDDK-supported research training programs for underserved and underrepresented students; features PECASE awardee Dr. Shingo Kajimura; outlines new and ongoing efforts in NIDDK programs; and describes the new Accelerating Medicines Partnership, which seeks to identify and validate the most promising biological targets of disease, including type 2 diabetes, for new diagnostic and drug development.
Download the report (PDF, 6.09 MB)