NIDDK Director's Update
Winter 2015
Health Information Updates
NIDDK launches content syndication through HHS Storefront
By Julia Jackson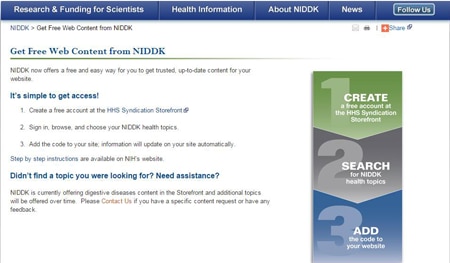 NIDDK has launched a content syndication project in collaboration with the Department of Health and Human Services (HHS) to offer a no-cost, efficient way any website can display NIDDK health topics such as Crohn's disease.
The HHS Syndication Storefront automatically imports up-to-date online content directly from several HHS agencies—now including NIDDK—to third-party sites, making it easier for organizations to get the latest health information. The syndication will expand the reach of NIDDK's health information by allowing websites to directly incorporate, rather than only link to, science-based, plain language health information.
"Health content publishing companies have syndicated NIDDK's web content manually for years," said Dana Sheets, digital engagement lead for NIDDK. "Syndicating in the HHS Syndication Storefront enables these same groups, including state health departments, to automatically receive and re-serve to wider audiences the most current versions of our trusted content and copyright-free images."
The HHS Syndication Storefront launched in response to increased public interest in federal information available online on a range of topics. NIDDK is currently offering digestive diseases content in the Storefront, and additional topics will be added over time.
To access the syndicated articles, people can create a free account with the HHS Storefront, then browse keywords and topics for use on a website or application. Each article has a designated webpage with code that can be copied and pasted into an existing webpage. Users can control where the articles appear on their own websites, including presenting articles directly onto employee intranet webpages.
NIDDK consolidates health information contacts
As part of its effort to disseminate scientifically accurate, evidence-based health information to people who need it, the NIDDK has consolidated the contact information for the NIDDK clearinghouses, campaigns, and education programs. As of October 23, all of the NIDDK's Health Information Centers can be reached at the same street address, email address, and phone number:
National Institute of Diabetes and Digestive and Kidney Diseases
Health Information Center
1 Information Way
Bethesda, MD 20892
Phone: 800–860–8747
TTY: 866–569–1162
Fax: 301–634–0716
healthinfo@niddk.nih.gov
Website