NIDDK Director's Update
Winter 2015
News Around NIDDK
NIDDK study participant celebrates decades-long partnership
By Krysten Carrera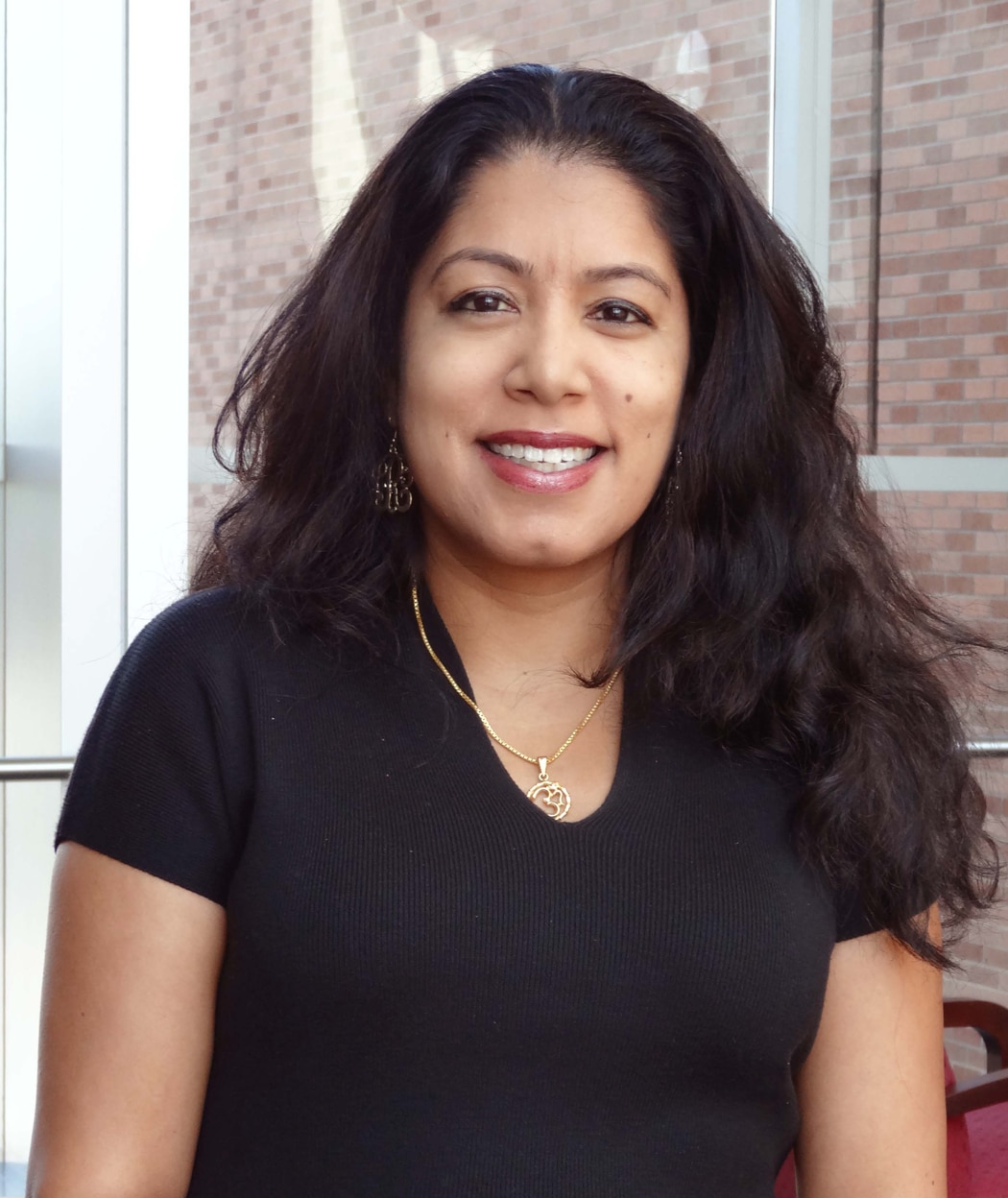 Sitting across from her 11-year-old daughter and husband, Radhika Sawh feels lucky. Diagnosed with the chronic disease thalassemia major at birth, she was not expecting to survive past early adulthood.
"I recently turned forty, and I never thought I'd live this long," Sawh said, looking bright-eyed and vibrant. "I also didn't think I'd be able to have a child naturally—but here she is!"
Sawh has participated in NIH clinical trials on thalassemia since 1980, and since then, the prognosis has improved greatly for people with her condition. Thalassemia is an inherited blood disease marked by the defective production of hemoglobin, the oxygen-carrying protein in red blood cells.
Much of the success in improving outcomes is due to improved methods for managing iron overload, some developed by or with support from the NIH. Iron overload is a common side effect of the disease, resulting from the constant need for blood transfusions. Iron overload can be fatal and often carries reproductive and other consequences.
"I feel fortunate to have contributed to the body of knowledge around thalassemia since I was five years old," she said. "My parents understood the challenges I faced and trusted NIH doctors to do their best to treat me."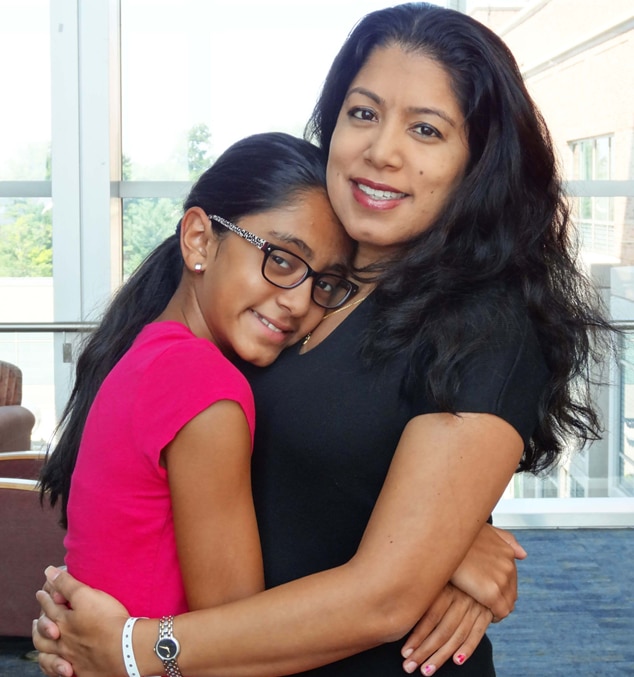 Healthcare providers at the NIH Clinical Center were able to control her iron overload with Desferal, a medication that was new at the time. She now returns annually for continued surveillance.
"My visits tell me that my treatments are still working, and also let me contribute long-term data to their ongoing study of people with thalassemia. I've been coming to the NIH longer than many people have worked here—more than 36 years!" she said.
This year, she marks 20 years as a patient of NIDDK Director Dr. Griffin P. Rodgers. Though his role has changed over the years—now he directs an institute, in addition to performing research—their relationship hasn't.
"Dr. Rodgers is like a family member," she said. "I see him as a trusted advisor and confidante, and I have faith that he'll advise me on what's best for my health."
"It's been my privilege to treat Radhika, whose contributions to the research community have been invaluable in helping us better understand thalassemia," Rodgers said. "I've enjoyed meeting her husband and watching their daughter grow up over the years."
Sawh's experience as a patient has inspired her to reach out to others with blood diseases. She currently volunteers with the New York Blood Center, sharing her story and encouraging people to donate blood. Through the NIH, she also worked with a grantee who in the 1990s developed a machine to measure iron levels in the liver and spleen without having to do a biopsy—a major development at the time.
In addition to taking daily medications, Sawh must get blood transfusions every two weeks. Fitting the transfusions into her schedule can be challenging, and she often experiences low energy before and after—but otherwise Sawh feels that she lives a normal life.
Sawh encourages people with chronic illness to consider taking an active role in research. "Volunteering for clinical studies not only can improve your own situation, but it also benefits others," said Sawh. "It really is a valuable, respectable thing to do."
People interested in participating in NIH-funded clinical trials should go here.
NIDDK launches web page featuring patient stories
By Lisa Gansheroff and Amy F. Reiter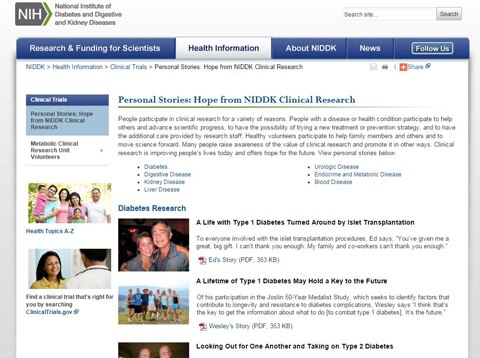 In September, NIDDK launched a web page to feature personal stories of people who are living with diseases within the Institute's mission and have participated in clinical studies or promoted research in other ways.
"The generosity and commitment of people who participate in clinical trials is essential to the success of these crucial studies," said Dr. Robert Star, director of the NIDDK Division of Kidney, Urologic and Hematologic Diseases. "For example, researchers are recruiting volunteers from around the country and abroad for the Preventing Early Renal Function Loss in Diabetes (PERL) clinical trial to ask if an inexpensive drug, allopurinol, can slow progression of early kidney disease in adults with type 1 diabetes. Without volunteers—key partners in research—we will not learn the answer to this important question."
The page features stories originally highlighted in the Institute's annual report, NIDDK: Recent Advances and Emerging Opportunities, as well as from the NIH's Clinical Trials and You site. In the stories, people recount what it is like to live with a disease or have a child with a disease, describe their experiences as participants in clinical trials, and give their perspectives on the value of medical research.
"We hope the new web page will bring these compelling and inspiring stories to greater numbers of people—including those who want to learn more about a disease and might be interested in volunteering for a clinical study, as well as health care professionals and researchers," said NIDDK Director Dr. Griffin P. Rodgers. "We are grateful to the individuals who share their stories with us."
The web page features a broad range of areas across NIDDK's research portfolio, and new stories will be posted annually. Read the stories.
@NIDDKgov launches on Twitter
By January W. Payne
NIDDK launched @NIDDKgov on Twitter on Oct. 1, giving the institute an official home on the social media site.
"Now we have a more immediate way to communicate, and Dr. Rodgers can stay better connected with the people we serve," said Kathy Kranzfelder, director of the NIDDK Office of Communications and Public Liaison.
Posts will focus on health information and NIDDK news updates and research advances. Also look for Throwback Thursdays and for tweets written by NIDDK Director Dr. Griffin P. Rodgers, signed --GR.
If you are on Twitter, follow us at @NIDDKgov.
Getting to Know: Lois Jones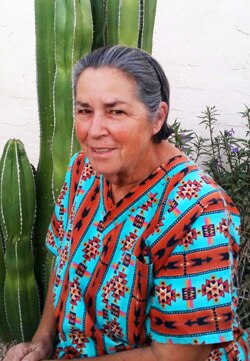 Lois Jones, RN, is a supervisory nurse specialist in the intramural NIDDK Phoenix Epidemiology and Clinical Research Branch (PECRB). She plays a major role in multiple kidney disease-related studies and won a 2015 NIH Director's Award for her outstanding contribution to the people of the Gila River Indian Community. Jones recently spoke with Krysten Carrera about her career.
Why did you decide to become a nurse?
Growing up in Pennsylvania, my dad taught me the importance of public service and to treat everyone equally. He also passed onto me his interest in American Indian culture. My aunt, a nurse, inspired me through the important work she performed. All that led me to pursue nursing and, in the late 1980s, I helped initiate an NIH-funded research protocol looking at kidney disease in American Indians in the Phoenix area. The study later moved to PECRB, where I am now.
Why is it important to study American Indians?
Most people we study are Pima Indians from the Gila River Indian Community. About 50 percent of all adults in that community have type 2 diabetes, which is the highest rate in the world. Diabetes is a strong risk factor for kidney disease. We need to learn more about how genetic and environmental factors lead to developing these diseases so we can improve prevention and treatment. And the study participants are truly our partners in research. Many are passionate about helping us figure out their health issues, especially because several have family members and loved ones also affected by diabetes and kidney disease. In fact, everyone who is eligible has remained in the study we started here more than 20 years ago.
Could you share more about your everyday work?
Most of what I do involves administering care and conducting research to determine what makes kidneys work and what makes them fail, and what medications are effective. For example, I do kidney function tests to determine how well the kidney filters the blood. Since 1989, I've performed more than 4,000 of these tests. I also recruit new people to participate in our research. It helps that I work with an amazing team of doctors, health technicians, and other colleagues.
What approaches have you found successful in the populations you work with?
When I started working with American Indians, many of them were hesitant to ask questions of me and other healthcare providers. But now that I've gotten to know many of them so well, they're much more vocal about their health and what they hope to gain from participating in medical research. I think for any study population it's important to learn about their culture and what's important to them—which can go a long way in building rapport and trust.
What would you tell people thinking about pursuing a career as a research nurse?
You must be detail-oriented and patient, as a lot of the work is focused on collecting and measuring samples. But interacting with the study participants is so rewarding and is precisely what makes clinical research better for me than bench work. Over the years I've gotten to know the study participants really well. I've actually had the honor of telling one woman she was pregnant for each of her four children, and now those children have kids of their own! It's been a privilege to help people like her take control of their health and live long enough to enjoy their grandchildren.
International diabetes research knowledge portal opens to public, scientists
By Amy F. Reiter
Researchers funded by NIH and the Foundation for the NIH (FNIH) have expanded a recently launched online library, called a knowledge portal, which allows open-access searching of human genetic and clinical information on type 2 diabetes. Individual data will remain confidential. The portal includes information from several major international networks, collected from decades of research.
A product of the Accelerating Medicines Partnership® (AMP®) program for type 2 diabetes, the portal is aimed at advancing type 2 diabetes research and treatment, and will include data from more than 100,000 genetic samples obtained from clinical consortia supported by the NIH and FNIH.
"Through the AMP program, we have an unprecedented opportunity to advance international research in type 2 diabetes," said NIH Director Dr. Francis S. Collins. "Our hope is that this portal—and this partnership—will lead to better disease targets and a shorter, less expensive drug development process, enabling companies to get safe and effective medications to patients who need them faster."
The portal's creation was led by researchers from Broad Institute of MIT and Harvard University and from the University of Michigan. The site collects data from human genetic samples, since the animal and cellular models that are typically used in diabetes drug development before human testing do not always replicate human behavior. The portal provides a way to identify the most promising therapeutic targets for diabetes from troves of potentially relevant human data.
"The knowledge portal will allow us to translate differences in an individual's genome into an understanding of how those differences affect a person's risk of developing type 2 diabetes. By harnessing the power of international data sets, we can also better account for differences in race, ethnicity and locality," said NIDDK's Dr. Philip Smith, co-chair of the AMP program's Type 2 Diabetes Steering Committee.
The portal makes genetic and clinical information searchable in myriad ways to help researchers identify and describe the effects of genes on disease. Searches can include genes, gene variants and genetic regions. The data can be sorted to include relevant genetic studies and the kind of data collected, and allows researchers to test biological hypotheses. Creators of the research engine are eager to expand the network to include more national and international research networks.
In addition to NIH, support for the AMP Type 2 Diabetes project includes Eli Lilly and Company; Janssen Research and Development, LLC; Merck & Co.; Pfizer Inc.; and Sanofi US Services and nonprofits FNIH, JDRF International and the American Diabetes Association. Additional support to Broad Institute for the portal was provided by the Carlos Slim Foundation.
For more information, please see the NIH announcement and the Type 2 Diabetes Knowledge Portal.
NIDDK "Run from Obesity" team wins NIH Institute Relay – again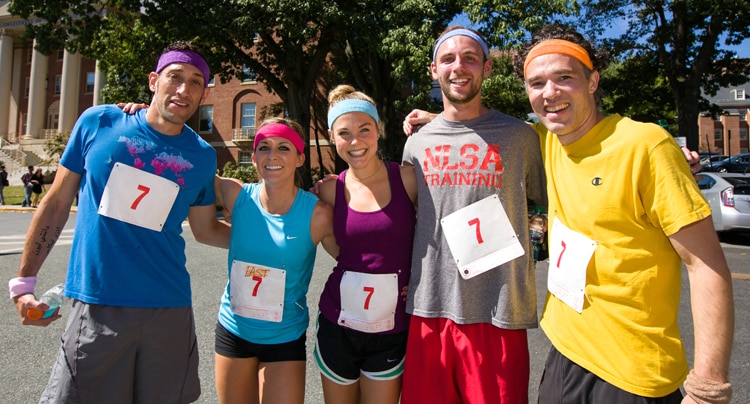 In September, a team of NIDDK employees won the NIH Institute Relay for the second year in a row. Shown are members of the team, called "Run from Obesity." From left: Dr. Michael Krashes, Dr. Jesse Carlin, Courtney Duckworth, Sebastian Zahler and Dr. Ramón Piñol.
Trans-NIH symposium highlights lymphatics research
By January W. Payne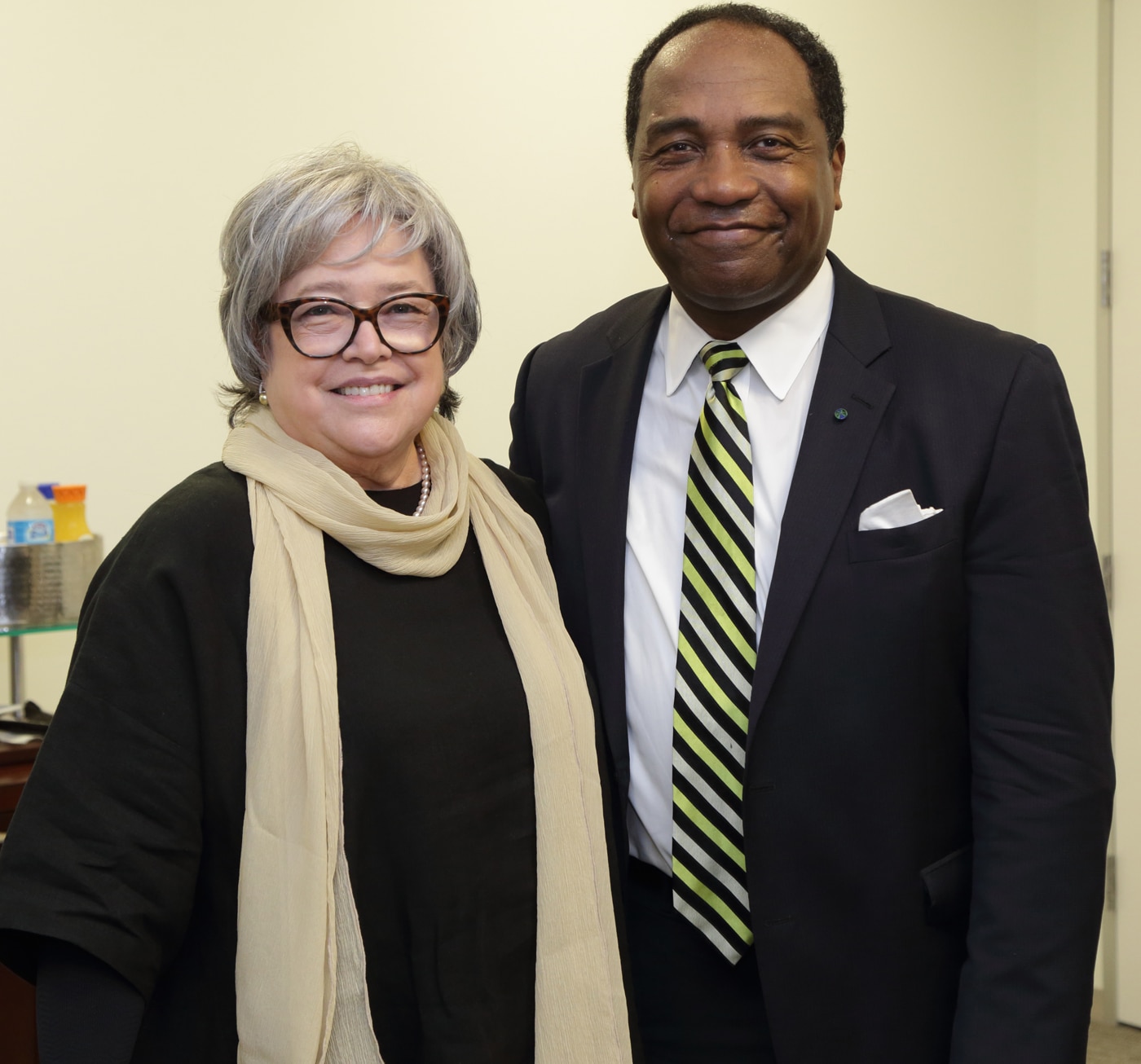 NIDDK was among the sponsors of a two-day trans-NIH symposium focused on research on how the lymphatic system affects other organ systems. The meeting, called "The Third Circulation: Lymphatics as Regulators in Health and Disease," took place in September.
"We are only beginning to appreciate how many organ systems in the body rely on a healthy lymphatic system to maintain their functions and avert disease," said NIDDK Director Dr. Griffin P. Rodgers, who delivered opening remarks. "The NIH interest in advancing research on lymphatics extends beyond the mission of any one NIH Institute, Center or Office."
Rodgers is shown here with actress Kathy Bates, who shared her personal experience with lymphedema with symposium attendees. Other NIH sponsors of the event included the National Heart, Lung, and Blood Institute, National Institute of Allergy and Infectious Diseases, National Eye Institute, National Cancer Institute and Eunice Kennedy Shriver National Institute for Child Health and Human Development.