NIDDK Director's Update
Fall 2016
Research Updates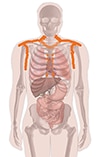 Brown fat research guidelines standardize methods, reporting: An NIDDK-led team has issued first-ever guidelines for conducting and reporting on brown adipose tissue, or brown fat, research. Based on recent NIH meetings and input from diverse experts, the guidelines aim to promote uniformity in the rapidly growing scientific field. The guidelines were published in Cell Metabolism.
Genetics of type 2 diabetes revealed in unprecedented detail: A comprehensive investigation of the underlying genetic architecture of type 2 diabetes has unveiled the most detailed look at the genetic differences that heighten a person's risk for disease development. The findings, published in the journal Nature by an international team of more than 300 scientists led by the University of Oxford, the Broad Institute and the University of Michigan, reveal the complexity of the disease in more detail than previously appreciated, but also identify several promising targets for new treatments.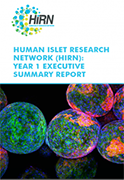 Human Islet network publishes first-year report: In 2014, NIH launched the Human Islet Research Network—or HIRN—to better understand why beta cells are lost in type 1 diabetes and to find new ways to protect or replace them. HIRN comprises an international group of more than 80 scientists across disciplines. In its first year, the group focused on creating infrastructure to support interactions and collaborations among scientists to achieve HIRN's overarching goals. Developments include discovery of new markers of the disease process, use of engineering technologies to develop microdevices that support functional human islets in vitro, development of the next generation of mouse models to model basic aspects of human type 1 diabetes immunobiology, and more. A report on the one-year progress HIRN has now been published.
Low-carb theory tested: Small increase in energy burn but not fat loss: An NIDDK-led team studied 17 men with overweight or obesity for two months in carefully controlled metabolic wards to test a theory predicting that low-carb diets accelerate body fat loss and increase energy expenditure. The participants ate a high-carb baseline diet the first month and low-carb diet the second month, with calories and protein the same in both. The researchers found the low-carb diet was associated with relatively small increases in energy expenditure, but was not accompanied by increased body fat loss. Results were published in American Journal of Clinical Nutrition.
Metabolic adaptation persists over time: An NIDDK follow-up study of 14 adults who had participated in the TV show The Biggest Loser television show found that six years later they had regained an average of 90 pounds after having lost an average of 130 pounds. In addition, their resting metabolic rate was, on average, as low as it had been at the end of the competition. Results were published in Obesity.
Racial disparities in poverty account for mortality differences in U.S. Medicare beneficiaries: Accounting for disability and poverty, the survival of black and white Medicare beneficiaries is similar, according to findings from an NIDDK review paper. The paper analyzed how socioeconomic disparities among more than a million white and black Medicare beneficiaries affect mortality. Findings suggest that poverty, poorer health status, and disability account for higher mortality among black beneficiaries. The paper was published in SSM - Population Health.
Researchers identify how cell-signaling molecules regulate the mammary genome: An NIDDK-led team discovered super-enhancers that control genetic networks in milk-producing cells in mammals. These super-enhancers are cell-signaling regulatory switches that can activate gene sets more than 1,000-fold. The study demonstrated that super-enhancers are established during pregnancy as hormone levels rise, culminating in the activation of specific gene sets and production of milk. The findings provide insights into the regulation of cell-type-specific expression of hormone-sensing genes. Results were published in Nature Genetics.
Study finds high prevalence of undiagnosed diabetes in youth: An NIDDK study of data from the National Health and Nutrition Examination Survey (NHANES) found that nearly 1 percent of adolescents 12-19 years of age had diabetes and 18 percent had prediabetes. Of those with diabetes, 29 percent overall were unaware of it. The percentage of undiagnosed diabetes increased to 40 percent among Hispanic adolescents and 50 percent among non-Hispanic black adolescents. Youth unaware of their diabetes are more likely to have type 2 diabetes, and youth with prediabetes are more likely at high risk for type 2. Type 2 diabetes in youth was once very rare and has increased along with the rise in childhood obesity. Results were published in JAMA.