NIDDK Director's Update
Fall 2017
Health Information Updates
NIDDK webinar highlights research, common barriers to physical activity, and potential solutions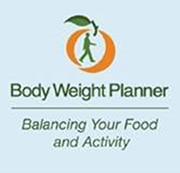 On June 6, NIDDK hosted the webinar: Physical Activity: Making Sense of Current Research, Persistent Myths and Common Barriers. Along with teaching about physical activity web content and tools from NIDDK and other sources, the webinar helped participants:
identify and understand the national physical activity guidelines
recognize several common physical activity myths
acknowledge barriers to participating in physical activity
develop strategies to help people overcome these barriers
Guest speaker Dr. Jessica Unick, assistant professor (research) of Psychiatry and Human Behavior at the Brown Alpert Medical School and The Miriam Hospital's Weight Control and Diabetes Research Center in Providence, R.I., discussed advances in physical activity research, reviewed current physical activity guidelines for adults, and summarized studies that examine the health benefits of regular physical activity, such as decreased risk of disease, improved sleep and help with maintaining a healthy weight.
Unick also talked about strategies that health care providers can use to design exercise programs, as well as ways to get patients to reduce sedentary time, such as setting reminders in their phones to get up and move.
"Providers can encourage their patients to get and stay motivated to exercise by connecting them to something they value," said Unick. "From having energy to play with grandchildren to being able to walk stairs without getting out of breath, talk with your patients to better understand what may motivate them to take steps to improve their health."
NIDDK's Leslie Curtis also shared the institute's resources and others that may help people to:
Start a physical activity plan
Overcome barriers to physical activity
Build community health programs that include physical activity
Curtis talked about NIDDK's Body Weight Planner, a web-based tool to help adults set personalized physical activity and calories goals. "NIDDK has a variety of relevant and free health information resources on physical activity and weight control that we hope people will use and share," she said.
Kidney videos educate patients and providers about acute kidney injury
By Matt Forke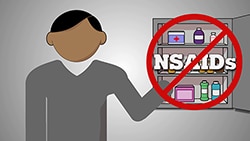 Have a cold? Achy joint? Headache? If you're like many people, you may reach for over-the-counter pain/fever medicine. But for people living with chronic kidney disease (CKD), nonsteroidal anti-inflammatory drugs (NSAIDs), including ibuprofen and naproxen, can be risky, especially when taken in combination with certain CKD medications such as ACE inhibitors and ARBs.
These messages are the aim of a new video from the NIDDK's National Kidney Disease Education Program (NKDEP): "Keeping Kidneys Safe - Know How Medicines Affect the Kidneys," along with a companion video for health providers, "How Medications Affect Blood Flow in the Kidney."
"Patients taking certain medications such as ACE inhibitors and ARBs are at greater risk of kidney damage if they take NSAIDs, especially during an acute illness," said Dr. Andrew Narva, NKDEP director and a program director within NIDDK's Division of Kidney, Urologic, and Hematologic Diseases. "Prevention of this acute kidney injury (AKI) requires informed action by patients to avoid NSAIDs if they become ill. These videos are meant to help people with CKD understand the effect of these drugs on their kidneys and better follow AKI-prevention guidelines."
Pharmacists may be uniquely positioned to improve CKD patients' understanding of the risks of NSAIDs. To help pharmacists help their kidney patients, NKDEP offers "Keeping Kidneys Safe" a free, online continuing education module for pharmacists. In addition to the videos, patients and providers can get more information on medicines and kidney disease with NIDDK's health information resources.
Coming soon: NDEP to launch diabetes blog for health professionals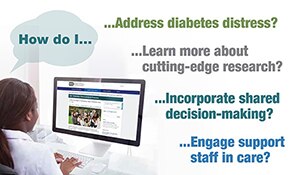 Through the NIDDK, the National Diabetes Education Program (NDEP) will be launching a new blog, Diabetes Discoveries & Practice, during November, National Diabetes Month. The blog will feature leaders in the diabetes community, including researchers, health professionals and other experts, who will share timely insights, lessons learned, emerging trends, and practical tips to improve diabetes treatment. Through the varying perspectives of these subject matter experts, readers can look forward to a rich depth of topics.
As part of the blog's debut, experts will share insights and evidence around shared decision-making for patient care and approaches for integrating strategies into practice, as well as work in the area of social and cultural barriers to shared decision-making and other best practices. Featured experts include:
NDEP chair Dr. Linda M. Siminerio from the University of Pittsburgh
Former NDEP chair Dr. John B. Buse from the University of North Carolina School of Medicine
Dr. Monica E. Peek from The University of Chicago Medicine
Dr. Tim Wysocki from Nemours Children's Health System
Join the discussion! Subscribe to the blog.