NIDDK Director's Update
Winter 2017
Research Updates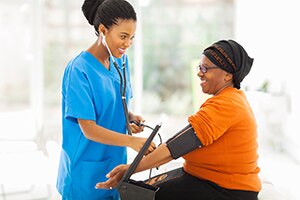 NIH research supports new AHA/ACC hypertension guidelines: Findings from the NIH-funded Systolic Blood Pressure Intervention Trial (SPRINT) support a key component of the new 2017 Hypertension Clinical Practice Guidelines announced by the American Heart Association (AHA) and the American College of Cardiology (ACC) at the annual AHA meeting in November. The first comprehensive new high blood pressure guidelines in more than a decade indicate high blood pressure should be treated earlier—at 130/80, rather than 140/90—with lifestyle changes and, in some patients, with medication. An important component of these guidelines was informed by SPRINT, a clinical study sponsored in part by NIDDK and designed to determine the best way to treat blood pressure in adults with hypertension, 50 years or older, who are at high risk for heart disease.
Wild mice gut microbes promote fitness and improve disease outcomes: NIDDK scientists found that transferring the gut microbes from wild mice to laboratory mice promoted fitness and significantly improved responses to an otherwise lethal flu virus infection and to colorectal cancer. This approach might enable the discovery of protective mechanisms that are absent in current laboratory animals and relevant for free-living mammalian organisms like humans. The method could also help advance studies in metabolism, behavior, and endocrinology. The results published October 19 online in Cell and have an animated video explaining the research.
Study finds oral insulin doesn't delay type 1 diabetes: The NIH-funded Oral Insulin Prevention Study, a 10-year randomized trial that is the largest of its kind, found that a daily dose of insulin taken by mouth did not delay onset of type 1 diabetes in at-risk relatives of people with the disease. In the study's primary analysis, about 8.8 percent of those receiving oral insulin developed type 1 diabetes annually, compared to about 10.2 percent on placebo – a difference that was not statistically significant. The Oral Insulin study was undertaken to confirm a previous subgroup finding suggesting that oral insulin was effective in those with high titer insulin antibodies. Results were published Nov. 21 in JAMA. The study was conducted as part of the ongoing Type 1 Diabetes TrialNet, a unique network screening about 15,000 relatives of people with type 1 diabetes per year to identify those with autoimmunity who might be eligible for prevention or natural history studies.
Obesity during pregnancy may lead directly to fetal overgrowth: Obesity during pregnancy—independent of its health consequences such as diabetes—may account for the higher risk of giving birth to an atypically large infant, according to NIH researchers. Their study appears in JAMA Pediatrics.
Researchers turn to creative approaches to battle kidney stones: NIH-funded two-year clinical trial will monitor effects of increased fluid intake on risk of stones. Scientists are testing whether using a smart water bottle that encourages people to drink more water, and therefore urinate, will reduce the recurrence of urinary stone disease, commonly referred to as kidney stones. The randomized trial, known as the Prevention of Urinary Stones with Hydration study, or PUSH, will enroll 1,642 people, half in an intervention group and half in a control group. The study's primary aim is to determine whether a program of financial incentives, receiving advice from a health coach, and using a smart water bottle will result in reduced risk of kidney stone recurrence.
Researchers propose new method to track growth in children with obesity: New growth charts would enable pediatric providers to more accurately track growth in children who are obese or severely obese, according to an NIDDK study. Current growth charts were developed from health data collected in 1963-1994, before the childhood obesity epidemic, and are not sufficient for children with extremely high body mass index (BMI). The researchers propose modified growth charts that use standardized z-scores, which show how far and in what direction a measure, such as BMI, deviates from the population average. These z-scores accurately and uniformly characterize growth in children with very high BMI, as well as others. In the future, the researchers hope the charts may be incorporated into existing electronic health record systems to be available for clinical use. The study published November 7 online in Pediatrics.
Higher brain glucose levels mean more severe Alzheimer's: NIH study shows connections between glucose metabolism, Alzheimer's pathology, symptoms. For the first time, scientists have found a connection between abnormalities in how the brain breaks down glucose and the severity of the signature amyloid plaques and tangles in the brain, as well as the onset of eventual outward symptoms, of Alzheimer's disease. The study was supported by the NIH's National Institute on Aging, and appeared Nov. 6, in Alzheimers & Dementia.
Journal, NIDDK staff commemorate 20 years since discovery of MEN1 gene: NIDDK researcher Dr. Sunita Agarwal and colleagues highlighted the 20-year anniversary of the identification of the multiple endocrine neoplasia (MEN1) gene, in a special October issue of the journal Endocrine-Related Cancer. A rare inherited disorder, MEN1 syndrome is characterized by germline heterozygous mutations in the MEN1 gene, which acts as a set of brakes on abnormal cell growth. In MEN1, all brakes are lost upon spontaneous tissue-specific loss of the remaining normal MEN1 gene, cells grow out of control, and tumors arise in multiple endocrine organs causing hormone hypersecretion.
NIDDK team develops technology to view real-life, real-time GPCR activation: An NIDDK-led team researching how cells transmit signals to the body through the cell's outer membranes, particularly when injury or disease occurs, has developed technologies for viewing activation of G-protein-coupled-receptors (GPCRs) in mice. GPCRs initiate the process of cell signaling on a molecular level, and are critical to all physiological functions. However, until now, technologies haven't been able to view GPCR activation in a living organism in real-time. The technology relies on GCPR activation and subsequent production of an enzyme complex that's comparable to light emitted by fireflies and can be detected through bioluminescence imaging. The research published online October 27 at Nature Communications.
Weight loss persists 12 years after surgery: An NIDDK-funded study comparing adults who had Roux-en-Y gastric bypass (a type of weight loss surgery) to adult who hadn't had the surgery found that, 12 years later, the adults in the surgery group lost substantially more weight and kept it off compared to adults that did not have the procedure. Gastric bypass is used to help people with severe obesity (a body mass index of 40 or more) lose weight when they haven't been able to do so with other treatments. It also may help patients who have obesity-related problems, such as type 2 diabetes. The surgery also effectively reduced and prevented type 2 diabetes, high blood pressure, and dyslipidemia among treated patients. The study published September 21 in the New England Journal of Medicine.
NIDDK study shows brain stimulation reduced hunger, eating: An NIDDK study of a small group of people with obesity who received active brain stimulation found that their feelings of hunger and the urge to eat declined more, and they ate fewer calories during a snack food test than a similar group given a sham (placebo) treatment. Results of the randomized trial published October 18 in the American Journal of Clinical Nutrition. It followed an earlier study of the method with similar results: Brain stimulation limits calories consumed in adults with obesity.
Microneedle patch shrinks fat tissue in mice: Researchers funded by NIDDK and the NIH's National Center for Advancing Translational Sciences designed a microneedle skin patch that could switch on fat browning in a targeted region. The skin patch has 121 cone-shaped polymer needles that can be filled with a drug encapsulated by nanoparticles. The nanoparticles then slowly release the browning drug into the fat cells. By delivering the drug directly to fat cells, the drug's side effects in other parts of the body might be prevented or minimized. The researchers tested the skin patches in mice and found the drugs increased browning, reduced the size of the fat pad and improved metabolic signs. Results published Sept. 26, in ACS Nano.