NIDDK Director's Update
Winter 2017
Director's Note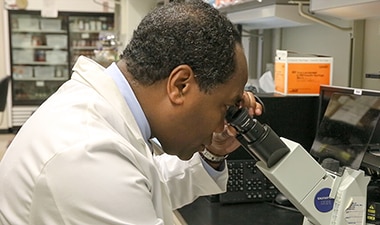 At NIDDK, the ground-breaking, important research the Institute funds is at our core. The past few months, the fruits of our labor have borne many important results via published research, influencing major guidelines, and launching new initiatives.
New blood pressure guidelines announced in November at the American Heart Association (AHA) annual meeting were due in part to findings from the Systolic Blood Pressure Intervention Trial (SPRINT), a major clinical study supported by National Heart, Lung, and Blood Institute, as well as NIDDK, the National Institute on Aging, and the National Institute of Neurological Disorders and Stroke. The new guidelines say high blood pressure should be treated earlier with lifestyle changes and, in some patients, with medication—at 130/80, rather than 140/90.
SPRINT found that the mortality benefits of blood pressure lowering to a target of 120/70—the same target named in the new AHA guidelines—outweighed the risk of a potential slight worsening of kidney function for people with and without chronic kidney disease (CKD).
Just as many of the diseases in our mission affect the whole body, our efforts to improve health run the gamut from basic to clinical research. For example, a Division of Intramural Research study found that laboratory mice that are given the gut bacteria of wild mice can survive a deadly flu virus infection and fight colorectal cancer better than lab mice with their own gut bacteria.
Meanwhile, a DDN-funded study comparing adults who had Roux-en-Y gastric bypass surgery to adults who hadn't had the surgery found that, 12 years later, people in the surgery group lost and kept off substantially more weight compared to participants that did not have the procedure.
In promising future research, a new two-year trial to prevent urinary stones started in September, looking into whether the use of a smart water bottle and financial incentives will urge participants to drink more fluids.
We at NIDDK are always striving to achieve our mission of better health through research. Please check out the Research Updates section of this issue, which truly shines a light on the breadth and depth of what we do.
In good health,
Griffin P. Rodgers, M.D., M.A.C.P.
Director, National Institute of Diabetes and Digestive and Kidney Diseases
Follow NIDDK on Twitter @NIDDKgov