Rajatava Basu, Ph.D.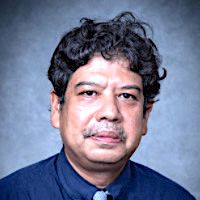 Role of immune system in the pathophysiology of Type 2 Diabetes and diabetes-associated metabolic dysfunction, including the role of chronic & meta-inflammation, microbiome-immune-metabolic crosstalk and neuroinflammation
Responsibilities & Activities
As a program director in the Division of Diabetes, Endocrinology, & Metabolic Diseases, I oversee programs focused on the physiologic contribution of the immune system to the development, severity and resolution of non-autoimmune Diabetes, Obesity and associated metabolic syndromes. Research topics under the DEM INFL program areas include: mechanism of crosstalk between the immune and the metabolic systems; mechanisms of environment-microbiome-host immune interactions in regulating metabolic homeostasis during diabetes, obesity and associated metabolic syndromes; metabolic dysregulation influencing the phenotype and function of innate and adaptive immune cells. The program includes novel immune interventions or immunotherapeutic strategies to prevent, halt, or reverse T2 Diabetes, Obesity, and metabolic syndromes. Additionally, studies that investigate the effects of diabetes, obesity, and metabolic perturbations on neuroinflammation are also included in the portfolio.
Research Programs
Neurobiology of Obesity
Neurobiology of energy homeostasis and peripheral metabolism. Basic studies on homeostatic and non-homeostatic contributions to obesity and type 2 diabetes.
Pathophysiology of Diabetes & Metabolic Disease
Basic and clinical research that addresses the pathophysiology of metabolic diseases, including type 1 and type 2 diabetes.
Committees & Working Groups
NIDDK Obesity Research Working Group, Member
NIH Chronic Inflammation Working Group, Member
NIDDK Pancreas Working Group, Member
Select Experience
Assistant Professor, UAB Heersink School of Medicine, 2016 - 2022
Research Associate & CCFA Fellow, UAB Heersink School of Medicine, 2015 - 2016
Postdoctoral fellow, UAB Heersink School of Medicine, 2009 - 2014